Lebanese SAMBO and Judo Federation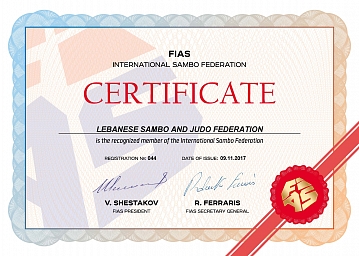 History Of Sambo in Lebanon
Sambo appeared in Lebanon in 2007. At that time Sambo was governed by the Lebanese Judo Federation and associated disciplines presided by Me. Francois SAADE.
Sambo began to develop in Jounieh, and then gradually moved to the other regions of Lebanon where judo was practiced. Lebanese Judo & Sambo Federation is in close cooperation with the Arab and West Asia Sambo Federations.
 The Lebanese Judo & Sambo Federation since 2008 holds the Arab and West Asian Sambo Championship in Lebanon every year. The Lebanese team is a participant of Sambo World Championships; Lebanese athletes were participating in the last edition of Sambo WC in St-Petersburg in 2013. The President of the Lebanese Federation Me. Francois SAADE is a Secretary General of Sambo Union of Asia and a President of Arab Sambo Federation.
Most Titled and known Lebanese Sambo Athletes:
-Fady Saikaly
-Abdo Ayoub
-Roudy Hachache
-Georges Merheb
-Wissam Abi Nader
-Francois Junior Saade
-Doumit Matar
-Wissam Hayek
-Pierre Bou Abboud
-Zein El Din Tamra
-Wassim Obaid
-Caren Chammas
-Lea Farhat 
-Marie Yvonne Aad