The Reporting and Election Congress of the SAMBO Union of Asia was held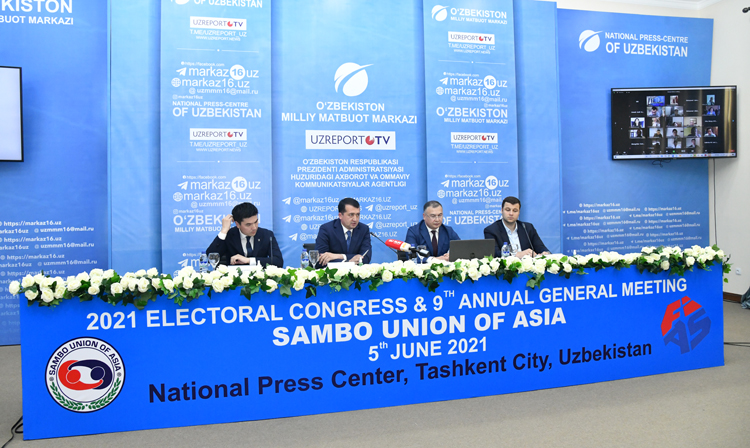 The regular electoral Congress of 2021 and the 9th Annual General Assembly of the SAMBO Union of Asia (SUA) were held on June 5 at the National Press Center in the city of Tashkent (Uzbekistan) in a mixed – offline and online – format.
The Congress was moderated by the Director General of the SAMBO Union of Asia Suresh Gopi. After the approval of the agenda, the President of the SUA Alamjon Mullaev addressed the participants of the Congress with a welcoming speech.
"Dear friends, colleagues, I am glad to welcome you to Tashkent and congratulate you on the start of the Asian SAMBO Championships. This tournament is at the same time a successful bid to host the 2025 Asian Youth Games and the 2021 World SAMBO Championships. Over the past period, the SAMBO Union of Asia has carried out a large and successful work to include this sport in the program of the Asian Indoor and Martial Arts Games in 2017 (Ashgabat, Turkmenistan) and the Summer Asian Games in 2018 (Jakarta, Indonesia)", - noted the head of the SAMBO Union of Asia. Alamzhon Mullaev also wished all the participants of the upcoming competitions a good mood, interesting wrestling and spectacular fights.
Deputy Minister of Sports and Tourism of the Republic of Uzbekistan Avazjan Karimov and Secretary General of the National Olympic Committee of Uzbekistan Oybek Kasimov, who were present at the Congress, greeted the delegates and wished them successful work, noting that the popularity of SAMBO in the Republic is constantly growing.
The next item on the agenda was the issue of choosing the President of the SAMBO Union of Asia. Congress delegates unanimously voted for the current head of the organization, Alamzhon Mullayev, re-electing him for a term from 2021 to 2025.
Also, elections were held for the leadership of the SUA. François Saad (Lebanon) was re-elected as Secretary General, Suresh Gopi (Hong Kong, China) became the new 1st Vice President, Seongcheon Mun (Republic of Korea), Krishna Bayu (Indonesia), Dananjaya Shrestha (Nepal), Mohamed Ali Janahi (Bahrain), Abbasali Akbari (Iran), Alisher Alimov (Uzbekistan), Mokhles Hasan Albu-Mohammed (Iraq) and Absadyk Nuribayev (Kazakhstan) became vice presidents. Suresh Gopi was re-elected Director General of the organization.
In the second part of the meeting, the delegates approved the list of SUA commissions and their leadership, heard a report on the preparations for the 1st Asian Beach Championships and the President's Cup 2021 (Bali, Indonesia), as well as the Asian Indoor and Martial Arts Games 2022 (Pattaya, Thailand).