Second World Beach SAMBO Championships to be Staged in Israel
Competitions
23 August 2022
Anton Orlov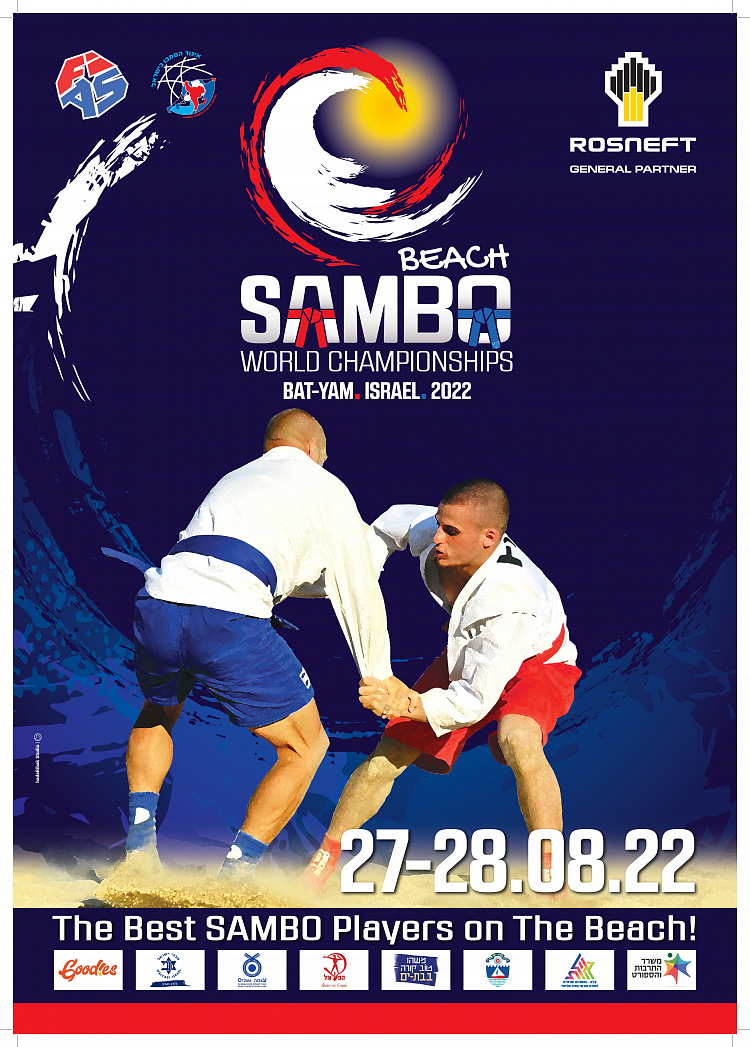 Athletes from 20 countries are expected to partake in this sports festival, namely from Armenia, Belgium, Bulgaria, Brazil, Dominican Republic, Israel, Kazakhstan, Cameroon, Morocco, Moldova, the Netherlands, Romania, Serbia, USA, Tajikistan, Uzbekistan, Ukraine, France, Sri Lanka. Sambists from Russia will perform under the flag of the International SAMBO Federation, pursuant to the decision of the FIAS Executive Committee. The tournament will take place in Bat Yam, Israel, on August 27-28.
In the aggregate, nine sets of medals will be up for grabs: four for men (58 kg, 71 kg, 88 kg, over 88 kg), four for women (50 kg, 59 kg, 72 kg, over 72 kg), and one in the team standings (among mixed teams).
"I am feel happy that the popularity of SAMBO keeps growing across the globe, and while earlier competitions were held only in sports and combat varieties, in recent years, international tournaments and continental championships in beach SAMBO have become an integral and important part of the FIAS sports calendar.
Currently, competitions in beach SAMBO are growing increasingly popular with spectators. They enjoy public attention due to their visual appeal and a great degree of unpredictability, since, according to the rules, each fight lasts only until the first efficient throw. One other benefit of beach SAMBO is its democratic nature, its ease of access — as a matter of fact, few things are required to practice it, such as basic wrestling skills, standard uniform, sandy beach, and fine weather.
Israel will host the II World Beach SAMBO Championships, the I Championships was held last year in Cyprus. I do hope that the athletes representing four continents — Europe, Asia, Africa, and the Americas — are going to participate in the tournament. I am quite confident that the World Championships will be carried out at a high organizational level and in an amiable mood, since the SAMBO community is but one large family," remarked the FIAS President Vasily Shestakov.

General sponsor of the World Beach SAMBO Championships is the Rosneft Oil Company.
Reference Notes
Beach SAMBO emerged in 2014. For the first time ever, this variety of SAMBO sports was introduced at multi-sport competitions as part of the IV Asian Beach Games that took place in Phuket, Thailand, in 2014, and later, within the program of the V Asian Beach Games in Da Nang, Vietnam. The continental SAMBO tournaments commenced in 2017 in Africa, with the Seychelles marking the starting point for this good tradition. Later on, the African competitions took place in Tunisia, Morocco, Egypt, and Cameroon. In the Americas, the first continental SAMBO tournament was hosted by Mexico in 2018, to be taken over by the Dominican Republic and Colombia in the next years. This year, the tournament is going to be held in Costa Rica.