Sambo Federation of Moldova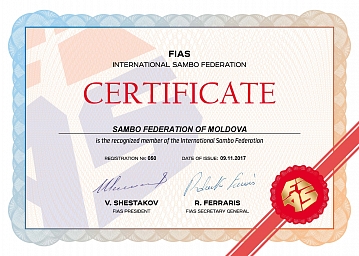 First time Moldova met with Sambo in 1950 thanks to a student of the Moscow Institute of Physical Education, Master of Sports of the USSR Alexander Yezhov who arrived to Chisinau for practice. A year later under the leadership of great Sambo propagandist Michael Vlikovanenko first sports Sambo section was created.  
In 1952 graduates of the Moscow Institute of Physical Culture Vasily Blagodarov and Yefim Papadopoulos were sent to Moldova. In 1953, the championship was held in Chisinau. The first champions were A. Doga, E. Papadopoulos, P. Gergen, V. Berezin, A. Smirnov, A. Shapavalov, N. Zaitsev. 

In 1954 Andrei Doga began his coaching activities. 

In 1954 the first Sambo championship of Moldova was held. In 1956 A. Doga during the Union Sambo competitions among students won a bronze medal, and in 1957 at the same competition - a silver medal. In 1960 the first pupils of A.A.Doga received honorable titles the USSR masters of sports. It were brothers Simon and Ivan Kurdov, Vasily Skurtul, Jacob Koblev, Oleg Savochkin, and Vasily Barbel. In 1963, the first official international meeting of Moldovan Sambo athletes with their rivals from Bulgaria. Account of the meeting - 8:0 in favor of Moldovan Sambo team. In 1971, the team of Moldova participated at the Games of the Soviet Union (Spartakiade). In 1964-1966 F. Ratanenko, A. Nesterenko became USSR champions among juniors. In 1990 the USSR champion and World Championships was Igor Kostin in the weight category up to 81 kg. In 2006 the world champion was Anna Rapid, weight category up to 60 kg. In 2007 world youth champions were: Yuri Leu (weight category up to 74 kg) and Valery Duminike (weight category up to 82 kg), the team took 2nd place in the team classification among the youth. V. Braga became European Champion in 2007 (weight category up to 65 kg), in 2008 A. Rapid became the European champion (weight category up to 60 kg), among boys - V. Intestine (weight category up to 65 kg) 2009 - N. Crăciun among juniors, T. Osoianu among girls. In 2010 A. Bulat became Junior World Champion. In 2012 Y. Pyatikovsky became European Champion (weight category up to 60 kg), junior 1st place took N. Repeshko, among girls K. Budesku. Sambo Federation of the Republic of Moldova is committed to the development of Sambo in the country. It actively participates in the European and world championships supporting and promoting this wonderful sport, as well as doing everything possible for Sambo to be included in the Olympic Games programme in the nearest future.