Sambo Federation of Serbia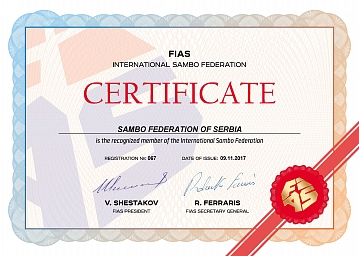 Two prominent Yugoslav samboists Slavko Obadov and Pavle Bajcetic participated at the First European Open Championship, held in Riga (Soviet Union). Bringing joy to everyone, Slavko Obadov won a silver medal while Pavle Bajcetic ended on fourth place. 
In 1973, at the First Sambo World Championship held in Teheran (Iran), Yugoslavia was represented by two sportsmen, Slavko Obadov who won the silver medal and Dimitrios Konstatinidis.
In 1974, four samboists from Novi Sad – Pavle Bajcetic and Momir Lucic (silver medalists), Slavko Obadov (bronze medalist) and Dimitrios Konstatinidis (the fifth place) participated at the European Championship held in Madrid (Spain). Within the Championship FIAS organized Congress and Svetozar Mihailovic was elected for the President of the Technical Committee of the International Sambo Federation. 
In 1975, Yugoslav samboists undertook the most serious preparations for their participation at the World Championship in Mongolia. However, the state and sports institutions failed to provide necessary funds and national sambo team did not go to Mongolia. This highly unpleasant fact negatively impacted on sambo in Yugoslavia. 
Up till 1987, Yugoslav samboists haven't participated at any Championships. That year at the European Championship held in Sofia (Bulgaria), Yugoslavia took part and one sportsman competed while Nikola Dišković was refereeing. From 1987 till 1993, Yugoslav samboists sporadically participated at several Championships. 
In 1993, the Yugoslav national sambo team was invited by the Kstovo School of Sambo to participate at the 17th World Championship in Russia. At the FIAS Congress, Svetozar Mihailovic was elected again as a member of the Executive Committee of the International Amateur Sambo Federation and the President of the Medical Commission.
The same year, two sambo champions Nikolay Igruskin and Alexander Dunaev, together with their coach Vladimir Kulkov, came to Serbia for a few months to work as instructors. Their knowledge and experience improved sambo sport in our country.
Being aware how important development of sambo is, on June 25th 1994 the Sambo Federation of Yugoslavia was established. 
Since 1973, significant contributions in Sambo development were made by coaches Svetozar Mihailovic-Draza, Veselin Novakovic and Radisav Markovic. Also, in the same period, awarding reffeeries in World Championships were Nikola Diskovic (Novi Sad, 1995; Krasnoyarsk, 2001), Branko Savic-Karson (Tokio, 1996) and Patrik Drid (Vladivostok, 2003).
Previous results of samboists on World Championships are: 
Gold: Diana Moric (Thessaloniki, 2009).
Silver: Slavko Obadov (Teheran, 1973); Nevenka Cupovic (Prague, 2007); Tatjana Trivic (Thessaloniki, 2009).
Bronze: Dragana Milenkovic (Novi Sad, 1997; Kiev, 2000); Lidija Martinovic (Novi Sad, 1997); Tatjana Trivic (Krasnoyarsk, 2001; Vladivostok; 2003; Astana, 2005); Sanela Markovic (Sofia, 2006); Nevenka Cupovic (St. Petersuburg, 2008); Snezana Delibasic (Thessaloniki, 2009); Vanja Mandic (Thessaloniki, 2009); Mirela Salijevic (Vilnius, 2011).