Sambo Federation Slovak Republic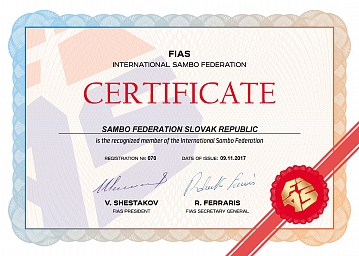 The Slovakian Sambo Federation was registered on October 31, 2006. Since 2003 it has been working to train and find volunteers for Sambo formation in the Slovak Republic.  
In 2007 a Master class for European athletes and coaches was held, with Master of Sports of the Russian Federation, multi-time World Champion in Combat Sambo Fedor Emelianenko.  

In 2007 two representatives of Slovak national team won Bronze medals in the competitions in Combat Sambo section of the European Championship in Bulgaria. 

Since 2008 a special Cup named after Fedor Emelianenko in the heavy-weight category in Sports and Combat Sambo presents in all international tournaments held in the Slovak Republic (by agreement with the prize founder). 

The founder of the Slovakian Sambo Federation is President Igor Shashurin, two-time World Champion, two-time silver and bronze medalist among masters.

In 2012 the Slovakian Sambo Federation introduces and organises traditional competitions using new league of team's tournament.