Azerbaijani SAMBO athletes visited the Belarusian ones
Azerbaijani SAMBO athletes visited the Belarusian ones
Did you see it?
5 August 2014
Sergei Grishin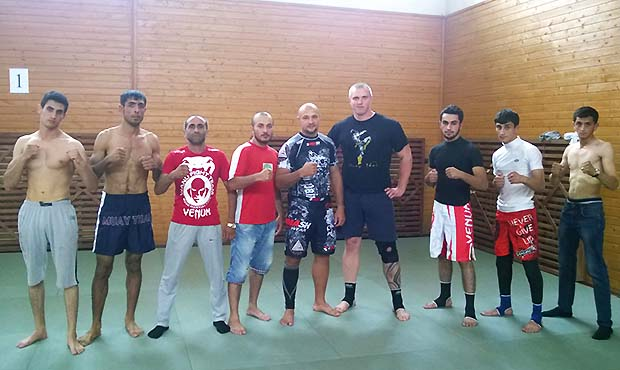 Athletes of one of the strongest Azerbaijani clubs in Combat SAMBO and MMA East Fighters made a friendly visit and trained on the basis of the Belarusian Liga Fight Club, which Combat SAMBO athletes are engaged in.
While preparing athletes from Azerbaijan headed by Ramin Ibrahimov, Director of their Club, learned original methodology of the training process at the Liga Fight Club. Training sparrings were held among fighters of the Liga and East Fighters in the course of which athletes exchanged their technique and experience.
Evgeniy Tyatyushkin, a fighter of the Liga Club, the Belarusian heavyweight, a bronze medalist at the World Combat SAMBO Championship in 2012, assisted in the training sessions and shared the secrets of his technique with the Azerbaijani guests. Alexander Voronovich, the European Champion and a bronze medalist at the World Combat SAMBO Championship held a master class on throwing technique in the format of performance at the competitions in Combat SAMBO.
It has already become a good tradition for athletes from different countries to attend the Liga Fight Club. On the basis of the club athletes from clubs of Russia, Ukraine, Kazakhstan, Tajikistan, Hungary, Canada and China have already trained.