Sambist Marina Mokhnatkina's debut at the MMA arena
Sambist Marina Mokhnatkina's debut at the MMA arena
Girl of the Day
14 June 2016
Sergei Grishin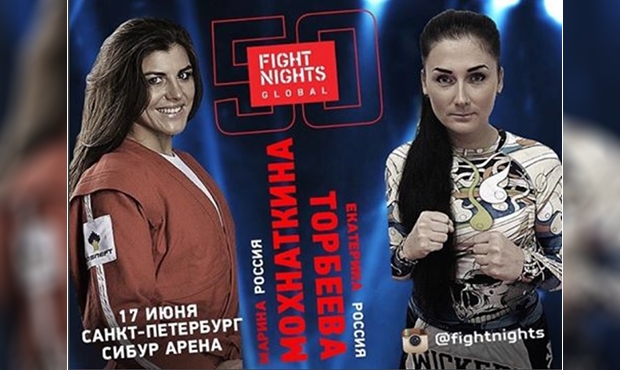 On June 17, the preliminary fight card of the FIGHT NIGHTS GLOBAL 50 tournament in St. Petersburg will begin with the ladies fight between Marina Mokhnatkina and Ekaterina Torbeeva. The performance in mixed martial arts will be the debut at the MMA arena for both Russian athletes. An independent expert talks about the chances of the competitors' success.
Marina Mokhnatkina, the wife of famous Russian sambist and mixed martial arts fighter, representing the FN Team, Mikhail Mokhnatkin, is without exaggeration, the pride of Russian sports. At 28 years, the woman from Perm has achieved tremendous results in SAMBO. Marina became Russian champion six times, twice strongest in Europe, and climbed to the highest step of the podium at the World Championships three times. In 2013, Mokhnatkina was best at such global events as the Universiade in Kazan and the World Martial Arts Games in St. Petersburg.
Ekaterina Torbeeva has had more modest results in amateur sports. Unlike Marina, Ekaterina is a representative of impact disciplines. Torbeeva was the boxing champion of Krasnodar Region, finalist of Leningrad Region in kickboxing K-1 section and the winner of the Pro-Amateur Thai Boxing tournament.
Torbeeva is a severe underdog against Mokhnatkina. Yes, Marina is not accustomed to receiving strikes and is unlikely in a short period to be able to gather a decent level of impact technique and protection, but there is practically no doubt that she will be able to easily drag her rival to the parterre. On the other hand, it is precisely this that Ekaterina expects, and is certainly preparing a surprise for the famous sambist. The surprise may be great, if there is an absolutely unprepared attack by Marina on her rival.
Chances of success: 60 % to 40 % in favor of Marina Mokhnatkina.
Source: www.fightnights.ru