FIAS President Vasily Shestakov appeared at the opening of the Combat Sambo Championship of the Ministry of Internal Affairs of Russia
FIAS President Vasily Shestakov appeared at the opening of the Combat Sambo Championship of the Ministry of Internal Affairs of Russia
Did you see it?
23 October 2014
Sergei Grishin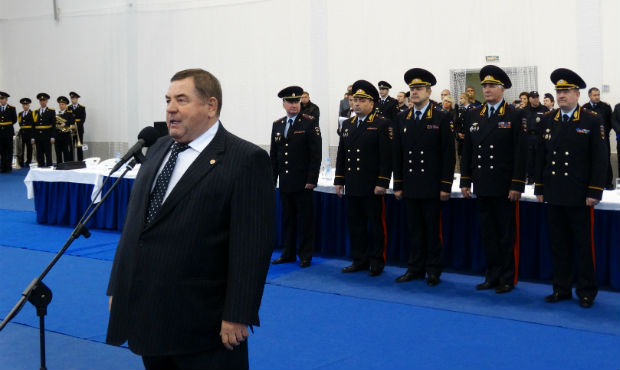 Within the framework of Spartakiade of the Ministry of Internal Affairs of Russia in applied military sports, Saint Petersburg hosts a championship in combat sambo on October 20–24. The grand opening of the tournament happened on October 22 in the Dynamo sports palace. The welcoming speech was given by the Head of Saint Petersburg Chief Directorate, Lieutenant General of Police Sergey Umnov and the Deputy of the State Duma of the Federal Assembly of Russian Federation, President of the International Federation of Sambo Vasily Shestakov.
"We have always been practicing sambo," emphasized Sergey Umnov. "It's sambo that is specified in the initial entry training program. It is not purely a sport: It has become a life philosophy. I wish a victory to each of you, and let this competition held in our city be always present in your mind. Good luck to all of you!"
In his speech Vasily Shestakov outlined the prospects of sambo development, particularly, as a new Olympic sport. Addressing the participants of the championship, President of International Federation of Sambo expressed his certainty that this competition would become a colorful event in Russian sport life: "I hope that at this competition we will have a chance to watch splendid encounters and excellent techniques, because all of you professionally need to master more than just general sambo, but the combat sambo. I wish each of you to have a good start and a nice and colorful victory!"
This year the honor to conduct the Combat Sambo Championship of the Ministry of Internal Affairs was for the first time given to the Main Directorate of the Ministry of Internal Affairs of Russia in Saint Petersburg and Leningrad Oblast. 55 teams and 395 athletes from diverse Russian police departments will take part in the tournament which is held in the Dynamo sports center. An intense interest in sambo may be explained by need to use sambo techniques by the police officers in the performance of their duties.