Jamaican sambists staged a demonstration fight during a boxing tournament
Jamaican sambists staged a demonstration fight during a boxing tournament
Did you see it?
14 May 2015
Sergei Grishin
Sambo Federation of Jamaica created two years ago under the auspices of the Sambo Association of the British Commonwealth held its annual presentation to the armed forces in Jamaica's capital city Kingston.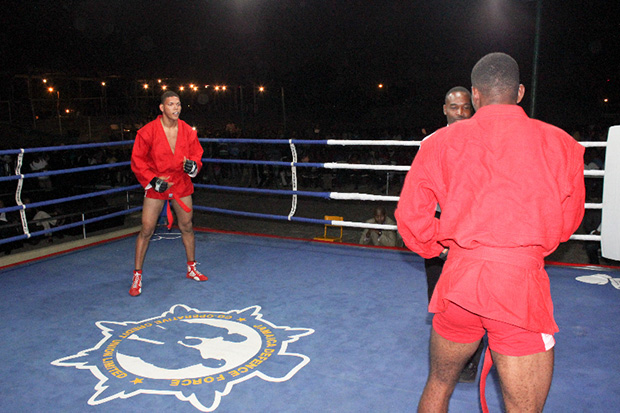 Many Caribbean countries are known to cultivate classic English boxing style in their power structures. These countries include Jamaica. The annual boxing matches between the divisions of law enforcement agencies in the city of Kingston have always attracted a lot of attention and are very popular. This year, a similar event became a platform for the demonstration of sambo in Jamaica. The Pan-American sambo medalist Matthew Colquhoun and his team-mate Warren Garvey demonstrated their sambo skills on the boxing ring.
"I´d like to note a growing interest on the part of the security forces to this "exotic martial art" a well as a large influx of young people to the sambo clubs. It became even more evident after the Jamaican team's successful performance in the Pan-American championship in Trinidad and Tobago in last October. It was when we won our first continental medals,"- said the general secretary of the Sambo Federation of Jamaica Daniel Chako-Willmot (pictured in the center).