A Bolivian gold medal in the 82 kg Combat SAMBO weight class at the Pan American SAMBO Championships in Asunción: a beautiful chest throw and thanks to my mother
Personalities
29 August 2016
Sergei Grishin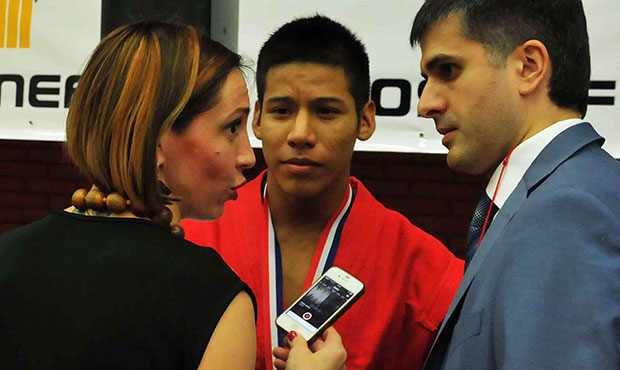 Bolivian Johan Delgadillo Roca was full of confidence in his final match. A chest throw for 4 points, continuing the fight on the mat, and then a successful retention for another high score. The result was a "gold" win over Diego Alejandro Escobar of Chile.
See it all here:
Read the interview with the Bolivian champion here:
"What do I feel? Happiness, happiness and great joy. Today was definitely the best day of my life. The final was difficult, and I worked very hard to win. I was able to throw, and basically you could say I overthrew him. Actually, before this, I was involved in Greco-Roman and freestyle wrestling, and that's why I grapple rather than strike.
My wrestling coach introduced me to SAMBO. He teaches a combination of these two great sports, and I'm really grateful to him.
I'd like to dedicate my victory to my mother, my family and my father, who is also my coach. But especially to my mother, because she cared about me and helped me overcome all the hardest and most difficult moments, and there are a lot of them in sports."