A BIG CONVERSATION with Eduardas Rudas
Competitions
28 November 2012
Sergei Grishin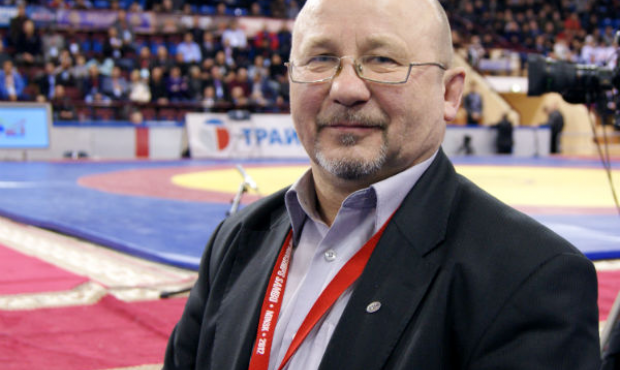 Today is a debut of a new column "A Big Conversation with..." on the FIAS web-site. There are a lot of interesting figures in the world of SAMBO you can talk to hours and hours on the most diverse topics. Conversations become so exciting, that there is no single word that is needless, and that is the reason why they really become so long-lasting. All SAMBO amateurs are invited to join our "BigConversations" as their readers. Our new column will be opened by a conversation with Eduardas Rudas, President of the Lithuanian SAMBO Federation.
"I try to take care of SAMBO"
– Eduardas, at the FIAS Congress held in Minsk, you were elected into the Executive Committee of the International Amateur SAMBO Federation. What does this new position mean to you?
– I am from the Baltic region and try to take care of Sambo in our region. Today, there is a significant development of this sport in our neighboring Poland as well. We hold joint competitions, share our experience. It is our pleasure that a new country has joined the family of Sambo making our favorite martial art take another step forward in its progress.
Nevertheless our federation does not receive support from the state because SAMBO is a non-Olympic sport. Certainly, we have lots of difficulties, but we do attempt to resolve emerging issues. Sometimes the national teams of Baltic States may even join together and travel to the competitions by a single bus. This is also a way to handle the situation, because without participating in the tournaments, there will be no interest in fighting. That is the reason why it is necessary and important for us to get support for the development of SAMBO.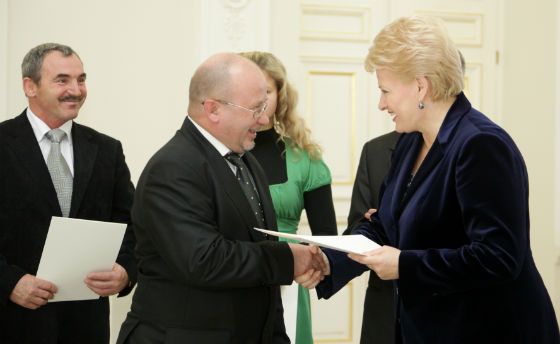 – You said there is no support from the state because SAMBO is not an official sport. What is your perspective of prospects for its accession to the IOC?
– Recently SAMBO has progressed a lot in its efforts to become an Olympic sport. Adoption of the Charter, building of the headquarters in Lausanne are all steps that play an important role. And this work needs to be continued. After all to become an Olympic sport, it is just needed to fulfill the requirements of the IOC Rules and Regulations.
Regarding the number of countries and continents where SAMBO is cultivated, we are already compliant with all the required criteria. But there is another requirement for receiving recognition of the federations from the national Olympic committees – that is what we should work on. I believe if the work we have already started continues to progress, SAMBO will soon become an Olympic sport.
Obviously it is not done as fast as we want it to be done. There are lots of internal and external factors that may derail the process. Some people simply dislike the fact that SAMBO strives to enter the Olympic family, so we really have to walk a difficult path ahead.
The Lithuanian Federation was recognized by the National Olympic Committee of the country two years ago. And here the International Amateur SAMBO Federation was of a great help to us. We had been striving to receive such recognition for years, but managed to do this only due to the assistance received from FIAS.
– How popular is SAMBO in Lithuania on the whole?
– After the 2011 World Championships held in Vilnius SAMBO has become very popular. We receive a lot of calls from those willing to practice this combat sport – from both kids and adults. This is obviously the positive effects of advertising. The World Championship held in Vilnius was largely supported by the media: the Internet, press, television, and street advertising. Such methods shall be used to promote SAMBO as often as possible.
There are two sports that are highly popular with Lithuania: basketball and bushido. And all of a sudden, people found out that combat SAMBO is even much more interesting than bushido. And they appreciated this. If the next year's World Championship was held in Vilnius, it would generate even more buzz. SAMBO is a very interesting sport, and Lithuania understands this.
– Marketing success is evident but what about sports achievements of Lithuanian SAMBO practitioners?
– We have stability which is the key to progress in the future. This year we have winners and medalists of European and World Championships, both in adult and youth championships.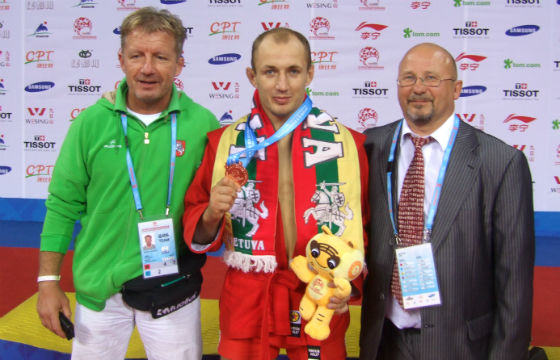 "I toppled the first, second, third guy..."
– Eduardas, and how did you start SAMBO?
– I started SAMBO when I was 16. Before that I had no idea what kind of sport it is. I only knew the word. Since my childhood I was fond of football, practiced gymnastics but mostly because my dad insisted on my taking up these sports. He is an amateur sportsman. And in a year after I started SAMBO, I received a certificate of mastery and became a master athlete, three years later I became the champion of the Soviet Union. But it is worthwhile mentioning that I had a really good foundation – football developed my coordination and gymnastics also did its part.
– What was the push? Why did you choose particularly SAMBO?
– You see I was the smallest at school. I was frequently bullied and pinched, so I wanted to learn something to be able to stand up for myself. I weighed only 48 kilos and after gymnastics I had three sports to choose from: weightlifting, boxing and wrestling. I gave up the idea to take up weightlifting because I was rather small, and lifting heavy weights I had a risk not to grow up at all. I did not select boxing either because I did not want punching of my head. And it turned out that wrestling has relatively few techniques – a very limited number.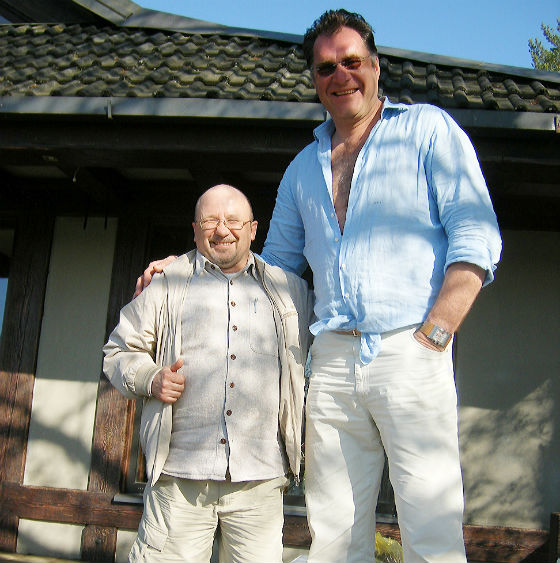 And suddenly I found out that one of my classmates was going to a SAMBO school. Eventually my schoolmate took me to this sports school and started teaching. On that day the coach was away from the class, there was someone running a class instead of him. They started teaching me a self-spot technique but I was quite bad at that. Then I thought I would never come back again.
And a friend of mine who took me to this school loved arranging different sparrings. He came to me and said: "Try to combat that guy" pointing at one of the boys. I said: "How can I combat him? I do not know how to do this". But he began persuading me. Then I asked him about the techniques I could use. It turned out that I could use practically any technique.
It means that almost anyone can wrestle, everything depends only on the imagination in every specific situation. I toppled the first, second and third guy... In the end I was wrestling a guy who was 10 kilos heavier than me. And I wrestled as his equal. At that moment I realized that I would practice SAMBO.
– Did your schoolmates change their attitude?
– I told no one that I started practicing. Well one day a guy came to me and was ready to pinch me again – grabbing my neck from behind. I threw him over the chest and he soared into the air like a rocket. I did not intend to throw him onto the floor - everything was clear even without that. After this no one dared to annoy me. It was not the only time when in my later years SAMBO stood me in good stead, there were several occasions when I rescued girls from bullies. Nonetheless I have always tried to avoid conflicts.
– Well, it appears that you have to be grateful to school bullies for your practicing SAMBO, doesn't it? 
– I was also encouraged by Czeslaw Jezerskas who at that time became a champion of the Soviet Union SAMBO championship. And he is from our district. Our parents even used to work together and sing in the same choir, his mum and my dad. By the way, Czeslaw eventually married a girl from our neighborhood. So I looked at him and thought: he can, and I cannot? And that was a very good incentive. In the end we even trained together and won a great reputation. That time was a rise of SAMBO in Lithuania...
"The family always feel offended"
– Being the President of the National SAMBO Federation you visit a lot of competitions. Have you ever tried to calculate how much time you spend in Lithuania and away?
– Well, I think that I am in Lithuania all the time and all the rest is just padding and wires. But in practice almost every weekend I go away somewhere. I am all obsessed with sports, I sometimes just go somewhere on my own to see the competitions. I went to London to see the Olympic Games when I was on my vacations. My son is now studying in the capital of England, so I stayed with him and went to the competitions: judo, swimming, gymnastics and athletics.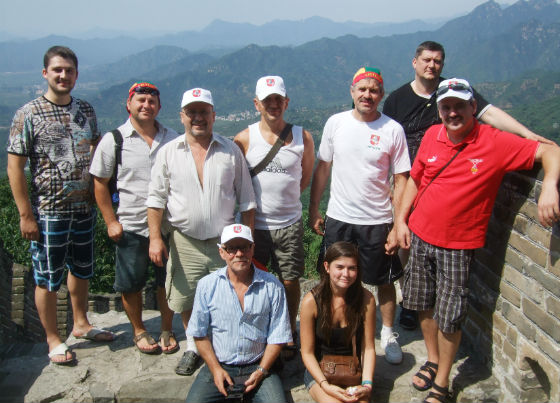 I closely watched the competitions themselves and the way of their organization – taking a look at the successful ways how you can combine and arrange all these. We hope to host the 2015 European SAMBO Championship in Lithuania: we have a lot of new modern stadiums in different cities. And if we want to become an Olympic sport, we have to know how to organize competitions of this level.
I remember most of all the new stadiums that have been built both in a comfortable and practical way. After the Olympic Games were held a half of the stadium can be removed or transferred into the competition arena for another sport. This is the correct approach. Sometimes it happens there are huge stadiums constructed for holding events, but after that they are empty, and there is no one to support them.
Although, for example, the Olympic judo competition was held in poor conditions. The facility was poorly adapted and equipped for athletes: in a large exhibition hall stretching perhaps for one kilometer there was some area provided and tribunes installed. Unlike judo, gymnastics, athletics and, certainly, swimming had their own arenas.
– Do your family not get offended because of your frequent being away from home?
– The family always feel offended, but they know this is my way of life. I have grown up children: my son is studying in London, my daughter already works and studies. But the wife fled away after 20 years of marriage. She says she is tired of my constant trips.
– Do you children share your love for SAMBO?
– Not to the extent it could be. My daughter, Victoria, did not probably really need it. But when my son was at school I told him that it was his must to practice. But he was practicing only for himself. If a person does not have zest, there is no point forcing him to do something.
Today Adas is studying to be an organizer – to hold competitions, concerts and various events. At the Olympic Games in London, he worked as a volunteer, and the following year he will participate in the students exchange program and will go to Australia. By the way, Adas has been my nickname since my childhood. I am Eduardas according to my passport but at the playground I was always called just Adas.
"You have to be glad that you can walk without external help"
– Eduardas, do you today devote a lot of your time to sports?
– I have always loved sports. However, today I cannot play football for some many hours as I used to before. Previously, I always used to play football during the intervals between my SAMBO trainings and exercises – now my joints cannot bear such loads. But I regularly play football once a week and of course I also run SAMBO trainings – so I do exercise. But in general, I am lazy by nature (laughs).
– In your opinion what is your most important sports achievement?
– Champion of the Union. I have always had a target. But the year when I won the Union Championship the World Championship to be held in Venezuela did not take place and I did not have a chance to fight for victory. I have always wanted to becomethe world champion, but managed to achieve it only at the masters' tournament.
At the age of 32, I had a severe spinal cord injury when jumping into water. Doctors then told me: you have to be glad that you can walk without external help. But after that I also managed to become the second and third medalist of the Union Championship although doctors forbade me even from playing football. I could not do otherwise: I thought that my life would end, because without sports it is not interesting at all.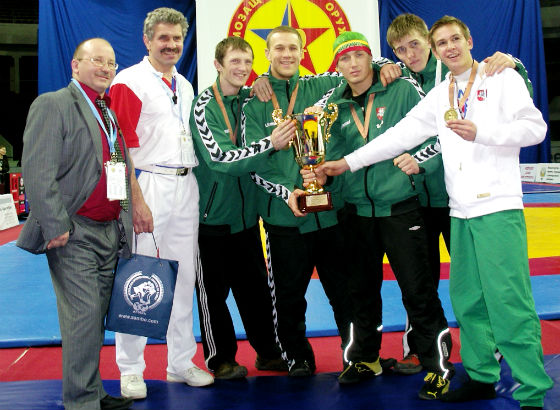 I was lucky – there was one surgeon. Firstly, he thoroughly examined my back with his hands, probed all the parts. And then giving no warning at all he pressed my back so strongly that all started cracking – I thought he had broken something. But to my surprise it had quite an opposite effect – I started feeling better. Although I could not practice anymore so I just went to the competitions and performed on the basis of my former achievements. In addition to the medals won at the Union Championship, I became second in Europe twice. When I got injured, I also decided to continue my education – I become a PhD in Human Physiology.
– Probably, in such a situation, victories have a special meaning to you, don't they?
– Of course, I was incredibly happy every time I was a winner. Moreover you were paid a good stipend for winning. At the time you could even be provided with an apartment, a car, but I got practically nothing – I thought that I would have time to win my part. But, probably, it is a special challenge. If I had managed to do everything from the first start, it would not have been interesting later on. And this way life gives you a lot of lessons, encourages you.
The conversation was organized by Alexander Solomakhin,
www.sambo.sport