BRONZE MEDALISTS OF THE SECOND DAY OF THE SAMBO WORLD CUP STAGE IN BELARUS
Competitions
13 February 2015
Sergei Grishin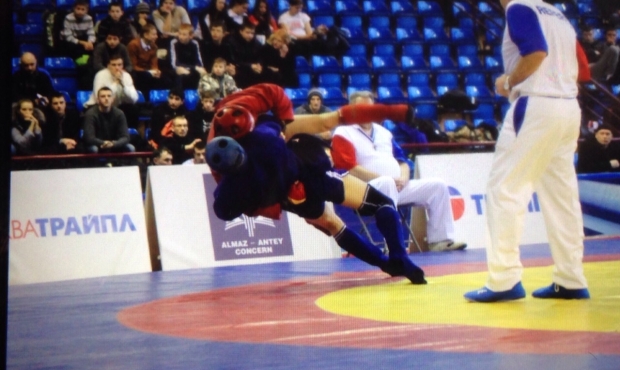 The second and final day of the Sambo World Cup "Open Sambo Championship of Belarus for Prizes of the President of Belarus" has started today in Minsk Sports Palace. Below are the names of all bronze medalists of the Second Day of the tournament, as well as brief information about those whose vivid wrestling in the minor finals stuck in memory of sambo fans and pleased experts of "unarmed defense".
Anna Kharitonova – "Windmill Woman"
World and Europe champion, gold winner at Universiade in Kazan, silver winner of the planetary forum 2014, Russian samboist Anna Kharitonova lost the opportunity to get into the final to Turkmenian wrestler Bulbadam Babamuratova. However, Anna was flawless in her main combat of the day for bronze medal. All the best actions in her technique – throws with clinch of legs and skilled windmills with high amplitude – delighted spectators and brought 6 points into her bronze bank, allowing her to win over her team mate Anna Gorelikova.
Tejen Tejenov – a Man with Spirit
A true killer instinct in the category of 82 kg was shown by Tejen Tejenov, the winner of the Asian Beach Games in Thailand. One minute before the end of the combat he was losing to his Russian opponent Evgeny Maksimov by 1 point, but it turned out this young man did not lack spirit. He evened the score and made a throw for 4 more points, which allowed him to win an important and valuable fight of the most prestigious World Cup with the final score of 5:3.
Tea Sukhitashvili – Georgian Goddess
The name "Tea" in Greek means "goddess",  and the Georgian samboist looked like a goddess in her fight for the bronze medal. The skills she showed deserve even more generous words. Powerful 4-point hip-roll with the high amplitude, in keeping with the best traditions of the Georgian school, and 4-point retention – this was the victorious result of Tea's bronze fight against the mat owner, Belarusian Angela Mendeleeva. Georgian coaches are happy: this is the second medal won by the women's national team at the tournament.
Viktors Resko – Vivid Win in the Partere
Latvian Viktors Resko, bronze winner of the world and European championships of the last year, was obviously disappointed by the loss of the opportunity to get into the final to the Belarusian Semochkin, and, at the end of the day, by the upcoming fight only for the third position in the final table.  However, he set himself up for the fight with Kazakh Denis Egorov perfectly well. The fight was short and very vivid – 1-point forward undercut with an arm grip and Achilles' ankle lock. Flawless victory and the first medal for the Latvian national team at the tournament.
Bronze winners of the second day:
Women
52 kg
Anna Kharitonova (Russia)
Aksionova Puta (Lituania)
60 kg
Madraimova Zuhra (Turkmenistan)
Huseynova Shahana (Azerbaijan)
68 kg
Sukhitashvili Tea (Georgia)
Alizada Narmina (Azerbaijan)
80 kg
Loseva Yulia (Russia)
Shynkevich Volha (Belarus)
Men
57 kg
Kupatadze Irakli (Georgia)
Raiymkulov Bolatbek (Kazakhstan)
68 kg
Serikov Nurbol (Kazakhstan)
Zharylgassov Bagdat (Kazakhstan)
82 kg
Tejenov Tejen (Turkmenistan)
Manukian Arutiun (Russia)
100 kg
Matsko Mikalai (Belarus)
Resko Viktors (Latvia)
Combat Sambo
74 kg
Drach Vldimir (Belarus)
Nasibyan Marvik (Armenia)
90 kg
Vauchok Yauheni (Belarus)
Horbich Aliaksei (Belarus)
[Photogallery] World Cup Series "For the prizes of the President of the Republic of Belarus". Day 2