The African Sambo Championship 2015 in Casablanca: an interview with the President of the African Sambo Confederation Dalil Scalli
Personalities
23 May 2015
Sergei Grishin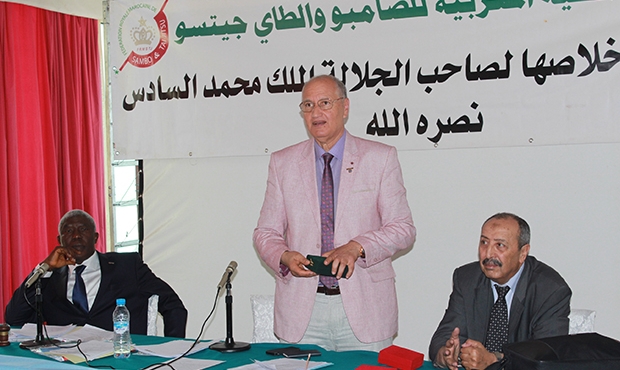 We present an interview with the newly elected president of the African Sambo Confederation, Dalil Scalli. The president will speak about innovations in the organization, development strategies, expectations from the upcoming World Sambo Championship in Morocco, and how he sees the work of his African colleagues.
Thanks to colleagues
I would like to thank all my friends for their confidence in me. I'm very grateful to them for their trust and support. The African Sambo Confederation is one big, happy family. We're all brothers, all working for a common goal – to promote Sambo in Africa. And of course, we stand in solidarity with FIAS President Vasily Shestakov and his direction of development for Sambo. For our part, we follow FIAS directives closely in our work. We go hand in hand, rallying for our common goal of developing Sambo. In the process, we look for new and better ways of development that can quickly lead us to our goal of seeing Sambo flourish on the African continent.
The development of Combat Sambo in Africa 
First, today we formed a Combat Sambo committee and elected Tunisian representative Makrem Saanouni as its chairman. He has had a long journey in Combat Sambo, both as a coach and as an athlete. He has a lot of experience and knowledge in the discipline of Sambo and he is ready to share them with colleagues. Combat Sambo is new for us, but is definitely a priority for development. As you know, the first African Sambo Championship will be held this year. This is a real breakthrough and innovation for us. 
Division of the African Sambo Confederation into zones
At the Congress, Dalil Scalli suggested working in Africa by dividing the continent into zones. The idea is to divide the continent into five geographic zones. There are plans to assign a five-member supervisory group consisting of administrative and technical specialists. To begin with, this principle will be implemented in the educational activities of the CAS. A wide variety of educational seminars for coaches, referees and athletes will be distributed and held in the zones. This will prevent situations of wasteful spending, such as when Sambo wrestlers from the Seychelles arrive for a workshop in Morocco. We'll create a zone, and neighboring countries forming this geographic zone will not waste money, effort or time. This is important, because this is how we will try to optimize the economic component. Creating zones will make this work much easier. We'll see how the idea evolves.  It will probably move from the educational to the sports component, for example, holding regional championships on the zonal principle. This is an idea for the future that we're launching now and will continue to develop, depending on the results we obtain at the implementation phase of the educational project.
Candidates for hosting African Sambo Championships
There was no-holds-barred competition at the CAS Congress for the right to host the 2016, 2017 and 2018 African Championships The was because the CAS received a large number of applications to become the capital of the continental tournament. I'm very pleased with this. Previously, figuratively speaking, I was looking with a magnifying glass for a federation that wanted to host the African Championship. Now the situation is the exact opposite, which is very gratifying. This is a good sign, and now my problem is not to offend anyone. This competition and the contest for the right to host it are signs of development and show that Sambo is really growing and a bright future and success lie ahead for us.
Enlargement of the Executive Committee of the CAS
Previously, we only had 5 countries in the CAS and 7 members of the Executive Committee. Now we are growing, and the CAS will soon have 30 member countries.  So of course we need to expand our administration. The new Executive Committee members will be responsible for specific activities of a federation and will head various commissions and committees. That's why the Congress added two more people to the Executive Committee, increasing its composition to 9 members.
I think everything will work out. I'm confident and I see that the federations have started to move towards independence and self-financing. We have a very good example of this in the Sambo Federations of Morocco, Cameroon and several others. There is potential, and there are ambitious people who can organize the work so that the federations become as independent and self-sufficient as possible.
The inclusion of Sambo in the All-Africa Games
The All-Africa Games should certainly help to promote Sambo in Africa and may become a strong incentive for the development of African Sambo. It will almost certainly help the federations solve a lot of organizational and economic issues. It's a marker for the sports authorities – a sport recognized and worthy of funding. So we really hope that Sambo will be included in the program of the Games. Our application to participate in the 2015 games, which will be held in November in Congo, is now being considered by the Association of African Sports Confederations. The organization will consider the application in early November, and we hope Sambo will be included in the program as a demonstration sport. There is also a strong possibility that Sambo will be included in the program of the Francophone Games, which will be held soon in Côte d'Ivoire.
I've always been an optimist. After this Congress, I'm even more convinced in that we're heading in the right direction. I'm very optimistic about the development of Sambo in Africa. All federations are working with great enthusiasm, and I see that people want to work. I always rely on friendship, honest cooperation and interaction.  That's how we work. Our African Sambo Confederation is our family. 
The World Sambo Championship 2015 in Casablanca
This championship is a great pride for Africans. Everyone is waiting for it, and we're all very proud to be participants in the home Sambo World Cup for the first time in our lives. All Africans are waiting eagerly for our home championship. We believe we will hold it properly to the highest standard. We as Africans would like to see the next World Cup on the African continent held in Cameroon. The Cameroon Sambo Federation occupies a very important position in the world of African Sambo, in both the administrative and athletic sense.