Championship of Ukraine Took Place in Lviv
Competitions
8 March 2015
Sergei Grishin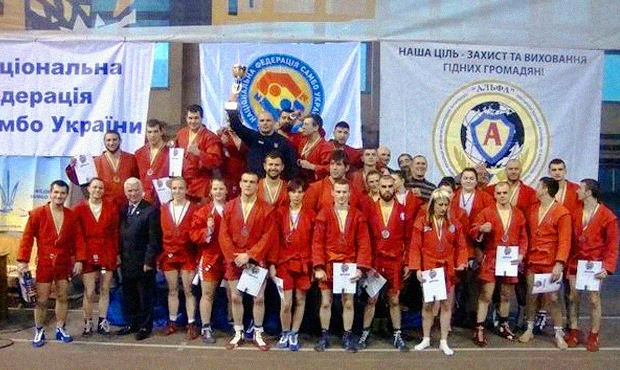 On February 28 and March 1, Lviv hosted the championship of Ukraine among men and women. The tournament awards were won by the representatives of 21 regions of the country. Kyiv got the largest number of awards – 6 gold, 9 silver and 11 bronze medals, according to the press service of the European Sambo Federation.
Razmik Tonoyan from Kyiv won two gold medals at the championship of Ukraine. He fought in the super heavyweight category (over 100 kg) both in sport and combat sambo. Despite the fact that it was his debut in the combat division, Razmik Tonoyan finished the final fight against his townsman Aleksey Titarenko ahead of time. He also didn't spend all five minutes determined by the regulations on the fight in sport sambo. Razmik Tonoyan is a bronze medalist of the 2014 European Championship. He'll try to improve his performance at the continental forum to be held in Zagreb in May.
Other leaders, the owners of awards of world and European championships, also proved their high-class performance at the last championship of Ukraine which was attended by 350 athletes from 22 regions of the country. The most award-winning final combat was among women in the weight category of up to 64 kg. Elena Saiko (the owner of the planetary bronze medal in the weight category of up to 60 kg) decided to shift to a heavier category. Alina Boikova, the bronze medalist of the Old World, also belongs to this category. The fight between them was very hard: just a couple of tens of seconds before the whistle, Saiko forced the opponent to surrender by making a painful hold.
In contrast, Tatyana Savenko, the owner of the 2014 world and continental bronze medal, lose her weight – from 72 to 68 kg. However, it did not prevent her from winning. Top deserved medals were also taken by Natalya Smal, Olesya Savchuk, Sergey Chyorny, Vasilina-Irina Kirichenko, Dmitriy Babiychuk and Maksim Ryndovskiy.
Results of team event:
1. Kyiv
2. Kharkiv Region
3. Lviv Region
Champions of Ukraine-2015
Women
Up to 44 kg — GUBYAN (Ivano-Frankivsk Region) 
Up to 48 kg — Alina SOKOLOVSKAYA (Zhytomyr Region) 
Up to 52 kg — Maria BUYOK (Chernihiv Region) 
Up to 56 kg — Olesya SAVCHUK (Kyiv Region) 
Up to 60 kg — Anastasia SHEVCHENKO (Kharkiv Region) 
Up to 64 kg — Elena SAIKO (Ivano-Frankivsk Region) 
Up to 68 kg — Tatyana SAVENKO (Dnipropetrovsk Region) 
Up to 72 kg — Natalya SMAL (Chernihiv Region) 
Up to 80 kg — Galina KOVALSKAYA (Odessa Region) 
Over 80 kg — Vasilina-Irina KIRICHENKO (Lviv Region)
Men
Up to 48 kg — Dmitriy STREMENOVSKIY (Vinnytsia Region) 
Up to 52 kg — Grachik OSIPYAN (Vinnytsia Region) 
Up to 57 kg — Aleksey POLTAVTSEV (Chernihiv Region) 
Up to 62 kg — Dmitriy EVDOSHENKO (Kharkiv Region) 
Up to 68 kg — Mikhail SATS (Volyn Region) 
Up to 74 kg — Dmitriy BABIYCHUK (Lviv Region) 
Up to 82 kg — Aleksey NIZHENKO (Chernihiv Region) 
Up to 90 kg — Valentin GREKOV (Dnipropetrovsk Region) 
Up to 100 kg — Yaroslav RYTKO (Mykolaiv Region) 
Over 100 kg — Razmik TONOYAN (Kyiv)
Combat sambo 
Up to 48 kg — Bogdan KUDRYA (Kyiv) 
Up to 52 kg — Sergey ROZPUTNIY (Volyn Region) 
Up to 57 kg — Sergey CHYORNIY (Kyiv) 
Up to 62 kg — Bogdan KONDRATOVICH (Kharkiv Region) 
Up to 68 kg — Aleksey ZAETS (Kyiv) 
Up to 74 kg — Vadim BURCHAK (Rivne Region) 
Up to 82 kg — Maksim RYNDOVSKIY (Kyiv) 
Up to 90 kg — Dmitriy BULGAK (Kherson Region) 
Up to 100 kg — Anatoliy VOLOSHINOV (Odessa Region) 
Over 100 kg — Razmik TONOYAN (Kyiv)