Uzbekistan SAMBO Championships were held in Tashkent
Federations
25 February 2021
Aleksandr Solomahin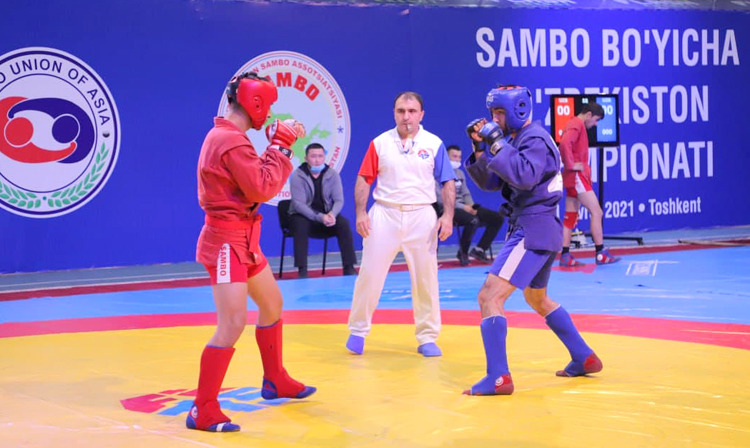 The National SAMBO Championships of Uzbekistan were held from 19 to 21 February in the Tashkent sports complex "Universal". The competitions were held in accordance with the updated FIAS rules in 7 weight categories among men, women and in Combat SAMBO. According to the organizers, about 800 athletes of the republic took part in the tournament.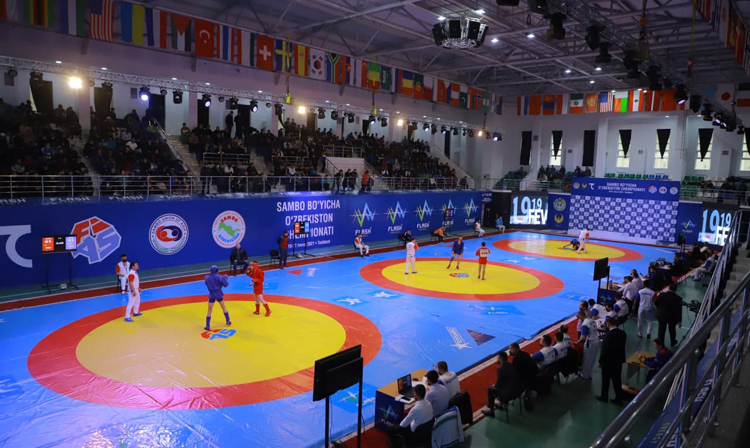 As national SAMBO Association of Uzbekistan noted, for the first time the country's domestic championships were held in cooperation with the World Anti-Doping Agency (WADA) and the National Anti-Doping Agency of Uzbekistan (UzNADA). In the course of this cooperation, doping tests were organized for the winners and silver medalists of the tournament.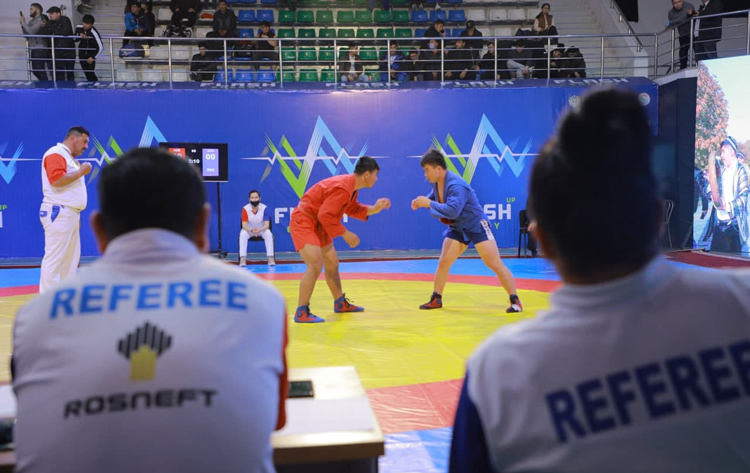 "These tests were introduced at the Uzbekistan Championships in order to ensure the implementation of the President's decree, comprehensive training of athletes for international competitions, and prevention of various undesirable phenomena associated with doping," the press service of the SAMBO Association of Uzbekistan said in a statement.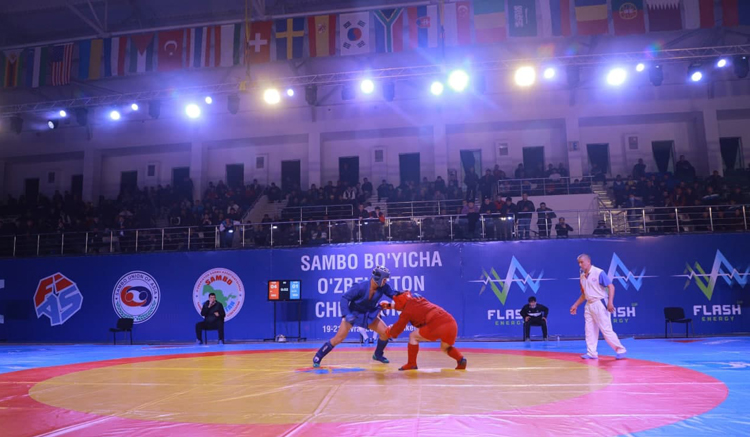 At the tournament, which attracted a large number of spectators, the veterans of the sport were also honored. A group of veterans who have made a significant contribution to the development of sports in the republic was awarded the title of "Veteran of Sports of Uzbekistan". The award ceremony was held by the chairman of the Council of Sports Veterans of Uzbekistan Bahodir Makhsitov and the chairman of the SAMBO Association of Uzbekistan Alisher Alimov.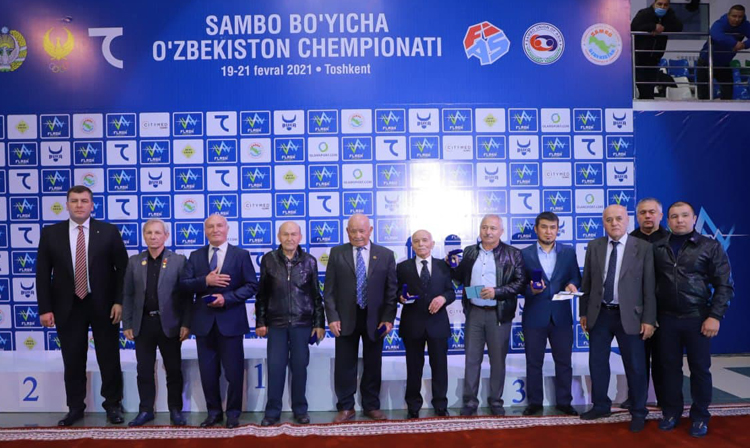 During the championships, the best athletes, coaches, referees and functionaries of Uzbek SAMBO were also awarded according to the results of the past year.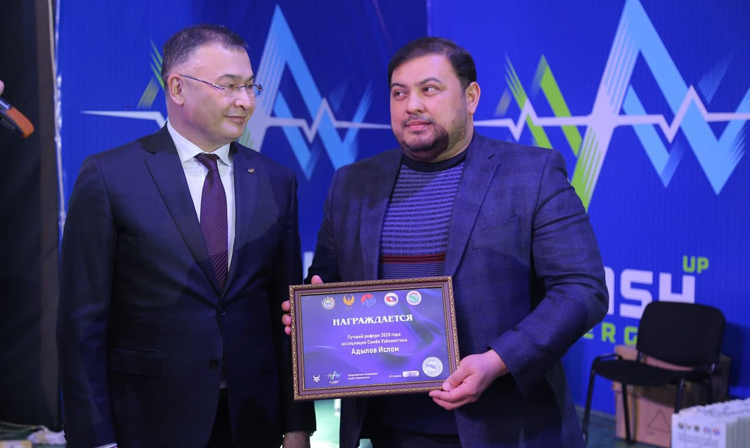 According to the results of the team competition, representatives of the Samarkand region won first place. They are followed by a team of sambists from Tashkent, and the top three are closed by athletes from Navoi.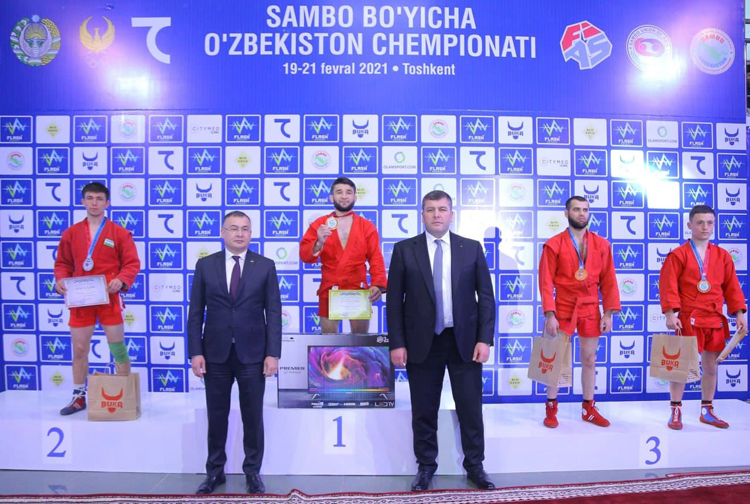 Results of the Uzbekistan SAMBO Championships 2021
Women
50 Kg
1. DAVLATOVA Sabina
2. IBODULLAEVA Musharraf
3. TURSUNOVA Marjona
3. ZHURAEVA Gulhayo
54 kg
1. ZIYAEVA Gulnoza
2. KHAMIDOVA Aziza
3. AITMURATOVA Azada
3. KHAIBULLAEVA Raushan
59 kg
1. AGADZHONOVA Ibodat
2. PARDAEVA Mashhura
3. FARMONOVA Valentina
3. KUDRATULLAYEVA Mohiruza
65 kg
1. ESANOVA Sarvinosis
2. ELMURATOVA Indira
3. SHAKHRIOROVA Khurshida
3. BOKHUROZOVA Munira
72 kg
1. AMIROVA Shohista
2. KOMILZHONOVA Mohigul
3. ISMATOVA Gulmira
3. KHAITOVA Begoyim
80 Kg
1. SALOKHIDDINOVA Madina
2. ESANOVA Maftuna
3. KHODZHAEVA Nigina
3. HAMDAMOVA Maftuna
+80 kg
1. MUKHAMMADIEVA Yulduz
2. ERKINBAYEVA Sanlem
3. SAINAZAROVA Madina
3. SHAMSIDDINOVA Sevara
Men
58 kg
1. FARMONOV Ahror
2. FATTULAEV Oybek
3. PARMONOV Ilkhom
3. RASHIDOV Azam
64 kg
1. MUMINOV Hamid
2. FAYZULLAEV Feruz
3. SADULLAEV Muhammadali
3. EGAMOV Ruziboy
71 kg
1. ASROROV Tohir
2. NURMATOV Shakhboz
3. RAKHIMOV Elbek
3. MADJIDOV Rafik
79 kg
1. SHUKUROV Muhammadnozim
2. KHOZHIMATOV Aziz
3. DODOEV Zhovid
3. SULTONOV Mironsoh
88 kg
1. ESHMURODOV Ikhtiyor
2. DOSMURODOV Oybek
3. TELMANI Jamshid
3. YULDASHEV Khodjiakbar
98 kg
1. CHORIEV Dilshod
2. MIRKHALIKOV Nodir
3. HOLMATOV Sukhrob
3. ARTYKOV Jaloliddin
+98 kg
1. KHUSANOV Khusniddin
2. TURAEV Hayitbek
3. RAVSHANOV Ezozbek
3. ABDULLAEV Elbek
Combat SAMBO
58 kg
1. BAKIEV Bakhodir
2. Saidamatov Lutfulla
3. ALMAKHAMATOV Jakhongir
3. ANORKULOV Sirozhiddin
64 kg
1. Soliev Oybek
2. RASULOV Sherzod
3. KURBANOV Shahboz
3. GADOEV Sanat
71 kg
1. KUDRATOV Istam
2. ISMANOV Sanat
3. SULTONOV Davlat
3. DADABOEV Ziyod (Tashkent)
79 kg
1. ISMANOV Sherzod
2. Ashurov Bakojon
3. SAIDOV Tolkien
3. GULOMKHASANOV Azizbek
88 kg
1. GASANBOYEV Sohib
2. SMETULLAEV Akhmet
3. KHOLOV Umid
3. RAKHIMOV Hasan
98 kg
1. KHODZHINIYAZOV Shermukhambet
2. YULDASHEV Ruzimurod
3. AKHMADOV Bekhzod
3. SATTOR Davron
+98 kg
1. ISMOILOV Hakimjon
2. ABDUKAMILOV Meyirbek
3. MURTAZAKULOV Alim
3. AKBAROV Alisher