What's happening in Punto Fijo on the eve of the Albert Astakhov Memorial Sambo World Cup Stage Tournament
Competitions
3 July 2014
Sergei Grishin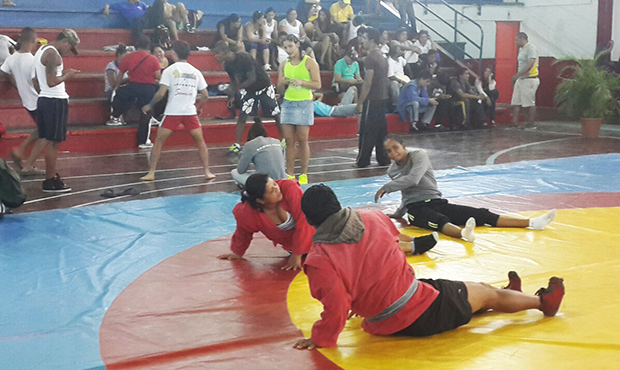 As it happens, Punto Fijo is where Sambo wrestling took root in Venezuela and began to spread through the country. It was in this city that Sambo hero Albert Astakhov began his mission to educate people about the sport, and the Sambo World Cup is being held in this country for the 11th time in his honour. Take a look at our photo graphic coverage today from Venezuela to find out how everyone who has any connection with unarmed self-defence is preparing for the tournament that opens tomorrow.
Punto Fijo Institute
Just as a visit to the theatre starts at the cloakroom, so the Sambo tournament begins with the technical meeting, which is a "must" before any Sambo tournament. The World Cup in Venezuela is no exception, and this event was hosted by the Francisco de Miranda Nacional University. The words of Benjamin Franklin at the entrance to this educational establishment are more appropriate than ever to the truth that Sambo founder Albert Astakhov preached in the country. The quotation on the university wall which greets any visitor says: "Tell me and I forget, teach me and I may remember, involve me and I learn."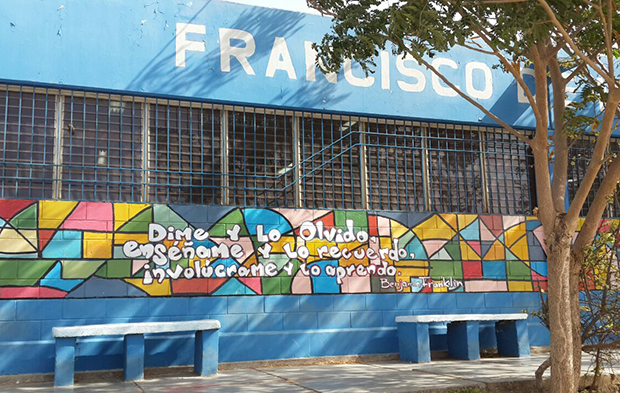 Technical meeting
As a rule, all technical meetings in Sambo are the same: organisational matters, regulations for competitions, and nuances of refereeing. All this happened today in Punto Fijo too. But there was also what distinguishes Venezuela, and the Americas as a whole, from other parts of the world, and that is the warmth, the friendliness and the kind of magical atmosphere of happiness that surrounds you when you visit this continent.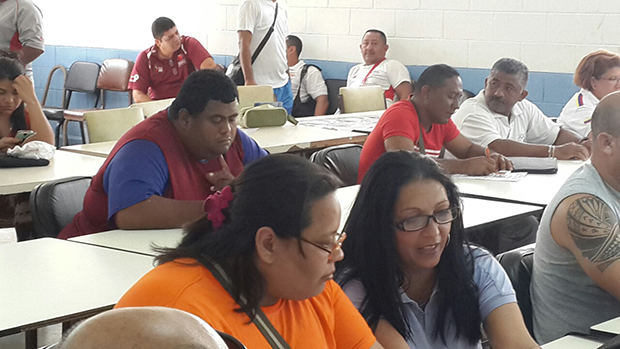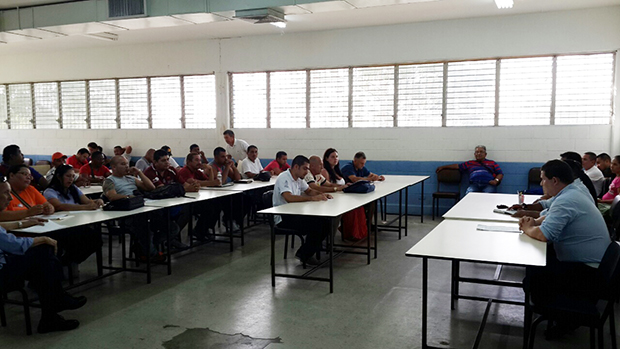 General Secretary of the Venezuelan Sambo Federation
Allow us to introduce you. This charming young man is none other than Luis Adrianza, General Secretary of the Venezuelan Sambo Federation, a role he combines with that of coach. He's been a coach for 15 years, and he's won more titles than any other Venezuelan Sambo competitor: he's been the national champion several times and Pan-American champion four times, and he's the only male Venezuelan Sambo wrestler to win bronze in the World Sambo Championships. His career also includes another title – World Jiu Jitsu Champion. As he says, it was the Sambo throwing technique and also the rich parterre school of unarmed self-defence that helped him to win this prestigious title. And on top of that he's been teaching Sambo wrestling for many years in a sports school where anyone who wants to can learn the skills of his favourite combat sport free of charge. Children from the most dangerous and difficult areas of Venezuela, which are known here as barrios, are frequent guests in Luis's school – clear evidence of the powerful social element in Sambo wrestling.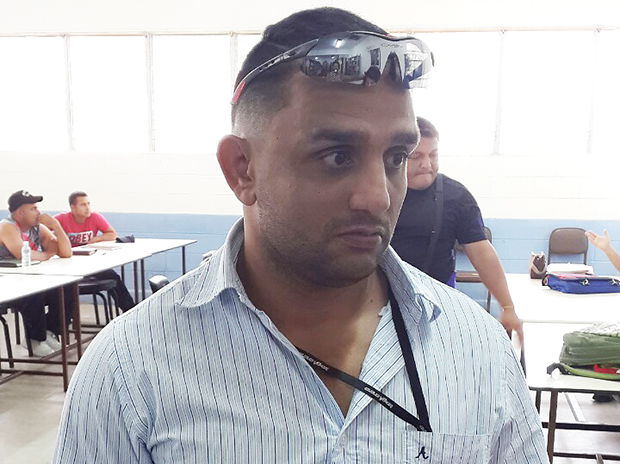 Where will the Sambo bouts take place?
This is the Fenelon Diaz hall, which can accommodate about a thousand spectators. Tomorrow it will become the centre of Venezuelan Sambo life for several days, but today Sambo wrestlers who've come to Venezuela to try their strength and find out who's best in the Pan-American Stage of the 2014 Sambo World Cup are limbering up, cutting their weight and acclimatising.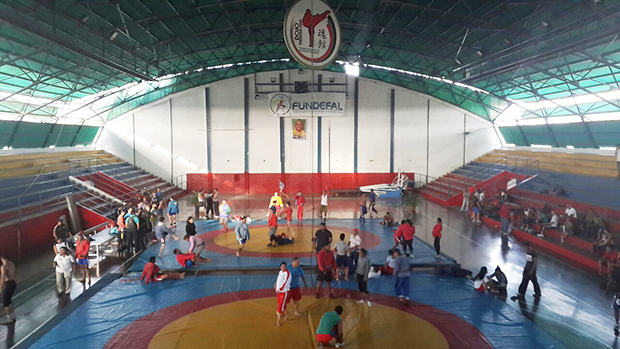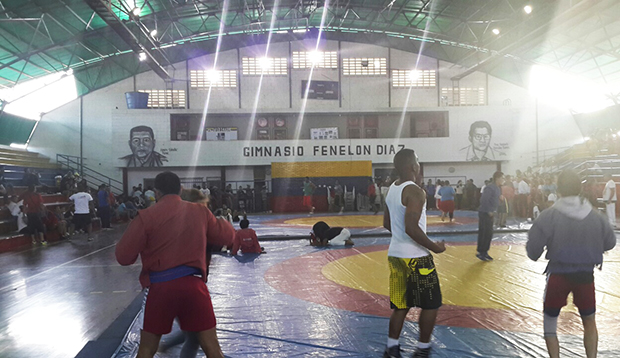 Who's preparing for the tournament that opens tomorrow, and how are they doing so?
The so-called lead-up to the start is a very subtle and important affair. It also happens to be a very individual story. Some people opt to relax the day before the tournament opens, preferring a massage session...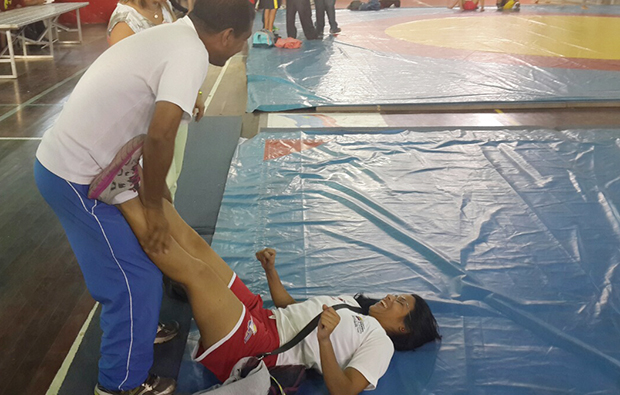 While others, probably inspired by the football World Cup that's currently underway in Brazil, prefer to get into top form by doing tricks with a football.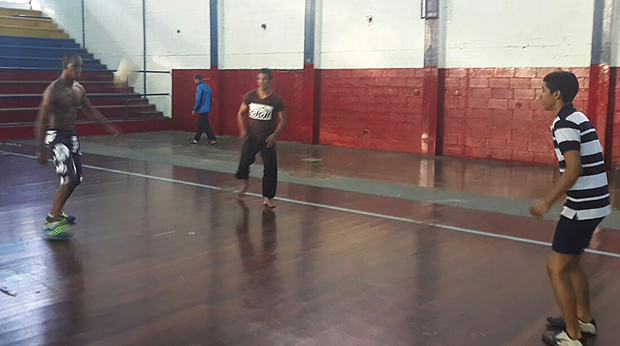 Some find their best help in this is a rubber resistance band, and their method is to practise their "signature throws".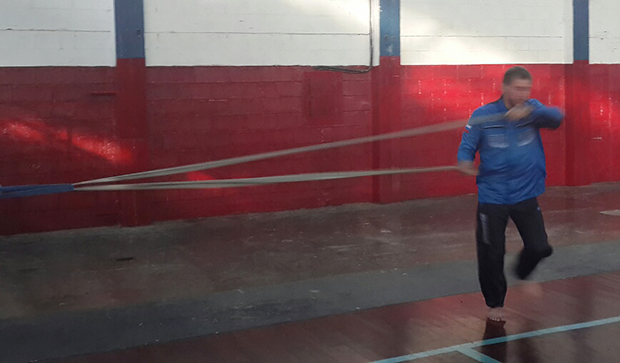 Others keep it simple by doing a classical warm-up with some elements of stretching.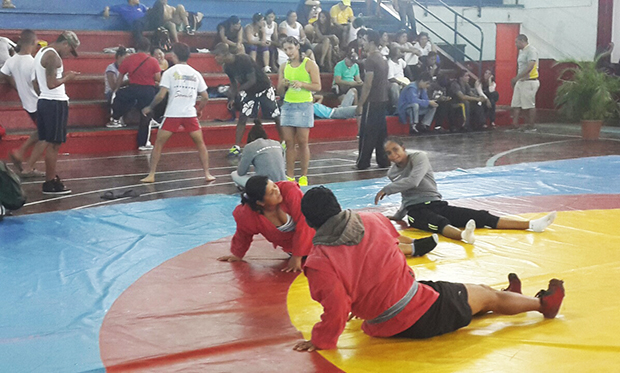 But in the end they all have to get on the scales, where quite a queue has formed, and this shows that there will be lots of competitors wishing to try their strength tomorrow on the Sambo mats of Punto Fijo.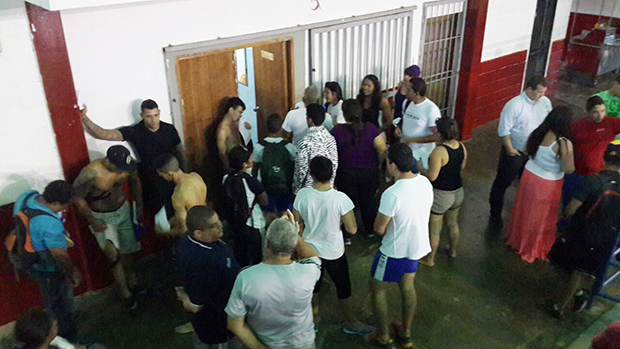 And meanwhile here is Michal Buchel, head of the FIAS office in Lausanne, giving an interview to a local television company which is interested in the way that Sambo is spreading not just across the Pan-American continent but also around the world.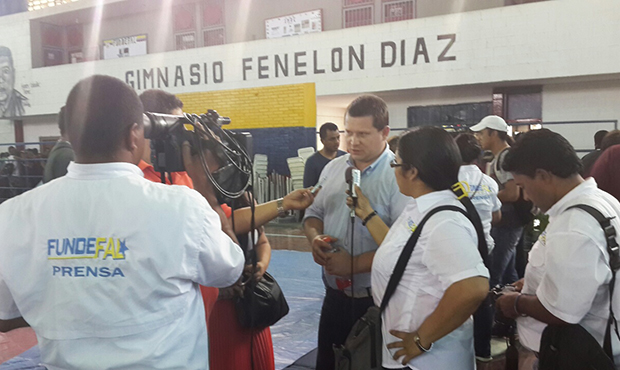 What's next?
Read our next report from Venezuela tomorrow to find out how all these preparations end, who wins what in the Albert Astakhov Memorial Sambo World Cup Stage Tournament, and also what emotions they experience and what kind of fight they put up in the process.