Daniel Ventura: "I work out after work six days a week but manage to get home before my daughters go to bed"
Personalities
8 April 2015
Sergei Grishin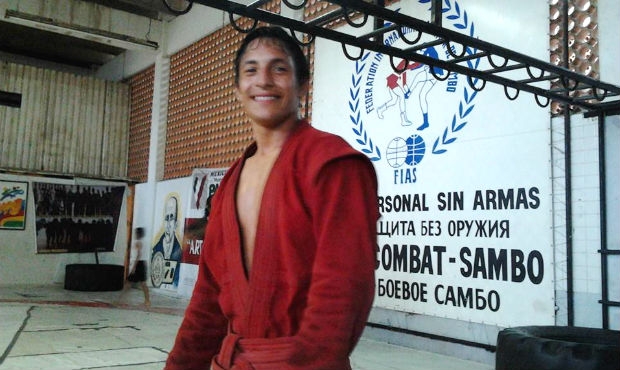 Mexican sambo athlete of international level Daniel Garcia Ventura comes from the city of Guadalajara, the capital of the Jalisco state. This state is the home of Mexico's two main symbols – tequila and mariachi songs.  
Garcia Ventura is married and has two little daughters. Daniel shows an example of how one can combine a lot of things in one's life. "I live a very active and dynamic life: I get up, go to work and work out in the evening. After that I spend some time with my family. I work out six days a week for three hours and after my workout I manage to get home before my daughters go to bed. My wife Karla helps me in everything – she is my angel. The only thing I want at the end of the day is to have some sleep because rest is very important for achievement of goals." 
Answering the question about when he started to do sport, Daniel said that his parents took him to a sports school at an age of five. Daniel has been doing sambo in the National Sambo Academy named after Vladimir Kulkov for eight years now. He also goes into athletics, baseball and wrestling. 
 "Sambo is a lifestyle that never lets down those who choose it," says Daniel. "I am sure that a day will come when sambo will be included in the list of Olympic sports."
Garcia won his first national competitions in 2012 and his first national championship in 2013.  In 2013 Garcia took third place at the Pan-American Championship in Panama. 
He adds that sambo helped him to get acquainted with such people as Viktor Dmitriyev and Fyodor Yemelyanenko who he admires.
 "I am very grateful to my coach Antonio Rebollar for acquainting me with sambo. This sport was of great help in my life," Daniel Garcia Ventura notes. 
He ties his future with his favorite sport.
 "I want to help to promote sambo. Now I am doing it as an athlete but in future I would like to pass my knowledge over to the younger generation as a coach," says Daniel. 
The athlete notes that sambo is gradually growing in popularity in Mexico.
"Frankly speaking, this is not a very popular sport in my country now but every day more and more people want to learn more about it and take it up. My dream is to teach sambo in Russia in the Kstovo Academy," Daniel Garcia Ventura remarked.