Diana Ryabova on How Two Champions Started a Family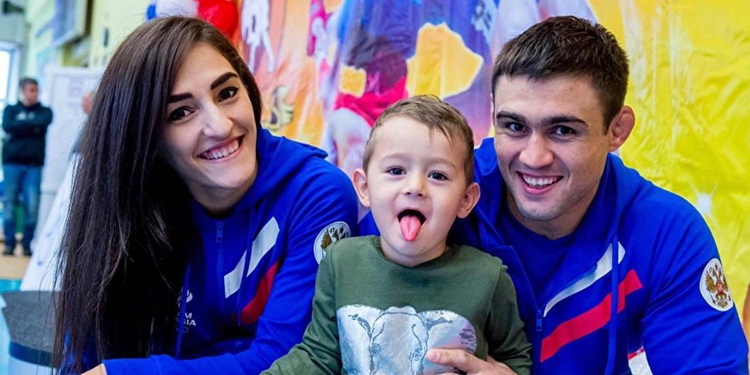 The Russian sambists Diana and Sergey Ryabov have five world titles, two golds of the European Games and one son David. On the Day of Family, Love and Fidelity, Diana told TASS agency the story of a meeting with her future husband on the other side of the globe, their romance, and how the two champions started a family.
There was no any particular attention to our family so far, especially when I was on maternity leave and my husband was performing. As we won the European Games together, and then the World Championships, we started to be interviewed more about our private life.
We met in Venezuela at a competition, performed there, and after the tournament we gathered as a team and met each other there. Sergey took my fancy right away. Was the feeling mutual? It probably was (laughs). It was 2013, I also got injured there and after the competition I was upset, with a swollen knee. I was already thinking of quitting the sport, as all through that year I've got nothing but injuries or losses (at that time Diana was already the world champion, winning the title in 2009, but then she would win the gold of the world championships twice more - in 2018 and 2019 — TASS).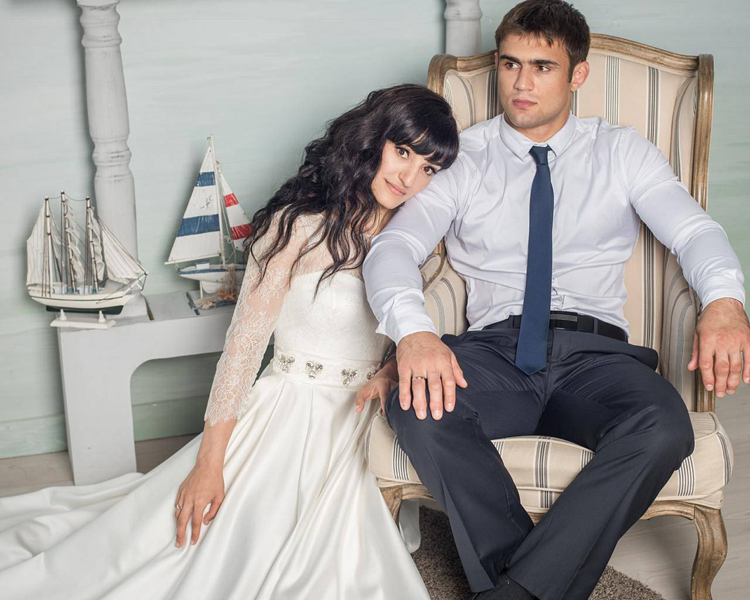 Back then, we conversed mostly online — I am from Vyksa, and Sergey was living in Moscow, so we were meeting each other at competitions. About a year later, maybe a little more, I joined him in Moscow. He was helping me a great deal through that difficult period of mine when I was thinking of quitting the wrestling — to get into a good shape, and he keeps doing this ever since. Neither my nor his coaches were against such an official affair, and after moving to Moscow I was transferred to SAMBO-70 where we are training together now.
"I Can't Stand This Anymore"
For some time, Sergey performed in judo, and that year he almost entirely spent on-the-go, those unending training camps, you know. It happened when he came back from a camp where he had spent a month and a half. In the evening, we just went out shopping together, and then all of a sudden he said: "Okay, I can't stand it anymore." And gave me a ring. Apparently, he had bought it in Sochi, kept it in his pocket all day and so spontaneously made his proposal. He said that it was no good that I was sitting alone and waiting for him back from training camps, that I'd better wait for him in the position of his wife. By that time, we had already lived together for several months, and I moved to Moscow for his sake, so, of course, I immediately agreed.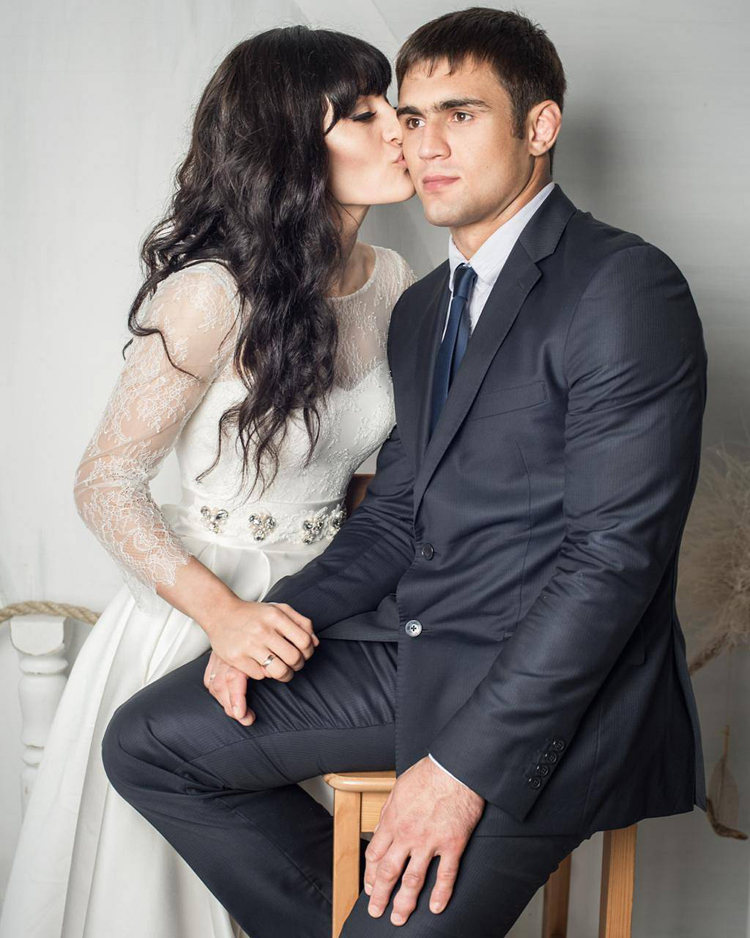 Now he practically does not perform in judo, we are both engaged in SAMBO, so most often we go to the training camps together. Very rarely, maybe once or twice a year, training events are held separately, and then we part for a couple of weeks. At a training camp, we stay in different rooms, but such separation is not a burden for us, as we are practically always together. And even when he was doing judo, I was tolerant of this, I realized that it was sports, I did not make scenes out of this. I just waited, be it for three weeks, or for a month.
We've been practicing in the same group for five years, but there's no special relation to the fact that we are a couple; being professionals, we are just focused on our training and work. As new female members have joined our team, we've got a lot of new couples now (laughs). I can say that we were pioneers, and there are new love stories taking shape out there. Yes, it's even better when you are together, it's very convenient — you go together to work and back from work.
Like any other family, we have tiffs and make peace. No, of course, we do not solve controversial issues in sparring, we have enough sparring at work (laughs). On the contrary, if we quarrel, then the silence falls all around. Secrets of a dependable family? Love, mutual understanding, shared goals. Even if the spouses are in different professions, they always have some goal that they work towards and try to overcome problems on their way.
"I Worried For Him More Than For My Own Self"
In one of her interview, Diana has mentioned that she is much more worried as she watches her husband's performances rather than when she competes herself. Indeed, at this moment you can't help your loved one in any way, you just have to root for them.
I well remember those competitions that made me upset most. I just gave birth to our son, he was about a month old, and Sergey was fighting at the World Championships in Sofia and took the second place. I was not able to join him at the tournament, although I usually attend such major events, but that time my baby and I stayed home. His defeat was a real nuisance, but at that moment I couldn't even be there to support him, so yes, I was really worried. It seems to me that at that time I was even more upset than Sergei, he reacted to this much easier.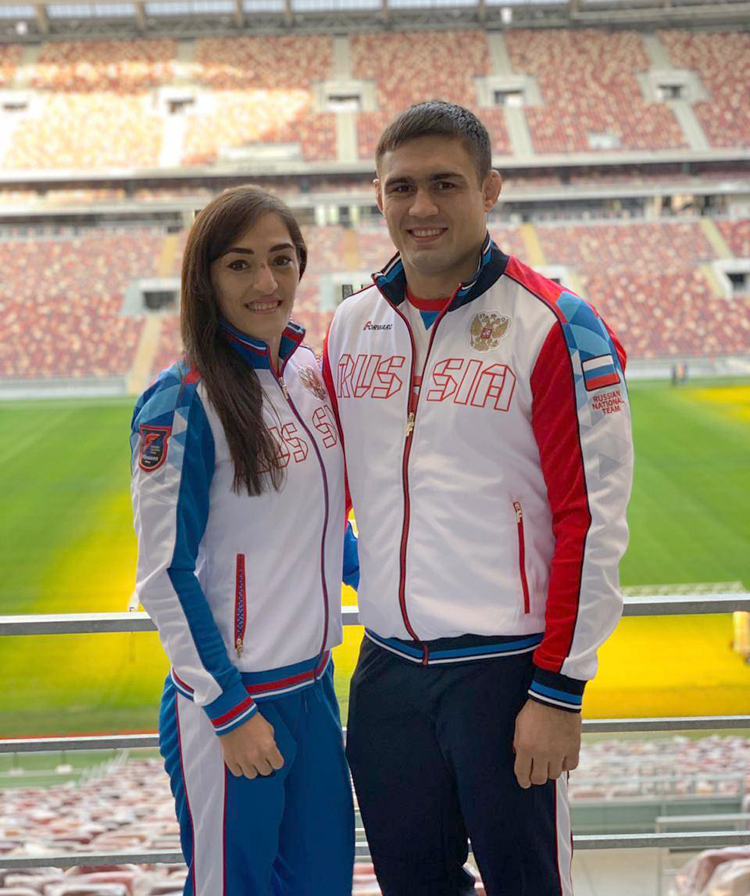 Every official start means nerves and worries about how to succeed. Quite regularly, according to the schedule of tournaments, he fights first, and at this moment I am preparing for my starts, busy with cutting weight. When my husband's bouts are over, he most certainly comes to see my performances. Most of the time, I'm watching his fights either in record at my hotel room, or I ask my friends to report in detail what is happening to him at the moment. Thus I try to steady my nerves before my match. Yet, you still worry, and when you watch it, you worry even more.
At competitions, as well as at training camps, we stay in different rooms. We see each other, of course, we talk with each other and mix with the whole team. Does my husband help me psych myself up for a competition? He wishes good luck, of course, but as to some real psyching up — no, he's not getting into my head, if you mean this. I am an experienced athlete, and so is he, we all have our own little secrets, and everyone knows the best way to psych oneself up. But certainly he can give a technical hint, what to do in terms of fighting.
The European Games in Minsk last year were probably the only starts when we were fighting on the same day. And it was very stressful indeed. There are displays set up in the warm-up gym, and as you fight, you see your husband performing. I had barely won my finals when his finals began, the fight with a very serious opponent. I worried for him more than for my own self, I was watching and thinking: 'All right, I've won, but now he will have to toil.'
Of course, we discuss SAMBO at home. Most of the time he gives some hints or points to some mistakes. I say such things to him less often, it seems to me that he naturally does everything in the right way (laughs), but he can criticize me, correct me somewhere. Before a competition, we discuss various aspects of preparation, say, the above-mentioned weight loss, we ask each other's advice.
20 Nannies for David
Now, the son of Diana and Sergey, David, is three and a half years old, and he watched the last year's competition in Minsk on TV with his grandmother. Back then, the parents didn't take their kid to the tournament, not to get sidetracked and not to scare him with the bustle of competition. Nonetheless, David has already attended both training sessions and a tournament.
My son was a year old when I took him to the World Championships in Sochi to watch his daddy fighting there (Sergey Ryabov then became the winner of the tournament — TASS). David, of course, wasn't able to understand anything as yet, and even happily overslept the finals. He just knows before the competition that his dad will win, his mom will win, there are no other options, so he never worries (laughs). David watches our competitions on TV, and he understands everything. He begins to cling to someone's sweater, as if he is conducting holds, says that mom and dad threw someone down.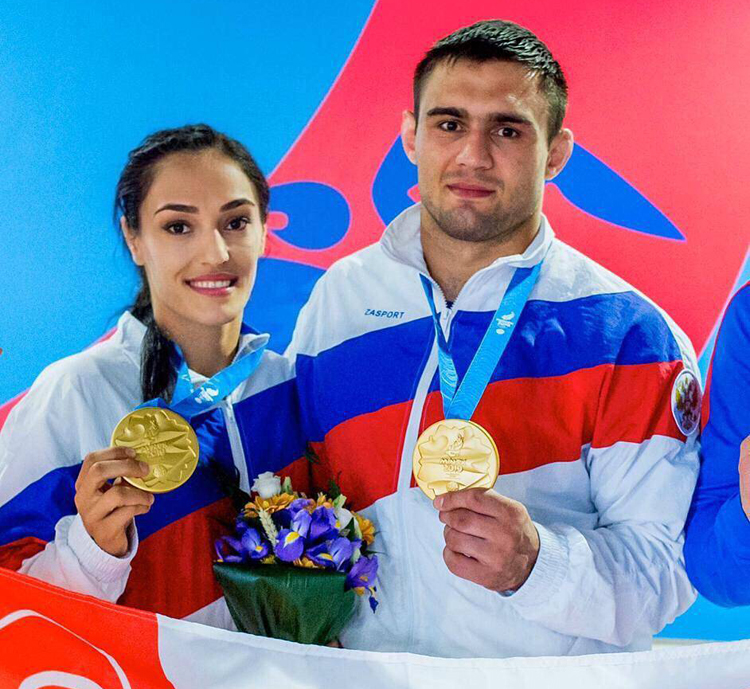 Once I took him to a training camp of our women's team in Kislovodsk, up in the mountains. We spent two weeks with him there, he was even doing morning exercises with us, jogged along with the girls. He was constantly attended by 20 nannies over there, so he was not deprived of attention.
But, of course, we rarely take him to our training sessions, as it is our work. Five times or so he went to see us training. He's even got his own SAMBO jacket, and at times he tries to mimic something himself. Children come to SAMBO from the age of five, it is still too early for him, but later we'll see — if he is interested, we'll take him to a SAMBO club. My husband and I take this easily, we don't have any such goal as to raise David as a champion at all costs. If he is willing to engage in SAMBO, we will help him, or if he chooses some other sport, we won't mind to help him there, too. The main thing is to bring him up as a good person.
Prepared by Polina Panina
Photo: Diana Ryabova's personal archive