Dmitry Gerasimenko's report was recognized as the best one at XIII Conference in the memory of Chumakov
Competitions
16 February 2013
Sergei Grishin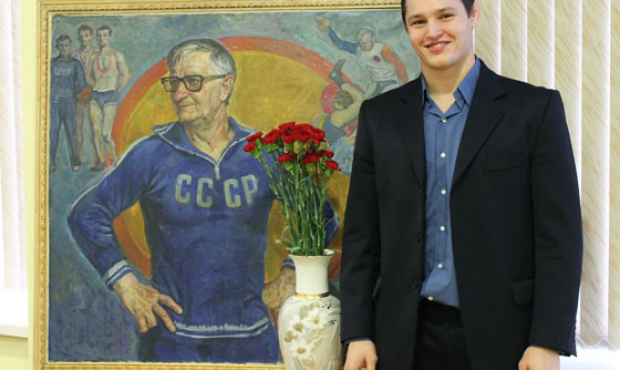 Just before another anniversary of the birth of the famous SAMBO patriarch Evgeniy Mikhaylovich Chumakov XIII International scientific conference in his memory was held in Moscow (Russia). On February 15 scientists and specialists spoke on SAMBO in terms of sport science at the Russian State University of physical culture, sports and tourism. The discussion turned out to volume: having looked at the current state of things from various dimensions the participants of the conference decided to have a closer look at the unknown historical facts and managed to set the perspective for SAMBO by having looked ahead into the possible future.
Traditionally, the main part of the conference consisted of the young scientists' reports. But the 'youth' of the participants was more of a relative kind: reports were delivered by the yesterday's students, as well as by experienced coaches having their unique best practices. The most important thing is that all of them tried to have a new look at what seemed to be standard things or to study such an aspect of combat sports that had never been analyzed before.
How is SAMBO developing as far as deaf people are concerned? Is it worth going in for this sport for kids from 5 to 7 years old? Can dummies replace sparring partners? Young scientists obviously don't experience lack of topics for discussion. Who goes in for SAMBO more often: sanguine people or choleric ones? How can combat sports veterans get ready for competitions in the best possible way? Can music influence sportsmen's conditioning? Answers to these and many other questions were discussed at the conference.
Special attention should be paid to the whereabouts of the participants. Traditional meeting of young sports scientists was visited not only by the representative from various cities and towns of Russia but by the amateurs of sport science from Moldova, Serbia and Brazil, as well, which means that the conference proved to be international again.
The jury was strict but fare the way it should be. The reports were assessed according to the whole range of parameters: actuality, novelty, authenticity, justification, representation (report or presentation), answers to questions, as well as contribution to the development of SAMBO and combat sports theory and methodology. So far, the best results in terms of all of these parameters were demonstrated by Dmitry Gerasimenko from Moscow who had analyzed the changes of combat technique with the introduction of new judo rules.
– My today's report is a part of my thesis that I am working on at the moment, - spoke Dmitry on the results of the conference.– I have prepared my report to introduce new and actual information to the listeners. I am sure that there are a lot of professionals here who will listen to this information with interest. Frankly speaking, I haven't expected anything at all. I would say it was just the try-out for me before the future thesis defense. That's why my victory has become a real surprise to me but, of course, it is very pleasing.
In his interview to FIAS website Dmitry Gerasimenko said that he was an international class Master of Sports in judo and Master of Sports in SAMBO. According to his words, scientific work helps him to develop as a sportsman.
– I hope that my report, as well as my thesis will help my development and in future will be useful to someone else, – says Dmitry. – By the way, it is not my first time participating in this conference and I have already become a winner here. I should note the importance of this event. I think that we pay gratitude in the memory of the great man, the legend of SAMBO Evgeniy Mikhaylovich Chumakov. It is always a great pleasure for me to participate in this conference and feel as if being a part of this man's life and his work.
As far as the contest program is concerned, apart from the scientific part, there was some kind of a competition, but out-of-competition reports became the ground of long discussions and aroused certain contemplations in the participants and the audience. Historian Aleksey Gorbylev shared interesting information from the archives related to various dates that SAMBO can be dating back to. And a broadcaster Vladimir Ivanitsky devoted his report to the TV tasks of SAMBO, having paid careful attention to the way how the TV picture of the competitions broadcasting could be made more catching.
The conference with so many interesting ideas has definitely encouraged its participants. Those who didn't manage to visit this important event have an opportunity to study the texts of the participants' reports as well as the texts of the out-of-competition reports of scientists and specialists. Following the results of the conference, collected works with these and other works that didn't get into the event program have been published.
Aleksandr Solomakhin,
www.sambo.sport