More emotions about the second day of the Sambo World Championship among students in Limassol
Кaleidoscope
9 December 2014
Sergei Grishin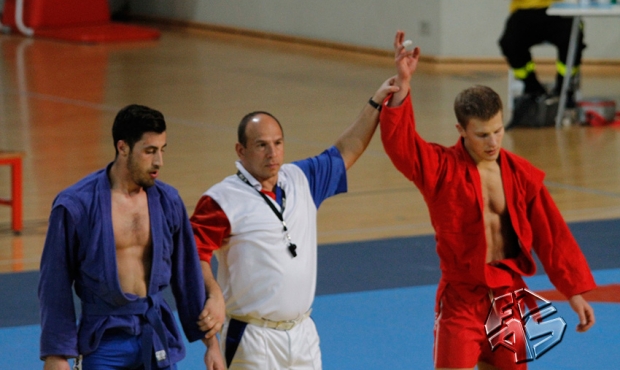 "Lost the finals because did not manage to carry out the coach's instructions"
Romanian athlete Daniela Hondu believes that she lost the final battle in the weight category up to 56 kg due to the fact that she could not have carried out the coach's instructions, Viorel Gâscă.
"I am very disappointed by my defeat. This happened because I could not have carried out instructions of my coach for the combat. He told me that at first I had to carry out a throw to gain score, and only then carry out the painful hold. But I performed different, made a mistake and lost. I don't think I was too tired: My coach had told me before the combat that there had been no need for me to do my best like at the World Championships in Japan. And the silver medal is still better than nothing. But still I feel upset."
"After winning the World Championship among students, I want to participate at the Youth European Championship in France"
The French athlete with Spanish origins Elena Chirac who won the World Championship in the weight category over 80 kg admitted that the victory made her wish to make more concentration on sambo, on sports she has been engaged for entire year.
"I didn't really expect to get a victory in Limassol, as I am more engaged in other sports – judo. My competitor in the finals was very tall and strong, and I managed to achieve success due to my tactics. I managed to earn score and then held the advantage. The tournament in Limassol became very important to me in terms of acquisition of necessary experience and I am very glad of my success. Especially considering the fact that only last year I tried to do sambo for the first time at the University of Lyon. And now I really want to do everything possible to participate at the youth European Championship in Toulouse in 2016."
"No victory due lack of international experience"
"I didn't manage to win in the finals in the weight category over 100 kg due to the lack of experience of high pitch competitions", said silver medalist Gregory Rudelson from Israel.
"Yesterday I seconded to my team mate – Vadim Kuzminsky. And now I can say – it is easier to fight than to second, as from the outside you can see more than from the mat. Of course, we would like to win "gold", but two "silver" medals for two participants is a very good result for our team. What did we lack to win in the finals? Probably, experience, because I spent few fights at the international sambo level. Earlier I was engaged in judo, and the Student's World Championship for me is only the third sambo tournament. We must adjust and change tactics. And now I have a great desire to fully switch to sambo."