Kyrgyzstan Sambo Federation was recognized the best at year-end
Federations
11 January 2014
Sergei Grishin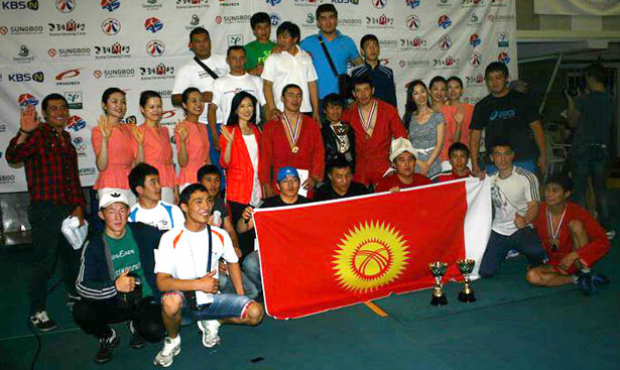 The Kyrgyzstan Sambo Federation was recognized The Best Federation of the Year in its country. This was announced by the State Agency for Physical Culture and Sports of Kyrgyzstan at the traditional Olymbic ball. The determination was performed according to results of sportsmen's participation in different international and national competitions in 2013. Along with the strongest federations, the best sportsmen, coaches, and judges were chosen. Representatives of Kyrgyzstan sambo were among them.
The review competition of sports achievements according to the results of 2013 included the Olympic, Non-Olympic, National, Paralympic and Deaf Olympic kinds of sports. 3 federations were recognized the best: Sambo Federation – for the Non-Olympic kinds of sports, Wrestling Federation – for the Olympic kinds, and Alysh Federation - for the National kinds of sports. Along with winning as the Best Federation of the Year, Aleksandr Larionov, a sambo judge of Kyrgyzstan, was recognized the best one and Artur Son became the Best Head Coach of Non-Olympic Kinds of Sports.
The official web-page of the Asian Sambo Union recalls that in 2013 sambo athletes from Kyrgyzstan won a lot of medals at the largest starting competitions of the season. The team from Kyrgyzstan won 28 medals of different denomination at the Asian Championship held in Seoul (South Korea). 8 out of them were gold. The sambo athlete from Kyrgyzstan Artur Te won the bronze medal for his team in the competition among men at the weight category of up to 62 kg at the XXVII World Summer Universiade in Kazan.
The national team was also awarded with medals at the Youth World Championship in October 2013 in Thessaloniki, Greece: two silver medals and one bronze medal. Participating in the largest forum, the World Championship in November in Saint-Petersburg, athletes from Kyrgyzstan met the strongest competition to win two bronze medals in combat sambo. These medals were won by Kurmanbek Adil Aluu (82 kg) and Abdynazar Kupuev (68 kg).
"The country's government is waiting for new victories from you, which inspire our nation. We are bound to be successful!" said the Head the State Agency for Physical Culture and Sports of Kyrgyzstan Murat Saralinov at the winners' honouring ceremony. The Sambo Federation of Kyrgyzstan is surely aimed at holding the bar high and reaching the highest results in 2014.