The International SAMBO Federation took part in a 4th International Forum for Sports Integrity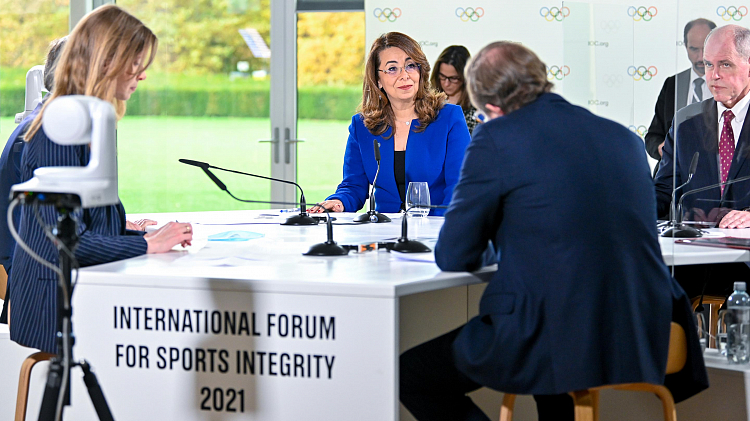 Over 500 participants joined online the fourth edition of the International Forum for Sports Integrity (IFSI), led by the International Olympic Committee (IOC) held on November 9, 2021, from Lausanne.

Representatives of the Olympic Movement, governments, intergovernmental agencies, and other experts recognized the importance of strengthening collaboration, targeted areas of government support and regulation, and a global commitment to IPACS (International Partnership Against Corruption In Sport) to work together and promote transparency and course integrity.

Earlier in the day, the International Olympic Committee and the United Nations Office on Drugs and Crime (UNODC) extended their memorandum of understanding to further strengthen the cooperation between the two organizations in fighting corruption and crime in sport.

Interpol recognized the issue of fighting with a huge system of illegal gambling and that they need support and collaboration of different sports organizations and investigators to keep crime out of the sport on a global, local or regional level. Sports can't fight alone without all government's support, and even the IOC is limited in action with sport sanctions. But in most cases, no one is criminally responsible. No one organization can tackle the problem of match-fixing alone, and sporting manipulation is also an offense against the public in a broad sense.

In the opinion of UNODC, sport is running alone around the track of this issue, but it's not even sport's responsibility: no skills, no tools, and mechanisms. The primary responsibility must rest on the shoulders of governments, and everyone benefits from engagement.

¨

Earlier this autumn, FIAS and CSCF Consulting started to raise awareness on fighting sports manipulations amongst sambists, SAMBO sports personnel, and sports managers. The International SAMBO Federation and CSCF Consulting have signed a 3-year contract to develop an educational program on fighting sports manipulations (match-fixing) in order to strengthen the integrity of SAMBO. The educational program will be available to all National SAMBO Federations in America, Europe, Asia, Africa, and Oceania, where SAMBO has a presence.

Later on, representatives of the SAMBO community and FIAS experts took part in discussing sports ethics during the joint event of CSCF Consulting and the International Sambo Federation. The next step of this project will be the sports manipulations online sessions.