FIAS held a meeting with the NOC of Romania
President
8 November 2018
Aleksandr Solomahin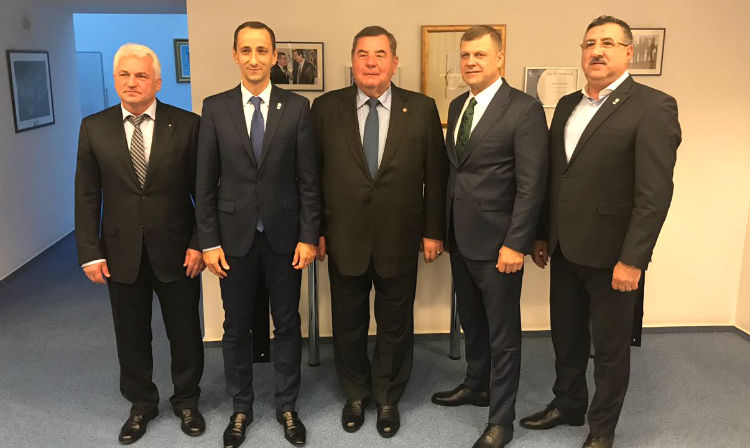 On the eve of the World SAMBO Championships in Bucharest, a meeting was held between the leadership of the International SAMBO Federation (FIAS) and the National Olympic Committee (NOC) of Romania.
The International SAMBO Federation was represented by FIAS President Vasily Shestakov, FIAS Vice-President, President of the European and All-Russian Sambo Federations Sergey Eliseev, President of the Romanian Sambo Federation Viorel Gasca. On the part of the National Olympic Committee of Romania, the meeting was attended by NOC President Mihai Covaliu and NOC General Secretary Gheorghe Boroi.
The event was devoted to discussing the upcoming World SAMBO Championships, which will be held from 9 to 11 November in Bucharest, as well as the prospects for the development of SAMBO in Romania and around the world.
"We discussed the goals and objectives of Romania's SAMBO, as well as the high attention that the National Olympic Committee of Romania renders to this sport," said Viorel Gasca.
He noted that due to the active work of the NOC, SAMBO became a truly attractive sport for local athletes.
"The changes that have occurred in the national legislation of Romania due to the activities of the NOC significantly increase the financing of SAMBO by the state," Gasca said.
"Now athletes have an additional motivation to compete in competitions, because the state pays cash bonuses for prizes at the World Championships and the European Championships. The salary of sambists for sporting achievements also increases. Thus, sambists can play sports professionally, making SAMBO their profession that brings a stable income," the head of the Romanian SAMBO Federation said.
Viorel Gasca also add that active work is currently underway to introduce the SAMBO to Schools program in Romania. He expressed confidence that in the very near future it will happen.