FIAS in Cooperation with INTESA Bank issued Bank Card for Sambists
Кaleidoscope
26 December 2017
Aleksandr Solomahin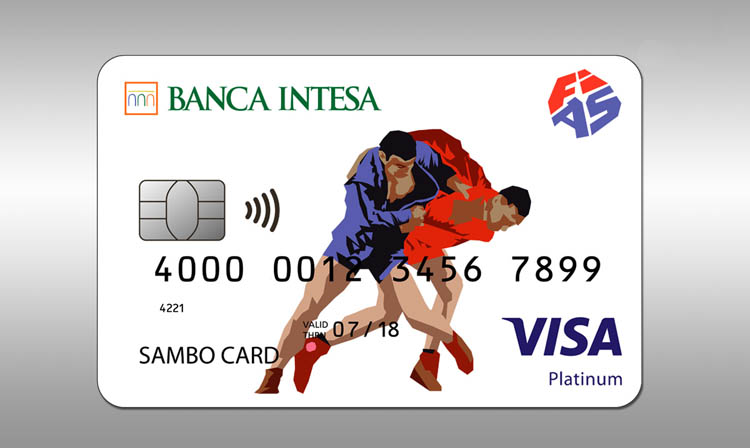 International Sambo Federation in cooperation with INTESA Bank issued an exclusive co-brand debit card called INTESA SAMBO CARD on special conditions.
INTESA SAMBO CARD belongs to a category of Visa Platinum premium debit cards and is issued in three currencies: Russian rubles, U.S. dollars and euros. For all SAMBO fans and enthusiasts as well as for professional athletes it would become a universal tool for payments worldwide. The point is, withdrawing cash using this card will come without fees at all ATM machines around the globe, under fixed limits.
And there's more to it! For INTESA SAMBO CARD cardholders, monthly interest accrual on remaining card balance and discounts from both FIAS and the bank partners are provided. The list of partners will be growing increasingly.
By using this card, SAMBO enthusiasts can directly participate in development of our favorite martial art worldwide: 1% of the sum total of all payments for goods or services made by INTESA SAMBO CARD cardholders will be transferred by the bank on SAMBO development purposes on monthly basis. FIAS will invest the received funds in such projects like arrangement of major tournaments.
'Ninety countries took part in the World Sambo Championships that were held in Sochi. SAMBO gains momentum and it is going to become one of the most popular sports in the world. Certainly, this cannot be credited to us solely. It is owning to support of our partners, with INTESA Bank joining their numbers now, that we can rest assured in auspicious future of this unique martial art,' remarked President of the International Sambo Federation Vasily Shestakov. 'We highly appreciate the Bank's contribution into development of sports worldwide. I'm certain that FIAS - INTESA SAMBO CARD brand would gain immense popularity among athletes, SAMBO veterans, and young generation alike. FIAS would allocate resources transferred by the bank in popularization of our sports by means of arranging competitions, acquiring sports equipment for sporting schools, athletic apparel, and for similar tasks.'
Oleg Ovsyannikov, Director of INTESA Bank's Department for Sales Channels and Support of the Regional Network, claims:
'Being a part of Intesa Sanpaolo banking group, INTESA Bank pays much attention to social responsibility. INTESA Bank motto, "Protect yourself from financial problems", and philosophy of SAMBO, "Self-Defense Without Weapons" are somewhat close to each other: in both cases we develop sense of self-assurance and freedom in new generation. INTESA SAMBO CARD provides unique opportunity to make your own contribution into expansion of SAMBO throughout the world and to support this sport.'
It is pretty easy to get INTESA SAMBO CARD as it is delivered instantly. In other words, the card is given to the customer in one single visit to a local branch of the Bank, without having to wait for the card being issued. Moreover, INTESA Bank assures that the card service operation rates are the most favorable for this client category.
INTESA Bank operates as a full-service bank whereby it offers its services to private and corporate clients, small and medium businesses. One hundred percentage of INTESA Bank ownership belongs to Intesa Sanpaolo, Italian banking group that has been included into the top 20 most stable corporations in the world, according to Corporate Knights' index (compiled by eponymous Canadian magazine specialized in matters of corporate development maintenance).