SportAccord Martial Arts Games in Saint Petersburg: view from the office of the FIAS
Кaleidoscope
10 August 2013
Sergei Grishin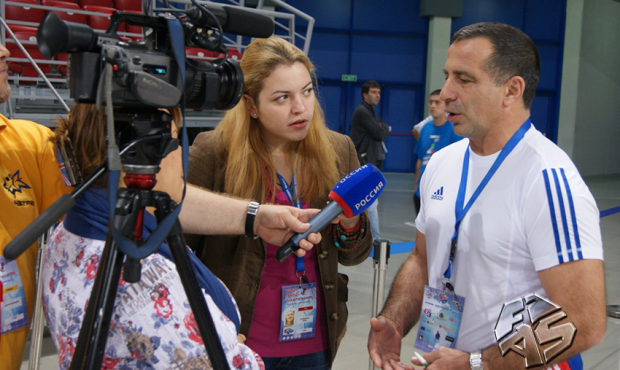 Preparations for the October SportAccord Martial Arts Games, where SAMBO part of the official program of events among the 15 types of martial arts, now, 2 months before the start of the Games — is in full swing. Preparations are underway in the Moscow office of the International Federation of Sambo. In our today's reportage we look at this preparatory work through the eyes of a FIAS specialist for relations with National Federation of Sambo Sophia Ryazanova. 
Currently the most complex and time-consuming process which involved Sophia Ryazanov is over - the registration and accreditation of the team that will represent SAMBO at SportAccord Martial Arts Games in Saint Petersburg. Today we can announce the figures reflecting the future representation of our sport in the northern capital of Russia in October. Official SAMBO team at the Games will consist of more than 120 people. Among them are 96 athletes, 17 international technical representatives (judges and secretarial group) and 7 members of the official delegation (leadership of the FIAS).
We can already say that the athletes at the Games will be from 43 teams from different countries, some of whom are usually rarely found on SAMBO competitions. For example: Honduras, Australia, India, Mexico, Tunisia and New Zealand. Let us recall that SAMBO competitions in Saint Petersburg will be held in three weight categories for women - 48, 56 and 68 kg, and also in three categories for men in the sport SAMBO - 74, 90 and 100 kg. According to the number of participants, for 2 months before the Games, we can assume that in the men's weight classes the average will be up to 18 participants in each weight category, and for women the figure is around 12.
How did the accreditation process go and what challenges was encountered? We give the word to the Sophia Ryazanova: "The first thing that definitely bothered me - a hard deadline. Before the Universiade in Kazan we were not engaged in the preparations for the Games, so it was only two weeks at my disposal to add information about 160 persons - SAMBO team at the Games to the online system. And it was a lot of information - passport number, flight routes and nuances of visa support, and certain biographical facts. Overall this month turned out to be no easy task. The second thing that complicated the job - summer - during the holiday season many simply did not available at the workplace and there were complexities with communication. To date, the most difficult thing is over, now comes the second stage of accreditation - specialists of SportAccord clarify and detail our information. We have something to update and sent, currently we are waiting for the next meeting of the Technical Delegates of games, which will take place in a month in St. Petersburg, and will set a new vector of our work."
We learn about the amusing and funny things, usually it is not without moments like this in the work associated with people. Sofia continues the story: "It is summer now, so everyone in different places. Roberto Ferarris - President of the Sambo Federation of Italy – at one time he is in the mountains at the training camp, next time I'm calling him right to the wedding, where he is the groom, call him once more and he at the restaurant celebrating her birthday, but in the end the Italian team is accredited. Dalil Scully - President of the Confederation of African Sambo - I called him and find out that it is Ramadan in Morocco, everyone on vacation, nobody at the office. And we must pay tribute to Dalil - in 2 days all documents from Morocco were at the office of FIAS. But the hardest thing for me was to get information from Asia and Pan-America. The point is that my colleague, who leading this line of work - Nadezhda Sarsaniya now on vacation. ?I had difficulties with Asia because I know very few people there, and Panamerika - Hispanic continent, and all I have in my linguistic arsenal - English and French. Colleagues really helped - our sports director Dmitry Maksimov has behind his shoulders numerous events and seminars in the countries of these continents, he helped me with many contacts.
I would also like to thanks the FIAS experts working in Pan America - Tigran Karganyan (Argentina) and Vyacheslav Portyannikov (Peru), they have also helped to improve relations and accelerate the process of gathering information.
But the most fun was when I was trying to communicate with our colleagues in Spanish, I hammer the text to the "Google" correct it as much as I can, send it to Pan America and suddenly get a lot of questions to answer in Spanish ... it took a long time to explain that I do not know Spanish . In general, I think that I now have to learn this language (laughs)."
In the end we asked Sofia what generally attracts her to work in the relations with the National Federations of Sambo, what inspires her? Smiling, our charming and always positive colleague replied: "First of all, it is certainly communications. In the world of SAMBO there are so many interesting people, I have found here a lot of great new friends and acquaintances. But most of all I am delighted by the athletes - our sambists. Prior to my work in the International Sambo Federation, to be honest, I thought the athletes are, to put it mildly, slightly limited people. Right now, my opinion has changed dramatically: sambists are very diversified, well-read, educated, interested and charismatic people. And our conversations often took as away from work and sports into the field of art, history and literature. Now I can say with confidence that SAMBO is a sport of not only strong and noble people, but also smart and subtle. "
Interviewed by Natalia Yuhareva
?www.sambo.sport