Irina Kulakova: "Doping is a harm to the future"
Anti-doping
13 July 2017
Sergei Grishin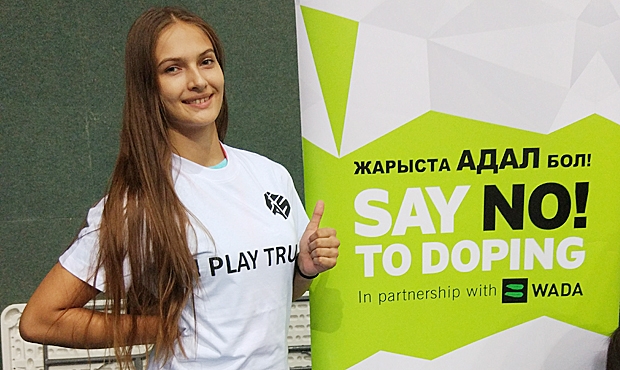 At the Asian SAMBO Championship in Tashkent, one of the most popular places attended by a huge number of athletes was not only the competition mat, but also the FIAS stand, which promoted the anti-doping informational and educational program developed by the World Anti-Doping Agency (WADA). Athletes passed the quiz, special computer testing, concerning anti-doping topic. In case of successful results, athletes received special T-shirt I PLAY TRUE #FairSambo from FIAS. One of the participants of this test was Irina Kulakova, the athlete from Uzbekistan. She shared her impressions in an interview with the FIAS website.
"It is the first time I participate in such program and in such testing, but I coped without any problems with all the questions. I'm well acquainted with the rules of prohibited drugs, so it was not a problem to receive an excellent mark for the test. Probably, that's why none of the questions seemed to me complicated. And we are not friends with doping at all"- Irina said.
According to her, there is no need for doping in SAMBO. "In SAMBO, only 30 percent of success is strength, the remaining 70 percent is technique, as well as tactic. And no matter how someone tries to increase their strength, they will not be able to win without technique"- the athlete said.
Irina also shared with us how she prepares for the tournaments. "Before the competition, I always try to protect my stomach: no sodas, deep fried products. Such food can make me feel bad on the day of the competition, and nobody wants it - neither me nor my country,"- Irina Kulakova stressed.
The athlete decided to wear the t-shirt she won for the competitions: under a SAMBO jacket. Like this she decided to express her position on the inadmissibility of doping in SAMBO, and she also hopes that a winning T-shirt will bring her victories in the future.
«I believe that FIAS program allows to educate young people about fighting against doping and inadmissibility of doping. First of all, this is a harm to the health, as well as the harm to the federation, to the achievements and to the future. Doping is bad. Good results can be achieved primarily through diligent training. And you need to train properly: listen to your mentor and accurately follow his recommendations. And it's very important to follow your goal. My main goal is the "gold" of the World SAMBO Championship. I already had the third place, now I want to rise to the highest step of the pedestal," - Irina Kulakova said.