History of SAMBO
Competitions
2 August 2012
Sergei Grishin
Origin
The world of sports got to know of a unique martial art, "unarmed self-defense", in the 20-30s of the past century. The formation of SAMBO just as any other sport involved the participation of many people. However, such specialists as V.S. Oschepkov, V.A. Spiridonov,A.A. Harlampiev are the key figures. These dedicated fans of SAMBO gained experience and knowledge, set up classes, popularised sport. They realised the importance of self-defense skills for not only athletes or soldiers, but also for common people.
SAMBO official birth date is considered to be November 16, 1938, when the All-Union Committee on Physical Culture and Sports under the Council of People's Commissars of the USSR Order No. 633 "On the Development of Free Style Wrestling" was issued. As for the name of SAMBO, it was first mentioned in the book by V.A.Spiridonov "Unarmed Self-Defense (Training and Competition)" published in 1928. However, the abbreviation didn't catch on at once: the expression "free style wrestling" was commonly used for some time. The first tournament took place November 23-25, 1939 in Leningrad at Red Star Stadium. Time passed by, and the martial art officially received its present name at spring couch meeting in 1947. The USSR SAMBO Federation was founded the same year.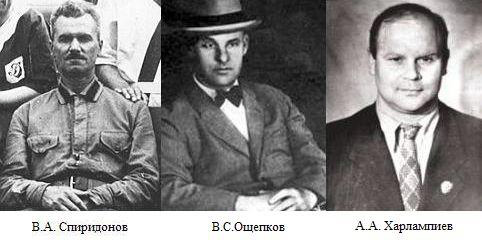 Multidimensional nature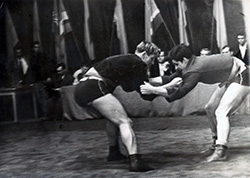 SAMBO is a universal martial art. It is based on many sports and national types of wrestling, as well as various self-defense systems. SAMBO harmoniously incorporates lots of elements of such types of martial art as French wrestling, Japanese wrestling "judo", Azerbaijanian"gül??", Moldavian "trynte", French boxing "savate", Dagestanian national wrestling, ancient Japanese "jiu-jitsu", Mongolian "bukh barilda", Chinese "shuai jiao", Armenian "kokh", Tivinian "hapsagai", Georgian "chidaoba", etc.
International recognition
Over the years, SAMBO entered the international scene and received recognition abroad.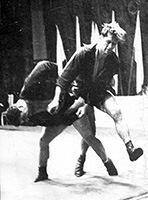 1956 – renowned wrestlers G. Schultz and A. Karaschuk made a demonstration of SAMBO at the prestigious World Exposition in Brussels.
In 1957, a friendly match between Hungarian and Soviet athletes took place.
1963 – SAMBO Association in Japan was established.
In 1966, the International Federation of Associated Wrestling Styles (FILA) officially recognised SAMBO as an international sport wrestling and decided on regular international competitions in this sport.
1967 – the First International Tournament took place in Riga with participation of Bulgaria, the USSR, Mongolia, Yugoslavia and Japan representatives.
In 1972, first open European SAMBO Championship took place in the same city. Athletes from 8 countries participated in it.
1973 – the first World Championship which became an arena for SAMBO practitioners from 11 countries took place in Teheran.
Since 1977, SAMBO World Cup has been held.
1979 – along with World Championships for adults, Junior World Championships have been conducted.
Since 1983, Women's World Championships have been held.
1984 – FILA Assembly decided to establish an independent SAMBO Federation (FIAS). The Spaniard Fernando Conte was elected FIAS President.
In the following years, SAMBO development constantly gathered pace; the martial art gained more supporters.
In 2007, the World Championship in Prague received 332 athletes from 43 countries. XXXI World Championship went down in history as the first tournament that united sport and martial competitions within a single championship.
In September 2010, SAMBO international recognition was further confirmed by inclusion into the First SportAccord World Combat Games in Beijing.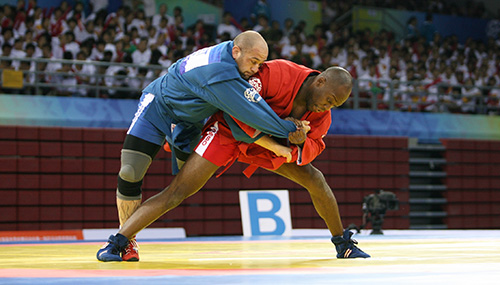 SAMBO today and tomorrow
Our favourite sport further develops today. In 2013, SAMBO will be included into the programme of Universiade in Kazan for the first time, where SAMBO practitioners from all over the world will compete for leadership.
Apart from being a sport of high achievements, SAMBO attracts thousands of people united by values, principles and ideals of this universal martial art. SAMBO is available to children and veterans, men and women. It is especially important that physically challenged people can also practice this martial art.
The sport gets more and more popular; therefore numerous fitness clubs include SAMBO into their programmes. Moreover, we can now observe the birth of a new kind - beach SAMBO. Surely, many more exciting events are in store for us, as unarmed self-defense knows no bounds.