Kent Open – SAMBO for beginners and those interested
Federations
23 June 2014
Sergei Grishin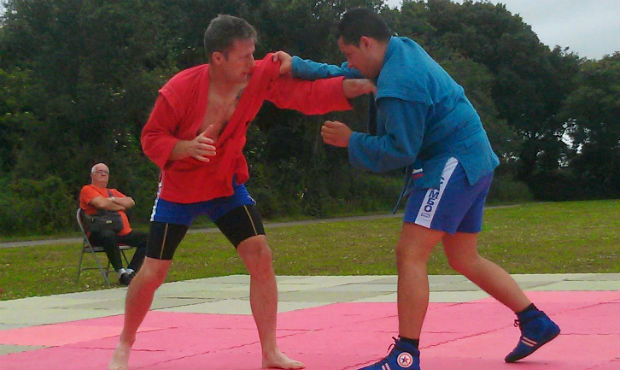 If you have become interested in SAMBO only recently and live near the city of Kent, in Great Britain, it means that the Kent Open Sambo Championships tournament is established specially for you. However, as the tournament has a status of open, your place of residence doesn't have such fundamental importance. The main thing is to get to the venue of the tournament, which is held annually in the open air. Read what other features these competitions have, and who took part in them a few days ago in the cover of the FIAS website today.
At the Kent Open Sambo Championships tournament you won't find hundreds and thousands of participants who prepared themselves for these competitions purposefully for months. There are no official opening ceremonies, TV broadcast and declamations of distinguished guests there. The Kent Open Sambo Championships is a platform for those who is only learning SAMBO and have come into the sport recently, or simply trying to keep himself in proper form, recalling the experience of past fights on SAMBO mats.
So here you shouldn't expect a dress code or punishment, if your jacket does not match the colour of the shorts. When the main thing you have is a love of SAMBO and desire to show your skills fighting with athletes like you, you won't be restricted by force. You will be able to approve yourself, and qualified referees will assess your actions. It is a great opportunity to try and approve yourself in a competitive practice to get the motivation and to continue self-development.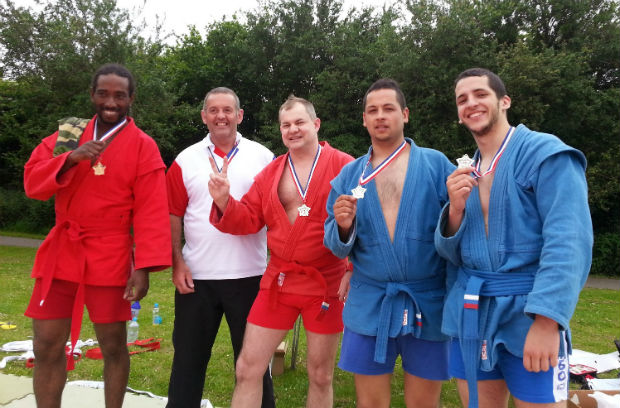 Once again such an opportunity presented itself to everyone on June 14. Colin Carrot and his Spitfire Judo/ Sambo Club became the tournament organiser. Both very young guys – teenagers and adult athletes took part in the tournament. Division into weight categories among men is of interest here. There are two such categories at the Kent Open Sambo Championships: light and heavy. Of course, with this approach, some of the athletes receive the benefit, while others, on the contrary, are at a considerable disadvantage. However, this format of the competitions gives them much applied sense, because outdoors you are not always able to avoid a meeting with the enemy not of your weight category. By the way, about outdoors:
- The best thing we can say about this tournament is that it is held in the open air. It gives a good sense of history and folklore of the wrestling event, because such fights took place time and again many years ago, – says Martin Clark, the President of the British SAMBO Federation. – Everybody knows that SAMBO took the best of the many folk combat sports that were practiced in past centuries. Therefore, a tournament in such a format looks very symbolic.
This time intrigue of the tournament was held thanks to the confrontation of favourites and newcomers. While the leaders are trying to prove the validity of their intentions, the newcomers have nothing to lose and they are ready to make every effort to overthrow the leader. Someone succeeded, someone didn't, but most importantly is that all participants received their share of competitive practice.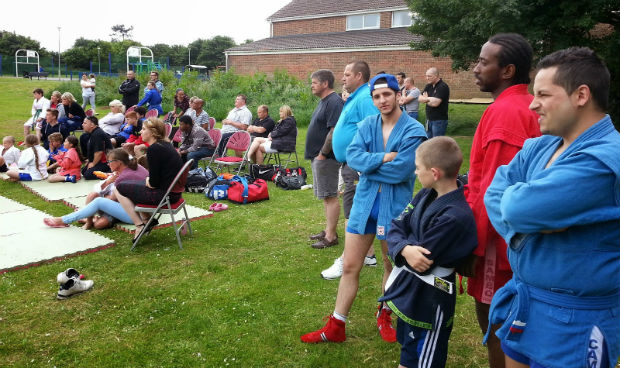 According to the organisers, everyone who attended the event, appreciated the event. And it means that it has a future. In the meantime, all the United Kingdom is in anticipation of the President's SAMBO Cup in London, which will be held in September. However, there are still a few months before this tournament, and they are going to use this time margin in many parts of Great Britain to show what they can do.