Kharlampiev with a Stool, Oriental Figure and Other Comments Made from the Commentator's Room
Mass media
29 March 2013
Sergei Grishin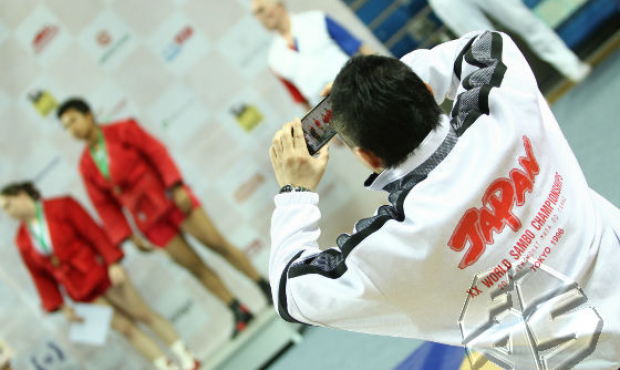 This year I gave running commentaries of SAMBO World Cup Stage "A.Kharlampiev Memorial" together with Mikhail Martynov – a famous sambist, Honorable Master of Sports of Russia and the head coach of Moscow SAMBO team. When you give a running commentary in tandem, it is always interesting and entertaining: a new look, a new perspective, a new viewing angle. Not only of SAMBO, but of the life in general. It was easy to work with Michail, and those gaps we had in the broadcast due to many award ceremonies, we tried to fill easily and smoothly.
What did we talk about during those gaps? Firstly, we talked about the person after whom this prestigious annual World Cup stage was named. At the banners decorating CSKA Universal Sport Hall Igrovoy we saw pictures of a serious-looking, thoughtful middle-aged man wearing glasses. Imagine our surprise when one of SAMBO veterans told us a story about a different Kharlampiev. Once this respectable man grabbed a stool and, fast and furious, gave chase through the corridors of Moscow Institute of Physical Culture and Sports to catch the coach who "switched the camps" and started training freestyle athletes. That is what we call charisma, commitment to your job and complete rejection of any betrayal! They were the people for whom SAMBO really became an important part of their life and who can serve as an example of devotion to their business track.
From the stool to the anthem. Being a person, who in his past sporting life used to take part in many sports tournaments, including those in judo, I often had to listen to the national anthem of the Land of the Rising Sun. The Japanese are not only the founders, but also the leaders of the modern world of judo. But the national anthem of Japan has never been played at international SAMBO competitions. That is why when on the second day of the competition in the women's final of the weight category of 80 kg we saw Shoji Hamada from Japan come to fight against Svetlana Timoshenko from Belarus, I must confess, I wanted to see a sensation - namely, I wanted to see the victory of the Japanese SAMBO athletes. We discussed it with Michail that our thoughts can materialize and our wishes usually come true. And Shoji Hamada from Japan was rather fast to make my and most likely her dream come true. A swift fall down to the ground, a reverse hip knot - and the judge announces the defeat of the experienced Timoshenko and the Japanese victoriously throws her hands up. And Michail and I are in a hurry to make a number of our most cherished wishes trying to hit the jackpot.
Marina Kormiltseva (currently Mokhnatkina) has certainly already caught her blue bird of luck who had recently met her love ... in SAMBO. Let us recall that Marina, a twice world champion, at the end of 2012 married Michail Mokhnatkin, a sambist, bronze medalist of the world championship in Minsk in combat SAMBO. The celebrity couple was announced the most romantic couple of 2012 according to FIAS website. Having a new surname Marina continues fighting with the same level of effectiveness and efficiency: the audience of Igrovoy Hall on Sunday admired already typical of her pain techniques in the stalls.
We talked with Marina. She has already managed to get used to her new surname, because: "This surname pleases my ear since it belongs to my nearest and dearest!" We are also impressed with the sporting results of this newly-married SAMBO couple. This year, Michail was the third in the Russian championship, and today he is in the Russian Combat SAMBO national teams. And Marina won the Russian Cup in Pskov, thus becoming a member of the Russian national team, that will take part in the May European Championship in Crema (Italy).
But a famous Russian female sambist, a seven times world champion Svetlana Galyant did not participate in the Russian Cup in Pskov. She is willing to become a winner of the eighth title of the Sambo world championship, and selection for the Women's World Championships in St. Petersburg will be held only at the Russian Championship. Svetlana nevertheless took part in "A. Kharlampiev Memorial", however, getting into the final, Svetlana was defeated by Tatyana Savenko from the Ukraine. In this case, however, both the experts and the audience noticed a lack of optimal physical form of the Russian athlete. "What's the matter?" - We addressed her coach being her husband at the same Aslan Saduev. "It was hard to cut weight and due to this there is a lack of the optimal form required, we lacked a functional component of our training" – commented Aslan.
And here we are Michail and I together discussing on air the issue of weight cutting. It turns out that on Sunday, not only for Aslan, but also for coach Martynov this issue was rather painful and unpleasant. His pupil, a future participant of Kazan Universiade (she won Student SAMBO Qualification Tournament), Yana Kostenko "weighted" at the official weighting of Moscow World Cup stage 600 grams in excess. Here it is - weight problem, and sometimes a reason of a failure to combat it.
But Michail is even-tempered and consistent. Having many-year experience of coaching with females in particular he got used to calling softly a female figure, when it does not meet the requirements of the weight category – Eastern one. "It is true, we have to be cunning, but with the ladies there is no other way out. One careless or insulting word and everything is over - trust is lost, and without trust, how can we work without trust? We have to weasel our way out"- Michail shares the secrets of his work with the gentler sex. And I on my part remembers this crafty wording - "Oriental figure" which in my vocabulary when referring to plump females will now replace the word "plump lady".
During the broadcast, Mikhail Martynov says another phrase - "ordinary coach." And we start discussing what is meant behind this word - coach. Firstly, it is a person who is working not only to practice knowledge, skills and capacities in his students, but also interacts with the soul of an athlete. First of all, a coach is a teacher. And a teacher in his turn is a secret keeper, soul healer, and a transformer of ideas and dreams into reality. How could such a person be normal and ordinary, when such a responsibility is put on him? Certainly no, and in the end of our discussion we come to a conclusion that a coach is a magician. A magician who through his work creates miracles provided that the athlete believes in these miracles and helps his coach.
Completing my story I would like to wish everyone to believe in miracles, because not only coaches but generally speaking each of us is a magician who creates our own life, our success and our victory. And let may we all had a greater number of such victories and I propose to regard the possible defeats and failures as just another life experience and opportunity for growth.
Miracles to your life, dear visitors of our website!
P.S. It was the story about the comments to the broadcast from the SAMBO World Cup Stage "A. Kharlampiev Memorial". And the picturesque and exciting fights held at this competitions can be found here: video gallery
Natalia Yukhareva
www.sambo.sport