Cyprus: the news from the capital of the Cadet World Championship and Student World Cup of this year
Federations
29 January 2014
Sergei Grishin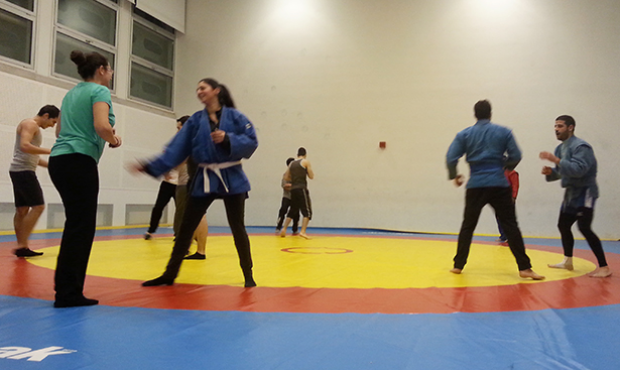 This Mediterranean island, on which, according to the legend, goddess Aphrodite came from the sea foam, is becoming SAMBO "Mecca" by right. Judge for yourself, it is here where the first ever World SAMBO Championship among students will be held by the decision of the Executive Committee of the International University Sports Federation in 2016. And here in December of this year a historical, because the first ever, World Championship among cadets and the Student World SAMBO Cup will be held. Our today report is about SAMBO athletes-students in Cyprus, and not only about them.
The fact is that the Cypriot SAMBO Federation got additional opportunities for development – an excellent gym of the University of Cyprus Sports Complex in Nicosia has become its ownership. Dimensions of the gym (15x15 m), good infrastructure, and most importantly – a lot of those who want to improve their SAMBO knowledge and skills, will certainly make this place a center of SAMBO life of Cyprus. There is already everything for students not only to learn the secrets of "self-defense without weapons" in their free time, but also to be able to become SAMBO athletes with strong body and spirit for 6 years.
As we know,  three conditions are necessary for athletes to succeed in their professional career (a fine question of fate, luck and divine fishery are not discussed). So Marios Andrius, the President of the Cypriot SAMBO Federation is a talented coach we have, corresponding conditions – with this wonderful gym that is available for the Cypriot SAMBO athletes today are marvelous, and talented athletes as well. We ask Marios Andrius about them.
– I started training in our new gym just a week ago, but the results are already magnificent, – shares Marios. – Right now my team consists of 20 athletes – there are SAMBO athletes, but in the ranks of athletes there are also boxers, wrestlers, and karatekas. Everything is very well – they are physically and functionally prepared, besides many of them have a wrestling base. All the guys are in love with SAMBO, a special popularity to our combat sport in Cyprus came after the home European Youth Championship.
And most importantly, what the guys have is motivation, especially students, – continues the President of the National Federation. – They want to take part in the World SAMBO Cup this year and if sports luck attends them throughout their lifetime, then  to try their hands in the first-ever Student World SAMBO Championship 2016. I see the same gym where my students are training now as the place where training camps of the Cypriot SAMBO national team will be carried out in future.
Sincere and optimistic story of the President of the Cypriot SAMBO Federation gives us the right to assume that at the home 2014 World Cup among students the Cypriot SAMBO athletes will necessarily mount the podium of Limassol. And more than once! The Cypriots have time for preparation, as Student SAMBO Tournament starts in Cyprus only in December. And therefore we have time to tell about the preparation of SAMBO athletes of many other countries for the Student start on our website.