FIAS Athletes´ Commission is welcoming three new members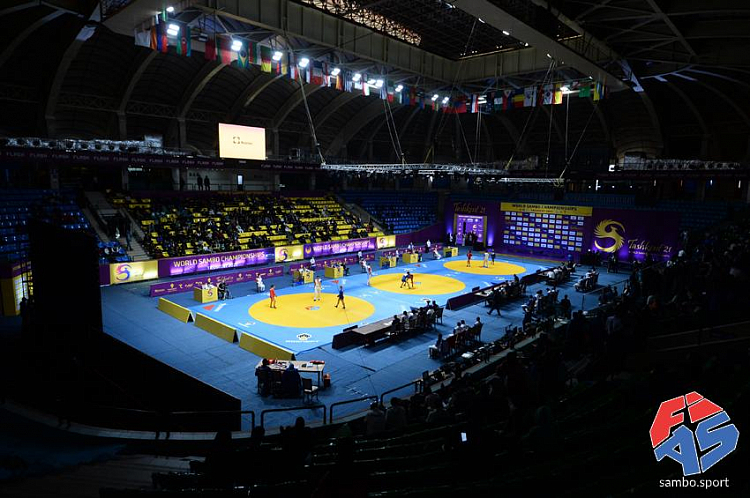 Cameroonian Paule SITCHEPING, Mexican Angel DELGADO and Korean Jaeyong SHIN have been elected to FIAS Athletes´ Commission.
The election took place during the World SAMBO Championships 2021 in Tashkent, Uzbekistan. The participating athletes had a chance to choose their representatives from 10 candidates with diverse background and mission within the Commission.
My aim is to promote development and be an example for the new generations of SAMBO athletes in Latin America, stated Angel DELGATO is his candidature presentation.
My main mission is to develop SAMBO in Africa and in countries where it is not known, defend athletes' rights in the whole world and educate them in the respect of rules and regulations of FIAS, sees Paule SITCHEPING her assignment to the Commission.
Jaeyong SHIN would aim his work to the Commission to inclusion of Sambo to more world major events around the world, I would like to contribute to Sambo mainly focusing on East Asia, including interaction with neighbourhood countries and help Sambo to be adopted as an official sport at the 2028 LA Olympics
The FIAS Athletes´ Commission represents the athletes within the FIAS, protects their interests and upholds their rights and obligations. The current composition including the new members is:
- Mrs. Laura FOURNIER (FRA/ Europe) – Chairperson
- Mr. Badreddine DIANI (MAR/Africa)
- Mrs. Ivana JANDRIC (SRB/Europe)
- Mrs. Sydney SY (PHI/Asia)
- Mrs. Paule SITCHEPING (CMR/Africa)
- Mr. Angel DELGADO (MEX/Pan America)
- Mr. Jaeyong SHIN (KOR/Asia)

More about the specific projects of the Commission could be found in athletes´ corner at FIAS website.