International SAMBO Federation Congress in St Petersburg: to be continued
Official
5 October 2013
Sergei Grishin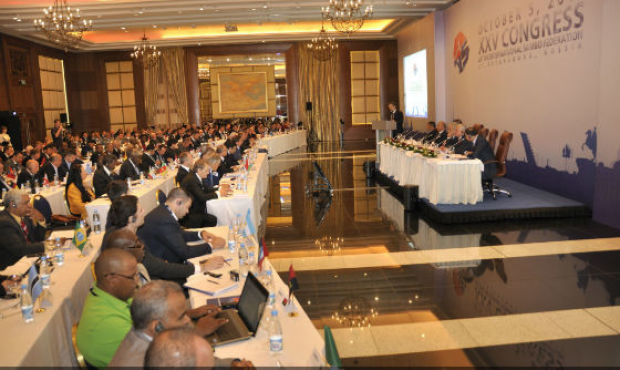 Following the election of Vasily Shestakov as President of the International SAMBO Federation (FIAS) with an absolute majority of votes, it was time for the newly elected FIAS leadership to get to work. There was talk of adopting a new FIAS Code of Ethics, making amendments to the FIAS Charter and 2014 sports calendar as well as the upcoming Cup of the Russian President for SAMBO in the UK in 2014. For more, see our report today from the Corinthia Nevsky Palace Hotel in St Petersburg.
The FIAS Code of Ethics, which governs the moral and ethical aspects of the Federation's activities, was approved and unanimously adopted by all the delegates of the XXV Congress. This was followed by a discussion of amendments to the FIAS Charter that were considered by a special FIAS committee and submitted to the St Petersburg congress for debate. All the delegates unanimously accepted the much needed amendments to the FIAS Charter.
Next on the congress agenda was the issue of approving the FIAS sports calendar for 2014. The list of the main sporting events in the coming year includes: the world championship in Narita (20-24 November), the world championship among juniors and youth in Seoul (9-13 October), the world championship among cadets and the world cup among students (4-8 December), and the world championship among masters in Greece (25-28 October).
It was decided to separately consider the sports calendar for events to be held under the aegis of FIAS in 2015-2017. At present, FIAS will be accepting applications from national federations and will approve the final version of the sports calendar for these years at the world championship in St Petersburg in November.
The 2014 sports calendar may also be topped off with another event for which a presentation was made at the FIAS Congress by British Commonwealth Sambo Association President Lord Simon Reading. All the congress participants reacted enthusiastically to the idea of holding the Cup of the Russian President in the UK and expressed support for this project. The plan is to hold the tournament with the great name in October 2014 in the historical centre of London – Old Billingsgate. With this the congress completed its work.
Natalya Yukhareva
www.sambo.sport