SportAccord convention in Sochi: signing of an agreement on cooperation between FIAS and FISU
Official
22 April 2015
Sergei Grishin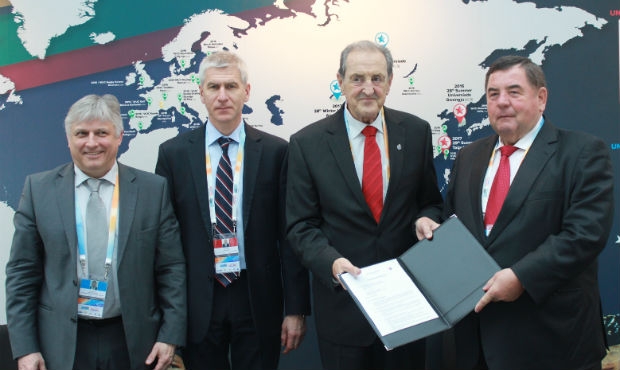 During the SportAccord Convention held in the capital of the Olympic Games-2014 a historic event for sambo has happened. An agreement on the cooperation between the International University Sports Federation (FISU) and the International Sambo Federation (FIAS) has been signed. The signatures on this most important document were put by the head of FISU Claude-Louis Gallien and the FIAS President Vasily Shestakov.
The cooperation agreement was signed for 2 years. In its mark both organizations promised to support the development of university sports, interact to promote sambo among students and the ideals of modern sport in the framework of joint projects and activities. The first of such events will be the world championship among students which will be a part of the FIAS calendar on a permanent basis from 2016 on.
A major role in the contract is given to joint activities on education and training of FIAS specialists in different fields: coaches, referees, IT-specialists. This contract provides great opportunities for professional growth through knowledge and skills which will be shared by the representatives of the International University Sports Federation. FISU also supported the FIAS's initiative to consider student activities as an opportunity to experiment with the rules and uniform for sambo. The student environment is always the most modern and current, so student sambo is considered by the two organizations as a platform for reasonable experiments.
Also, sambo lovers around the world will have a unique opportunity to enjoy broadcasts of all student sambo tournaments that will be organized by FISU. It will provide to FIAS the access to these materials which will surely increase the already intense interest to this area of sambo among sambo lovers.
"This agreement is very significant for us. On the one hand, this is a result of our joint work on the development of student sambo, on the other, it's a huge boost for the further promotion and implementation of the ideals of the student movement in our sport. I am convinced that such cooperation will enhance our influence in the world of modern sport and give an additional impetus to strengthen our work in the important direction of development among students," -- said the FIAS president Vasily Shestakov.
Let's recall that in 2013 a sambo tournament was successfully held in the mark of the XXVII World Summer Universiade in Kazan. At the end of 2013 the Executive Committee of FISU included sambo in the program of the world championship among students. A year later, in December 2014, for the first time in history a world cup in sambo among students was held in Limassol, Cyprus, under FISU patronage. The world sambo student forum will also be held Larnaca, Cyprus, in 2016. Signing the agreement will strengthen the FIAS's position in the global student movement and contribute to its more successful development.
Photo: FIAS press-service