"Cup of the President of the Republic of Tatarstan": from Point "B" to Point "A"
Competitions
3 October 2018
Aleksandr Solomahin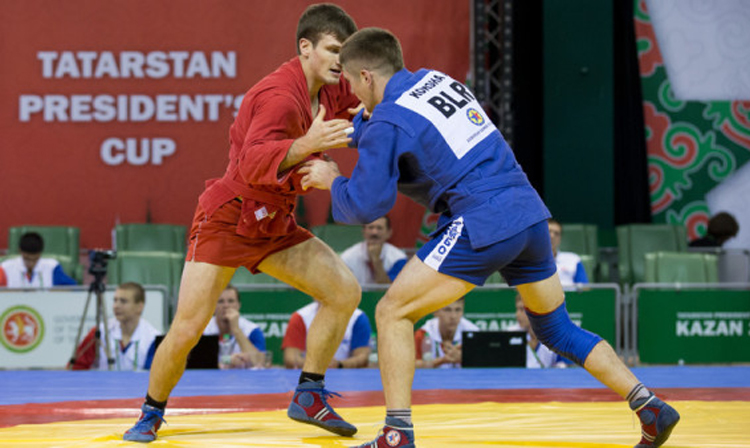 In 2016, the European SAMBO Championships in Kazan, Russia, were recognized as the best ones in the history of European SAMBO. At the same time, it was decided, starting from 2017, to stage the "Cup of the President of the Republic of Tatarstan" annual SAMBO tournament . Initially, it was assigned the "B" category but the debut was so impressive that already in 2018 its status was changed to the elite "A" category. And there are many good reasons for this rapid growth. In the run-up to the start of the tournament that will take place on October 5-6 we are going to review some of them.
Team
A well-consolidated team of professionals works in the Organizing Committee of the "Cup of the President of the Republic of Tatarstan". It sounds like a hackneyed journalistic expression but these words most accurately describe the dream team of the tournament. The backbone of the team was formed during the preparation and holding of the 2013 Universiade in Kazan wherein SAMBO first entered the program of the Student Games. For many years, Kazan is consistently keeping an uncompromisingly high level of tournament organization.
Along with the International SAMBO Federation and the All-Russian SAMBO Federation, the organizers of the tournament in Kazan from the Tatarstan party are the SAMBO Federation of the Republic of Tatarstan, the Ministry of Sports of the Republic of Tatarstan, the Directorate of Sports and Social Projects, the "Ak Bars" Holding and the General Promoter of the SAMBO Federation of the Republic of Tatarstan, an independent non-profit-making organization "Ak Bars Art Creative Association".
The Participants
The number of participants in the competition is growing year by year. Thus, as compared to 2017 when representatives of 18 countries had battled for the medals of the tournament, 24 national teams confirmed their participation this year. And according to the organizers, this is not the limit as the number of teams may still increase.
The geography of competitors for medals is really wide: Azerbaijan, Armenia, Belarus, Hungary, Germany, Greece, Georgia, Israel, Italy, Latvia, Lithuania, Kazakhstan, Kyrgyzstan, Moldova, Mongolia, the Netherlands, Palestine, Romania, Serbia, Tajikistan, Uzbekistan, France, Estonia and, of course, Russia.
According to the estimations of the organizing committee, more than 220 sambists will compete for 27 sets of awards (in sport SAMBO among men and women, as well as in combat SAMBO).
Motivation
Participation, and even more so, victory in international tournaments of the "A" category brings athletes a good number of points in the world SAMBO rankings. Among the ranked competitions, such tournaments are in the fourth place following the World Championships, the World Cup, and the continental tournaments. For those sambists who long to be at the top of the rankings, especially as we approach the 2019 European Games, this fact is a compelling reason to participate in the "Cup of the President of the Republic of Tatarstan".