Start of the President of the Russian Federation Cup for SAMBO
Competitions
31 August 2012
Sergei Grishin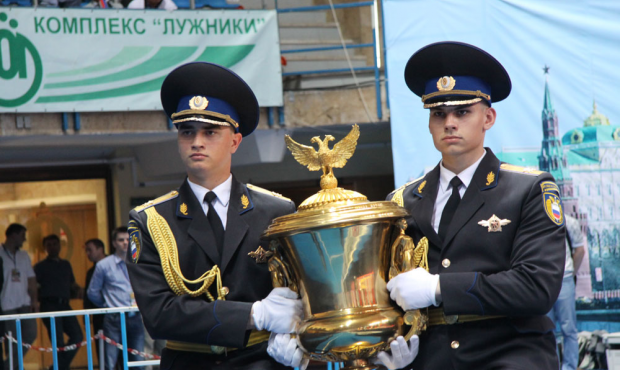 The President of the Russian Federation Cup will be held in the capital on 8 September. The competition will be held at the place turned to be traditional for SAMBO – Druzhba Multifunctional Gym Hall in Luzhniki Olympic Stadium.
The President of the Russian Federation Cup is the most important event in the official competition calendar of the International SAMBO Federation.
Russia is the birthplace of SAMBO and the existence of the event of such high status proves support and attention rendered by the state to the national sport. 
Tournament was established upon an initiative of the All-Russian SAMBO Federation by order of the President of the Russian Federation in 2006 and the prestige prize was firstly presented to the winners, Russia team, in 2007.
According to the existing regulations of this SAMBO competition only 8 strongest teams leading in the FIAS world ranking are allowed to compete in the President of the Russian Federation Cup for SAMBO.
This year the list of the strongest SAMBO nations are headed by the teams of Belarus, Ukraine, Kazakhstan, Moldova, Bulgaria, Venezuela, South Korea and Russia.
"I am happy that SAMBO practitioners have a tournament with such an imposing and prestige name as the President of the Russian Federation Cup. It testifies that SAMBO is really a top-priority sport in Russia," comments Vasiliy Shestakov, FIAS President, on the forthcoming Cup in Moscow.
Command tournament is often called harshly in sport sphere: "wall on wall". Within one competitive fight a successional wrestling of 9 sportsmen of every weight category of sport SAMBO takes place.
Let us remember that the prestige prize was raised over the heads to the cupola of the Druzhba Sports Palace by the happy representatives of Russian SAMBO last year. The Russian won the experienced Belarusian sportsmen by a slashing score of 8:1 in the final wrestle.
In consolation final competition Georgia team decisively won Bulgarian SAMBO practitioners by a score of 7:2 and gained bronze medals of this prestige SAMBO Forum.
This year the start of the competition appears in programme on 8 September at 10.00 a.m. Official opening is fixed for 6.00 p.m. and the final unit of the first competition day is starting just after it.
Mass Media, please note: regarding accreditation to the competition please address Svetlana Sushko, Press-Attache of All-Russian SAMBO Federation, by tel. 8(495) 725 46 83, e-mail: sambo-press@mail.ru