Laure Fournier: "IOC recognition means a lot to SAMBO athletes"
Personalities
4 December 2018
Aleksandr Solomahin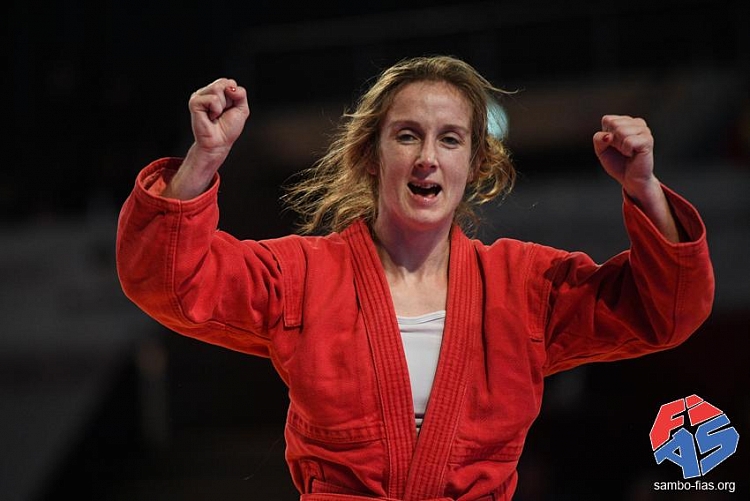 "The International SAMBO Federation provisional recognition by the International Olympic Committee (IOC) is an amazing achievement, and opens a bright future for SAMBO", said Laure Fournier, the chairperson of the FIAS Athletes' Commission.
And she continues in her statement:
"I am very proud to see this day and to have participated to make it happen. The Athletes Commission (AC) is a requirement for an international federation to be recognised by the IOC. For FIAS, it is is composed of athletes from 7 different countries – Belarus, Bulgaria, France, Serbia, Tunisia, USA and Venezuela. FIAS AC has done a lot of work and proposals since being elected, enabling the athletes' voice to be considered in decisions such as qualification pathway, SAMBO rules, refereeing matter and so on. We have also met during competitions with IOC representatives to present and support our sport.
IOC and FIAS recognize the importance of the voice of the athletes in the development of sports, and we share common values, those of Olympism.
The next steps for our commission is to continue gathering input from the athletes and follow our main objectives:
- represent the athletes rights and interests;
- provide advice to FIAS on matters related to athletes;
- collaborate with the Anti-Doping Commission to protect clean athletes;
- create tools to promote dual career and help reconversion of athletes.
The IOC already has great tools created by the IOC AC, which have guided our work so far and will continue to inspire us. Being recognised by the IOC will help us enter the IOC Athletes' Commission Network which will be of great help in many matters.
IOC recognition means a lot to SAMBO athletes. It will increase awareness to our sport in many countries, help National Federations (NF) to better structure themselves, increase the number of NF recognised by their National Olympic Committees, hence opening new doors to the athletes in terms of communication and funding. This could definitely help the sport become more professional in many countries, therefore increasing the number of athletes and National Teams participating at major events, and making it an increasingly worldwide spread sport.
Our future holds a lot of work still to be accomplished, but it is also full of promises: every athlete dreams of being an Olympian, and if we continue working hand in hand in that direction I hope we can offer this to future generation of sambists".