Mexicans are training for the Pan American Sambo Championship in Kstovo, Russia
Federations
5 August 2015
Sergei Grishin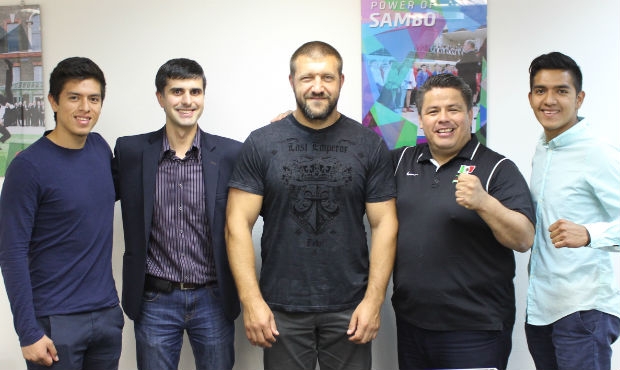 Representatives of Mexican Sambo recently visited the Moscow office of FIAS. President of the Mexican Sport and Combat Sambo Association Antonio Ramirez Rebollar and two of his students met with FIAS Sports Director Dmitry Maximov and Oleg Artemyuk, an expert on relations with the national Pan American Sambo federations. The guests spoke about how Sambo was developing in Mexico and the Pan American region as a whole, and about the main goal of their visit to Russia. For more details, see today's news on the FIAS website.
The Sambo Academy in the Russian provincial town of Kstovo, located to the east of Nizhny Novgorod Region, has the unofficial title of a Sambo monastery. It not only has the necessary infrastructure for training champions, but has also assembled a staff of outstanding coaches who successfully train these champions. Along with Russian Sambo wrestlers, athletes from other countries who come for the training camps are frequent guests in Kstovo. Some of these foreign visitors are representatives from Mexico, who have been coming to Kstovo nearly every year since 1997.
Antonio Ramirez Rebollar and his students — brothers José and Francisco Andraca — came to the Academy for 20 days to understand the science of Sambo. Local coach Vladimir Kulkov always happily greets the Mexican representatives in Kstovo. He prepares a training program for Sambo wrestlers that allows them to quickly acquire as many skills as possible and learn the secrets of martial arts. This year, the training camp is dedicated to preparations for the Pan American Sambo Championship in September, and, of course, the World Championship in November.
"We have such close relationships with the Sambo Academy in Kstovo and all the residents of this Russian town that I made a suggestion to the administration of my home town of Acapulco. I'm proposing to make Kstovo and Acapulco sister cities. I hope this idea will find support and become a reality in the near future thanks to Sambo," Rebollar said at the Moscow office of FIAS.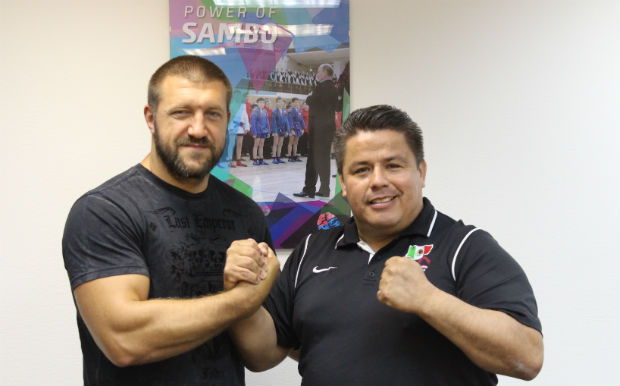 As for Rebollar himself, when he first encountered Sambo, he immediately fell in love with this martial art. He is a former policeman who previously practiced judo, but he "saw that Sambo was more powerful as a sport and system of self defense." He decided to study the martial art in its homeland, so in the early 1990s he came to Russia, where his mentor was Viktor Dmitriev, an instructor for a special purpose force.
"I have plans to organize and hold an annual Mexican Sambo tournament in the format of a National Cup in honor of my teacher Viktor Dmitriev. He is really an outstanding expert in the world of Sambo and many other martial arts, and I owe my love for this wonderful sport to him," Rebollar said during his visit to the Moscow office of FIAS.
These plans may come true in the near future. But these days, Mexican Sambo wrestlers are training in Kstovo for the continental championship. We will soon know (in early September) how successful this training was. And there's no doubt that the Mexican representatives are very committed to this tournament. According to Rebollar, this year, the sports delegation to the Pan American Championship should have a record number of 25 members. And each athlete is ready to compete for medals.