Nepal's Minister of Energy visited local Sambo wrestlers before the World Championship
Federations
27 July 2015
Sergei Grishin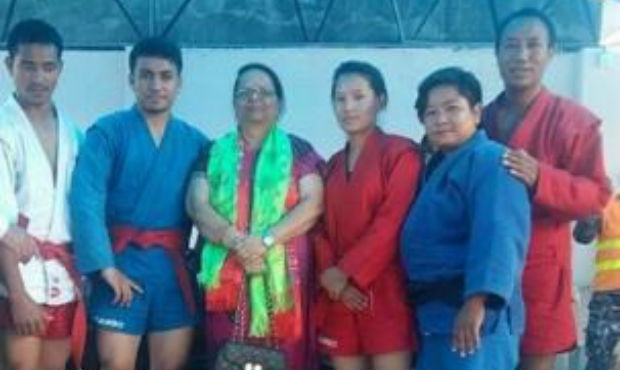 Nepalese Sambo wrestlers have been training hard for the World Championship being held in Morocco in November. Nepal's Minister of Energy, Radha Kumari Gyawali, paid an official visit to the training camp. She was able to see the training process for herself and talk to the management of the local federation about what had to be done for the wrestlers to achieve the best results.
There are four wrestlers on the list of participants in the World Championship prepared by the Nepal Sambo Federation: two women and two men, who will compete in sport Sambo. The Minister of Energy spoke to them, saying:
"Your task is to defend our country's honor and pride on the international stage. Therefore, always go forward and never give up. Always think about your country when you go out on the Sambo mat. I wish you success and medals at the World Sambo Championship!"
Officials of the local Sambo federation said the minister's speech should be an inspiration for the athletes. Each of them continued training for their debut at the World Sambo Championship with a special sense of pride. The minister was introduced to the wrestlers who are preparing to represent Nepal at the championship: Gopal Poon Magar, Ranja Rai, Bhagawati Majhi and Himprava Khatri. Incidentally, Bhagawati Majhi has made a name for herself in her country and in Asia. She was awarded a bronze medal in beach Sambo at the Asian Beach Games last year, and later received an award from the government of her country.
Dan Bahadur Ghising, an official of the Nepal Sambo Federation, talked about how the wrestlers' training was progressing, saying it was both physical and psychological. He also noted that the Nepal Sambo Federation was doing everything possible to make sure the Sambo wrestlers had everything they needed during training.
The athletes showed the minister their skills and knowledge during a demonstration match.