World SAMBO Championship 2012 in Sofia: view from the commentator's position
Competitions
22 October 2012
Sergei Grishin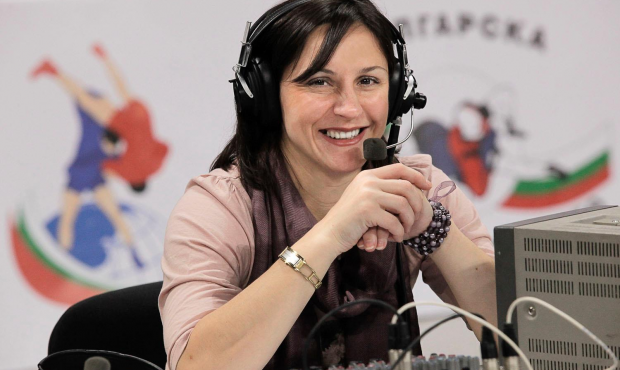 On sports commentators
Famous Russian sports journalist Anna Dmitrieva once said about sports commentator's work: "Sports commentator should be interesting, free from prejudice, a commentator should be a fan as well as should be sincere".
To my mind, these words are wonderful. Before my reportages from the World Championship 2012 among youth in Sofia I didn't hear these words, but I completely agree therewith. Besides, I'd like to believe that we, while working in Bulgaria with my colleague Vladimir Ivanitsky, an experienced journalist of NTV-Plus TV Channel, SAMBO Master of Sports, have complied with the precept of the famous Russian commentator. Anyway, we know Sambo a little bit, support it to make it better and more interesting.
On fight
It was interesting to run commentaries from Arena Armeec in Sofia. Last year at the similar championship in Riga, Latvian capital, the medals of Baltic Sambo practitioners – national teams from Latvia and Lithuania as well as sportsmen from Serbia - became a sensation. This year medals of the Italians, Greeks and Romanians surprised us.
Julia Aragoccini – Italian junior with weight of 68 kg stuck to our memory by fight in hack "gadavli" which is more typical for Georgian SAMBO school. Having long levers, she managed to obtain winning point exactly from it and defeated Elena Kuleshova, Russian sportsmen. Specialists noted right work in Georgian hack and well-conducted short technique which brought sacred gold to the Italians.
Romania pleased us with Daniel Netya, its giant-junior, who participated in heavyweight category and had weight at 140. If there had been prize for the most exciting fight it would have been final in this weight between Netya and Georgian Ushngi Kokauri to become undoubted nominee for this prize. Not so often it's possible to see such amplitude back leg-shows and chest throws. These techniques were delight for the eyes of spectators and specialists, tilting the scales of meeting score from one side to the other. In the result, Romanian sportsman happened to be more persistent and insistent, which let him go up to an upper step of podium in Sofia.
On television
Television as well as theater start with hanger the same way competitions begin with people who organize them. Our part of television work started with host broadcaster of competitions MediaProSofia EOOD Company.
Broadcasting organization began long before the Championship. It happened in the following way: there were numerous telephone calls several times a day, working out of contract details, messages by e-mail, full of ideas and creative suggestions. In the result Bulgarian team headed by Tsvetanov Svetomir, wonderful person with sonorous and bright name, professional, worked excellently. Broadcasting in the internet, picture displaying on the screen in the hall and final programme creation which is going to spread by Eurovision to all the countries of the world - such result will satisfy the SAMBO fans.
On our next meeting
Next time I and Vladimir are going to work for you dear internet-spectator at the World Championship in Minsk, Belarus. The main start of sports calendar of the International Federation of Sambo is coming soon, from 9 and 11 November. Representatives of sports SAMBO will appear on Minsk mats – men and women and combat Sambo practitioners.
We will report on 9 November at 4:30 p.m. (local time), the broadcasting will start with opening ceremony of tournament. November 10 you'll manage to see World Championship at 5 p.m. At the Championship final day translation will start at 4:00 p.m. and will finish with closing ceremony of the tournament.
Follow SAMBO at http://sambo.sport/
Natalia Yukhareva
FIAS Press Service