Morozov and Perepelyuk from America: "The President of the USA SAMBO Federation participated in our workshops at the Police Academy"
Кaleidoscope
24 September 2013
Sergei Grishin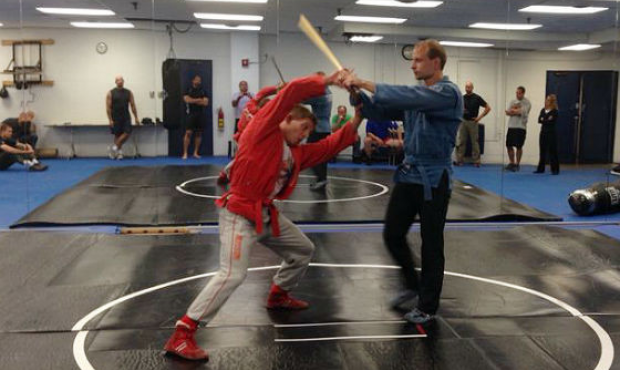 Today, we continue to acquaint you with travel essays of Ivan Morozov and Alexander Perepelyuk, representatives of the FIAS presentation group, who are in Philadelphia now. We specify that Ivan is a police officer of the Russian Federation, and you can understand the reason why we have indicated this part of his biography having read the next issue of the guys' travel essays.
The day under the slogan "SAMBO for force structures representatives" began for us with a master class at the FBI of Philadelphia. We have been demonstrating SAMBO, training together, talking, and answering numerous questions for 2.5 hours. We did our best to get the diversity of SAMBO technique and its applied meaning across to all the participants. First we demonstrated Sport SAMBO technique to do this, and then focused on the possibilities of using our combat sport in force structures.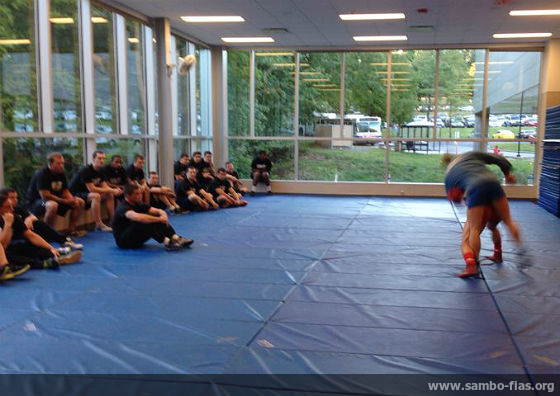 This is where the polemics began, questions, discussions of specific situations and cases of professional and even everyday life. Everyone enjoyed the variety of options that may be taken from SAMBO for official activities of the force structures representatives. The situations of disarming and neutralizing the trespassers were of particular interest. The questions were different from "What to do if you are in the mat position, and the enemy is above?" to "How will you react if the attacker tries to jerk the pistol out the holster?". And frequently our "SAMBO" answer "hit the nail on the head". But jokes aside, our answer was – "SAMBO should be adopted and used in force structures."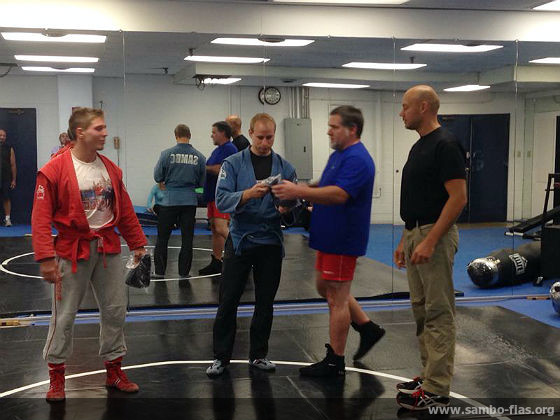 There were also women among the FBI agents. They were interested in SAMBO from the point of view of how they would be able to level a lack of strength compared to men by means of SAMBO. We, convinced that SAMBO – is a unique system of training the mind and body, explained in detail the competitive opportunities that our combat sport gives to those who are involved in.
As it turned out, at this moment various combat sports, from hand-to-hand fighting to Jiu-Jitsu and Krav Maga are in operational service with the USA force structures. But what is more interesting is that after our workshop many FBI agents expressed a desire to continue their acquaintance with SAMBO. And we made sure once again that the introduction and using of SAMBO in force structures – is a wonderful way to develop and popularize our combat sport.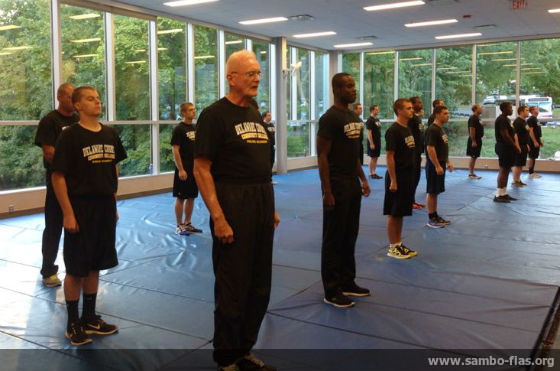 In the evening our work continued at the Police Academy of Philadelphia. As it turned out, the President of the United States SAMBO Federation and James Binns, the best known in America attorney, study at the Academy at present moment. It was he who gave a start to our workshop by telling about SAMBO with a detailed excursion into history. What is very important, James Binns drew attention to the fact that SAMBO was originally conceived and created specifically for using in force structures.
After the theory we passed on to practice: a training session, demonstration, analysis of the most interesting points, matters. We paid much attention to the standard, but very important provisions that often arise in the professional activity of a police officer, as well as can be met in ordinary life. We worked hard at breaking free from hacks, protection from an attacker with a gun, escorting. There were also a lot of questions there, we discussed various situations, to the extent of real-life ones: "How to act at displays of aggression?", "How to keep calm in a stressful situation?" And, of course, we discussed details and nuances of the police officers' work in our countries and opportunities for cooperation. The communication came out very lively and open, here SAMBO was of great interest, and many Academy cadets expressed desire to go in for our combat sport.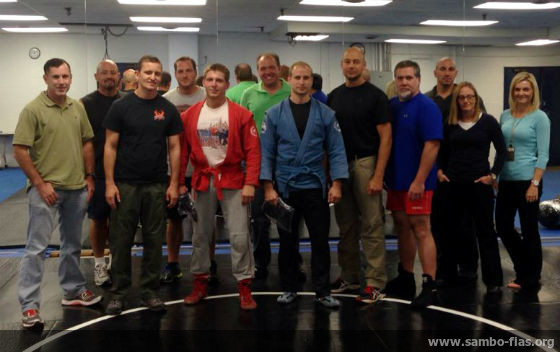 We think that today we have been able to get a number of force structures' representatives of Philadelphia interested in SAMBO and we hope that our slogan "SAMBO for force structures representatives" will spring to life in the nearest future. They do a lot for this in the USA.
Yours Ivan Morozov and Alexander Perepelyuk
www.sambo.sport