Thoughts Out Loud. Michael Osmolovsky
Personalities
7 June 2019
Aleksandr Solomahin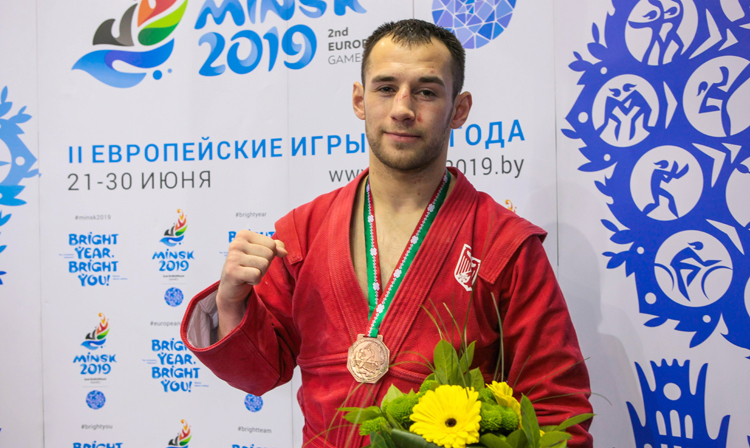 Sambist Michael Osmolovsky represents Germany in the international arena in combat SAMBO competitions. His story about himself is in the new section of the FIAS site, "Thoughts Out Loud".
In February this year, I won a bronze medal at the International SAMBO Tournament for the Prizes of the President of Belarus. It was a tryout tournament in the lead-up to the II European Games, moreover, the competition was held in the status of the "A" category tournament, so I was pleased with my result.
Last time I hit the prize stand at the major tournaments was at the 2017 European Championships, and, incidentally, it was also in Minsk - it may come that this city is lucky for me.
After that continental championships, I was a little away from the sport. This was due to the fact that my son was born, and I devoted all my time to my family. Now I am gaining momentum again, I am actively training - I plan to continue to perform often and, I hope, successfully.
In Germany, we are trying to be in progress, not to sit on our hands. Certainly, an important question is the financing of sambists who represent the country in the international arena. We often pay all the travel and accommodation expenses for athletes, and, you know, it is not always affordable to go to tournaments at your own expense. We've got an ambition to perform for the country and achieve good results, that's what we train a lot for. It remains to solve the issue of financing.
SAMBO is definitely not a way to make money, but a beloved hobby. And it is more than just a hobby, it is a lifestyle. I work as a fitness coach, that's the way I earn my living. And whenever it's possible I try to participate in all major international SAMBO competitions. I hope that I would be able to win medals at the top international SAMBO tournaments.