Before the start: what is the mood of the SAMBO athletes arriving for the World Cup Memorial A. Kharlampiev?
Competitions
24 March 2016
Sergei Grishin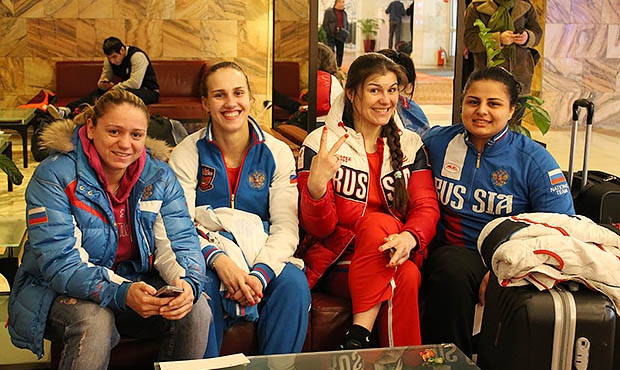 The day before the start of the World Cup Memorial A. Kharlampiev, the participants have settled into the Aerostar, the official tournament hotel, and are being accredited there. In the evening, athletes who are competing on the first day of the tournament have to undergo the official weighing procedure and then get ready to perform. World Cup participants who have arrived in Moscow talked about their mood in an interview with the FIAS website.
Japanese SAMBO athletes were the "early birds" for accreditation. They were great company and in good spirits. They said their flight to Moscow was comfortable and easy, and now they were eager for the start of the competitions. The Japanese talked about their mood all at once, sometimes interrupting each other: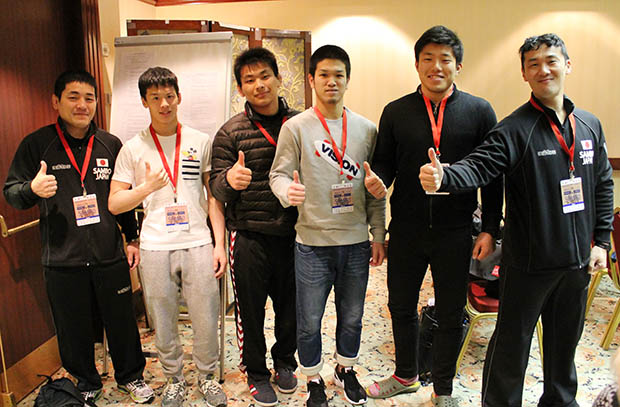 "We want to win medals! Best of all – gold! We arrived last night and immediately felt the cold Moscow weather. All the sambists of our national team are competing in an international SAMBO tournament for the first time. They won the Japanese championship in February, which gave them the right to defend the country's honor at an international competition. We came to win using Japanese-style SAMBO. What is this style? It's a mix of SAMBO and judo."
The celebrated Russian SAMBO athlete Marina Mokhnatkina, who returned to elite sport after giving birth, was especially excited about the start of the competitions. The day before, she posted a photo on Instagram with the caption: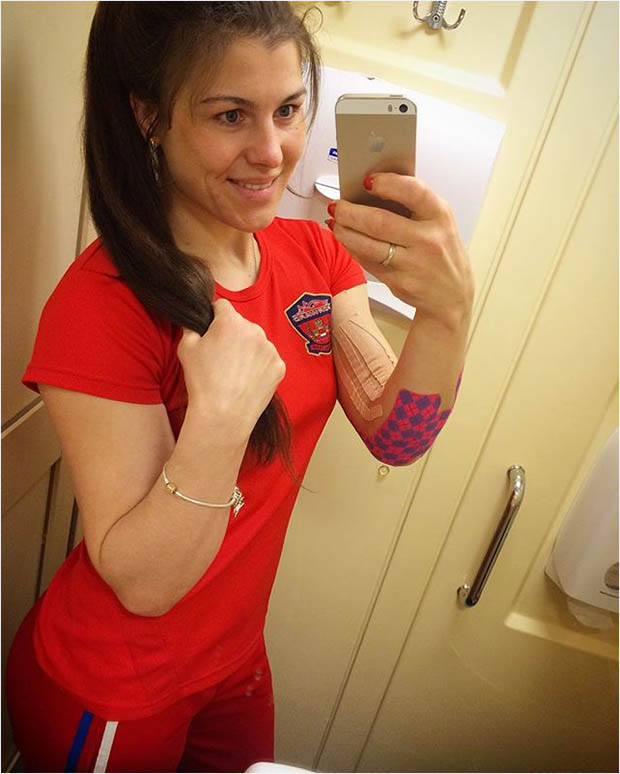 "On the road again! I'm going to Moscow for the World Cup Memorial A. Kharlampiev! They're promising a live broadcast on the FIAS website on March 25 and 26! Weighing tomorrow, and in combat again on March 25."
In our conversation with Marina, we confirmed that the FIAS website would broadcast both days of the tournament from morning to evening, and asked her to share her expectations for the upcoming competitions.
"This is my first international start after giving birth. I won at the Russian championship in early March, and at the Russian Cup last fall. Of course, now I'm in the mood for combat: testing my strength at the international level again will be very interesting," said Marina.
The SAMBO athlete, who just a year ago became a mother, was able to return quickly to the sport. We asked her how she did it.
"My husband and I knew what we had to do, so we decided I would start training for the next competition right after giving birth. About two weeks after leaving the hospital, I started cross-country running. Three months later, I started full-time training on the mat. I'd like to mention that no one helps my husband and me; our child is always with us, even during training and competitions," said Marina.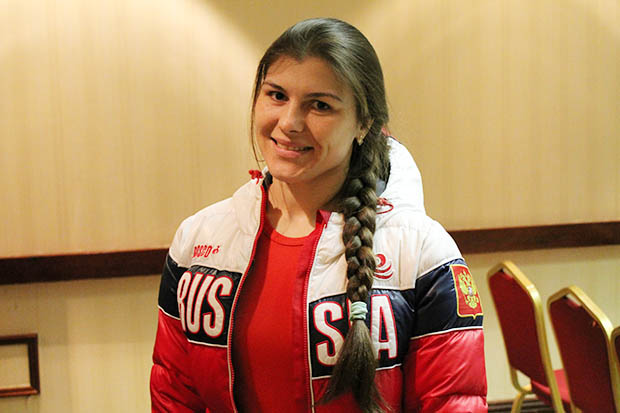 The three-time world champion said that while she competed in the World Cup in Moscow, her son stayed with his dad – Marina's husband Mikhail Mokhnatkin, a member of the Russian national Combat SAMBO team. According to Marina, Mikhail confidently copes with all the responsibilities – feeding, walking, bathing and changing diapers.
"Both my husband and son supported me in the Russian championship. Thanks to their presence, I was able to psych myself up and quickly beat all my opponents using painful holds," says Marina. "Before the Russian championship, I thought it would be tougher than it actually was. It was harder to win at the Russian Cup, probably because it was my first official start after giving birth. I'm not the only one who has given birth and immediately returned. Natalia Kazantseva, who is already a mother of two, is a striking example. She clearly showed that it's possible to combine a career and personal life, without leaving the children with others, like grandparents."
We wished the young mother good luck, and then met another sambist who has also started combining two roles. Marouane Oulhaj, a leading Moroccan SAMBO athlete, recently retrained as a player-coach.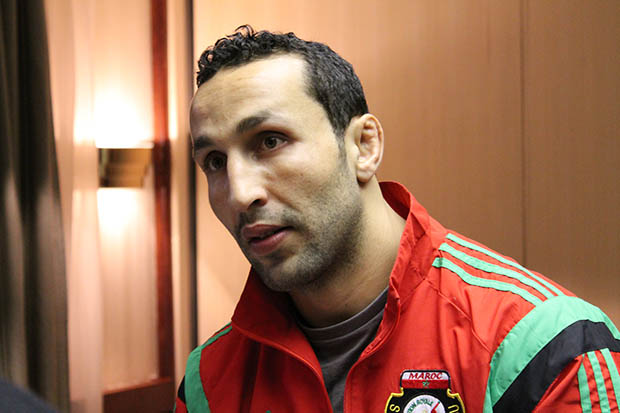 "I'm still competing as an athlete, but I've already started working as a coach. The shift to the new status still isn't easy, but I'm trying to make the move, because I want to be a coach after the end of my sports career. Of course, I'd like to fight for medals at the World Cup in Moscow. Speaking as a coach, I think our Combat SAMBO athletes have the best chance of winning prizes," says Marouane.
Dalil Skalli, President of the African SAMBO Confederation and the Royal Moroccan SAMBO and Tai Jitsu Federation, expressed confidence in his student's coaching ability. He also talked about the changes that took place in Morocco after the 2015 World Championship.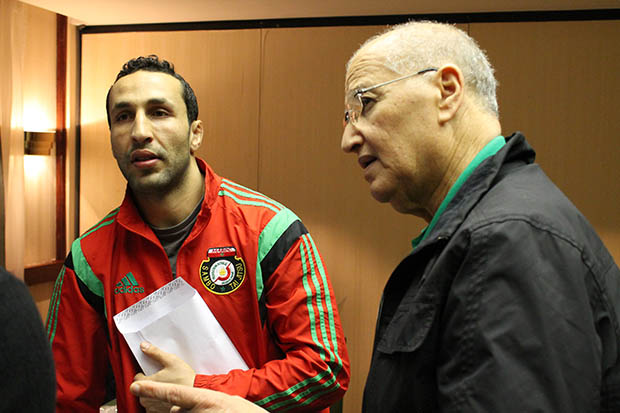 "Four months have passed since Casablanca hosted the World SAMBO Championship. We've felt increasing interest in SAMBO in two ways: first, there are more people who want to get involved in this sport in our country, and second, more attention to SAMBO from the government. We received congratulations on the success of this major tournament from the King, the Ministry of Sport and the Government. I think it will help us go forward in developing SAMBO in the country and on the continent," Skalli says optimistically.
Meanwhile, Bob Clark , coach of the U.S. national team, was actively searching for a place to get a cup of coffee. His team sat down in the hotel lobby to rest for a moment and fell asleep. The coach turned out to be tougher.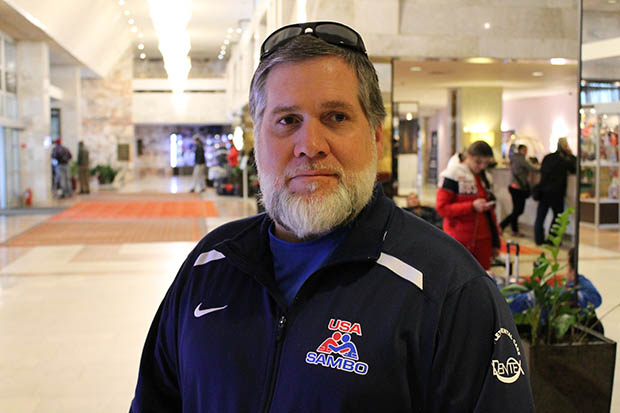 "We've just arrived from New York, so we feel really tired. We have to be restored by the start of the tournament, so we'll follow a special schedule. We have a pretty strong team; everyone can give a good performance. There are 6 athletes and 2 coaches in our delegation. The most experienced guys are in Combat SAMBO, who have competed in martial arts." The coach brightened up noticeably as he talked about his team.
Clark said he'd been training in SAMBO since 1995 and used his knowledge and skills not only in competitions, but also in his main job.
"I'm a police officer, and SAMBO has been really useful for me. It's a great applied sport that's very handy in practice. I also used SAMBO techniques when I was in the army. SAMBO is the perfect martial art for the army and police, and I always try to promote it among my colleagues," said the American coach. "I've used SAMBO techniques a lot during arrests, including against armed criminals. Knowing SAMBO is a great advantage in my work. Brazilian Jiu-Jitsu is popular with American police today, but I'm convinced that SAMBO is better in practice. We're also trying to train police officers, and more and more of them are coming to our club to practice SAMBO."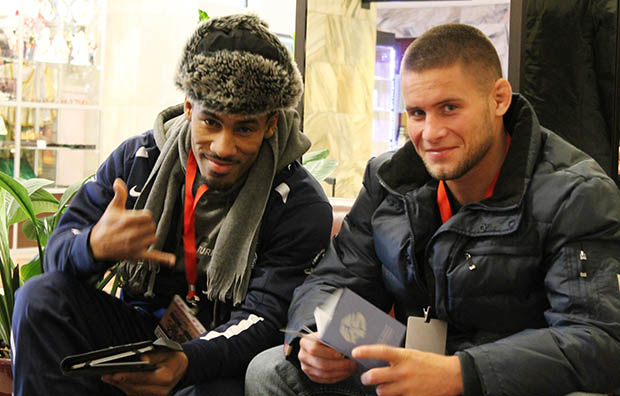 We didn't dare distract the American athletes and coaches any longer, so we left them to rest and get ready for the competitions. We'll soon know how successfully they and other SAMBO athletes will perform. The start of the World Cup Memorial A. Kharlampiev is only hours away. Follow all the twists and turns of the tournament on the live broadcast on the FIAS website.