"It finally happened: I'm a world Sambo champion"
Personalities
12 October 2015
Sergei Grishin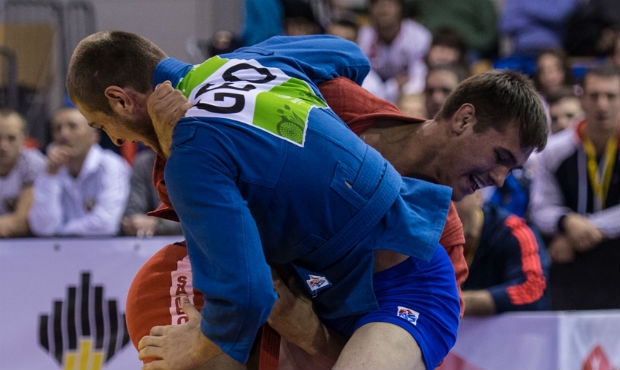 The emotions and feelings of participants in the 2015 World Sambo Championship among Youth and Juniors on the third day of the competition — in their comments for the FIAS website. Sponsor of the World Sambo Championship among youth and juniors is Russian Agricultural Bank.
The third day of the World Youth Sambo Championship in Riga was lucky for Ukrainian Anastasia Novikova. She was the champion in the weight category up to 52 kg among juniors: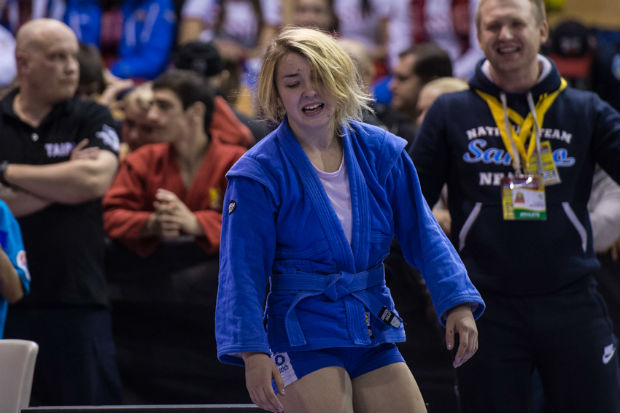 "I want to dedicate my victory to everyone who in some way helped me make it happen: my coaches and the guys I train with. Thanks to the Sambo Federation of Ukraine, who believed in me and kept sending me to competitions. I was finally able to win a gold and justify their confidence."
Belarusian Sambo wrestler Vladislav Burd won the gold medal in the weight category up to 57 kg among juniors. Despite the excellent result, the athlete was incredibly focused as he left the mat and admitted that he still hadn't fully realized what happened: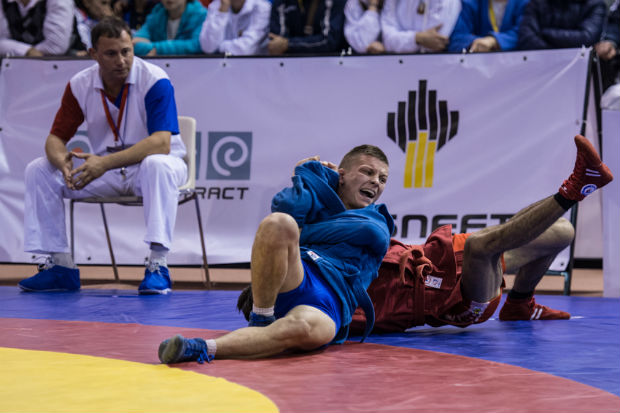 "I've had too many second and third places, and it was time to win a gold. I'm very glad I managed to achieve this in Riga. The final is just the tip of the iceberg, and you have to get there too. Audiences don't see athletes training, but that's what allows you to get results. When it comes to my emotions, I can compare them to what I experienced during the European Games in Baku. Then I was incredibly pleased to win a bronze, but now I'm happy about the gold at the World Youth Championship."
A brilliant fight in the final by Russian Alexander Suchkov, the winner in the weight category up to 70 kg among juniors, made a real impression on the audience. His lightning-fast painful hold earned him a gold in the World Youth Championship: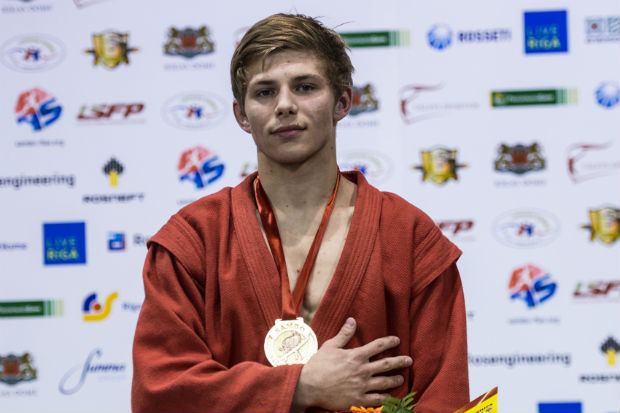 "I wanted to win and I did. My coach and I discussed tactics before the start of the match and I stuck to them. I'm good at ground fighting, and I like to do painful holds. So in the final, I just did what comes easiest to me. And I won a gold."
Tatiana Stepnova, representing the Russian national team, was world champion in the weight category up to 64 kg for girls. The charming young woman said that before she came to Sambo, she'd been involved in rhythmic gymnastics: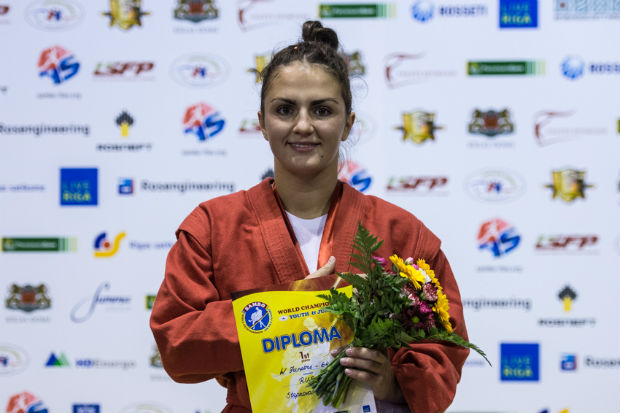 "I got into Sambo from gymnastics. It was interesting. My parents took me to a section to try it out. I liked it right from the start: I considered applied Sambo, because I wanted to learn the self defense skills that girls need. Then the sport drew me. I've never used Sambo in ordinary life and never will. I'm still a girl first, and then an athlete. And besides, our coaches taught us from childhood that we can only use our techniques on the mat, not on the street."
"The best day" — these were probably the words Ukrainian Sambo wrestler Vitaliy Shepel was singing at the end of his performance at the World Youth Championship. He was the winner in the weight category up to 87 kg among juniors, after getting a gold in a tough fight: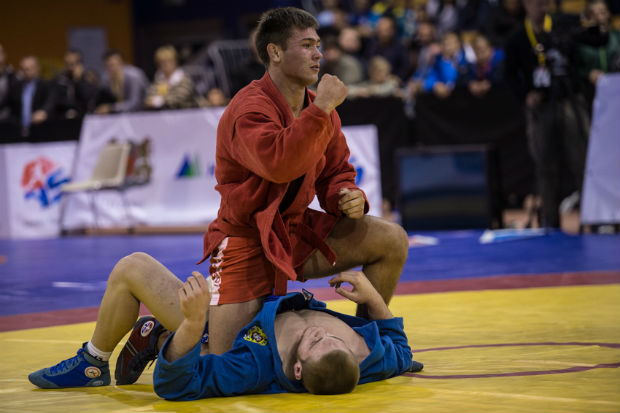 "Last year I lost to this guy in Europe. Now I got my revenge. I want to say a big thank you to my parents and grandparents for giving me the opportunity to take part in this wonderful sport. Each athlete has a goal to achieve. I set a goal for myself, and I achieved it. I repeat: it's not just my merit, but the merit of my parents and coaches."
Russian Alexandra Gimaletdinova didn't give her opponent a chance in the finals. A confident victory took her to the highest step of the podium with a gold medal in the weight category up to 80 kg among juniors. In an interview with FIAS, she talked about the secret of her success: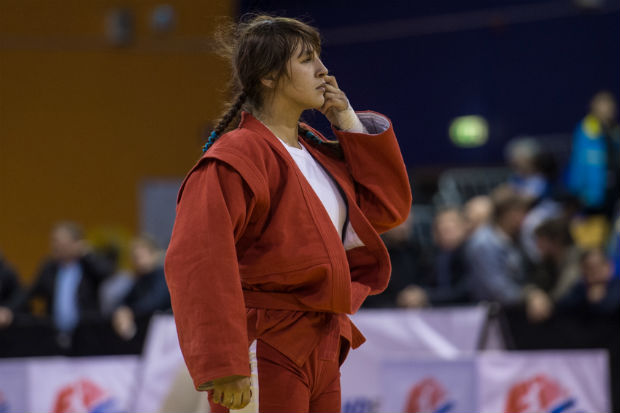 "I have a lucky blue jacket. I bought it about 6 years ago. First I wore it in everyday life, and then I began to wear it only for training. At some point I noticed that if the jacket was with me, I was lucky. Of course, I took it with me to Riga, and once again it lived up to my expectations. So the lucky charm works, and now I'm a world Sambo champion."
The last fight of the day and of the whole championship was tense: representatives of Georgia and Ukraine came together in a tough struggle. Luck was finally with Ukrainian Sambo wrestler Oleksiy Lysenko, who won a gold medal in the weight category up to 100 kg among juniors: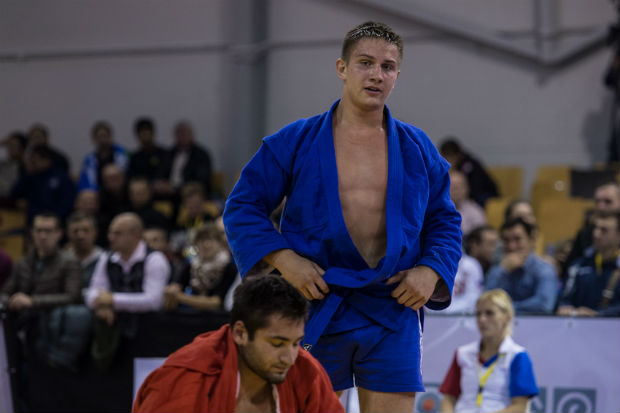 "I started twice at European Sambo Championships, and lost twice. Now it finally happened: I'm a world Sambo champion. My opponent in the final was an athlete from Georgia. Sambo wrestlers from this country are known for their hard physical strength. I've only been on the mat with a Georgian once before, and I lost. I won today, but it was really hard. I like the ground, painful holds and throws — the lateral drop throw. I know my mom and dad were following the competitions closely: they watched the online broadcast on the FIAS website, and were cheering for me. I felt their support and tried to show everything I was capable. I'm glad I succeeded."
[Photogallery] World Sambo Championship among Youth and Juniors. Day 3 — finals