"We obtain every medal with great difficulty"
Competitions
22 November 2014
Sergei Grishin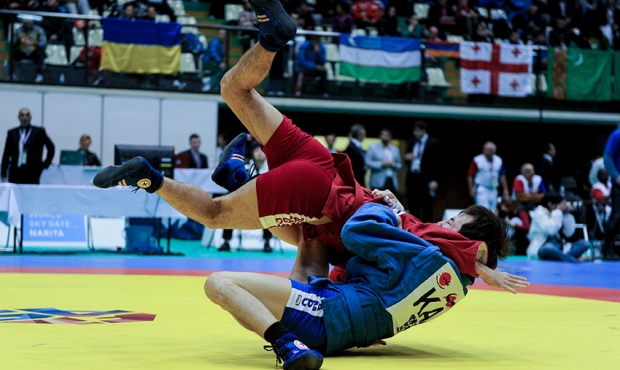 The Sambo World Championship commenced in Narita (Japan) on November 21. More than 600 sambo wrestlers from 82 countries take part in this tournament. It means that the record high of number participant countries of last year (75 teams) is beaten. For the first competition day, 9 sets of medals were obtained by athletes of 13 counties. Who became the best debutant? Who kept the champion's position? Who couldn't achieve the goal? Read the report from Narita (Japan) in the FIAS website.
Huge Japanese traditional drums (local musicians solemnly played on it) informed everyone the official opening ceremony of The Sambo World Championship commenced. A fascinating performance attracted people in Nakaday arena; photo and video of artistic drum playing appeared on photo and video cameras of most attendees.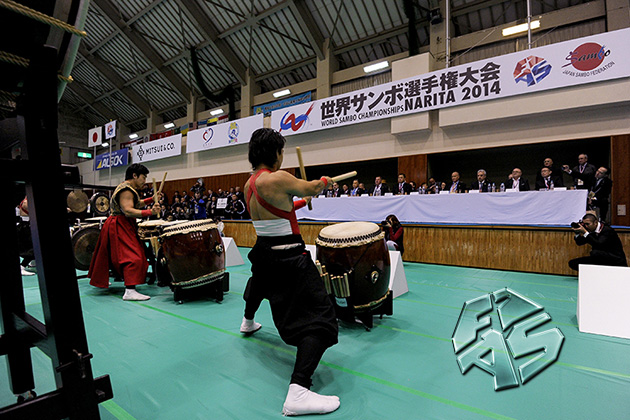 After that, the honorable guests approached to the participants and audience with greeting speeches. Congratulation on the championship opening, people's friendship, new turn in sambo development in Japan and the sambo way to the Olympics – that was the prevailed topic in officials' speeches. Yoshiro Mori, ex-prime-minister of Japan, underlined the importance of the Sambo World Championship during the year of change in martial arts between Russia and Japan and wished good luck to all the participants in their fights.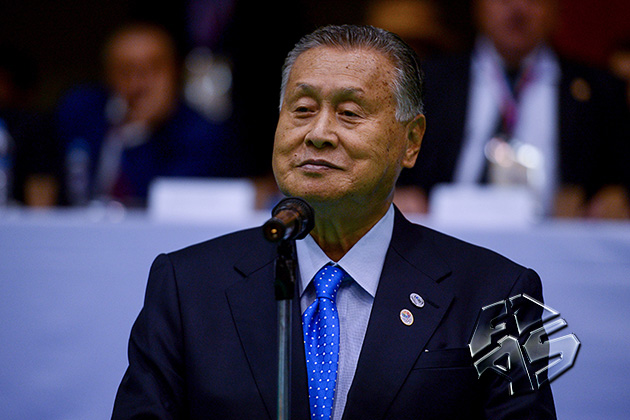 In his turn, Vasily Shestakov, the FIAS President, emphasized that the current year in international sambo is under the aegis of Asia. He said that only one week before the Sambo World Championship sambo had its debut in Asian Beach Games and in October the Sambo World Championship for Juniors successfully took place in Korea. "Today in the Sambo World Championship in Japan about 600 athletes from 82 counties gathered here – that is a new record high. I'm sure that each of them will show us the most of what they can. But in addition to it, I want all of you to remember the main sambo motto: We are competitors on the mat, but we are friends out of it."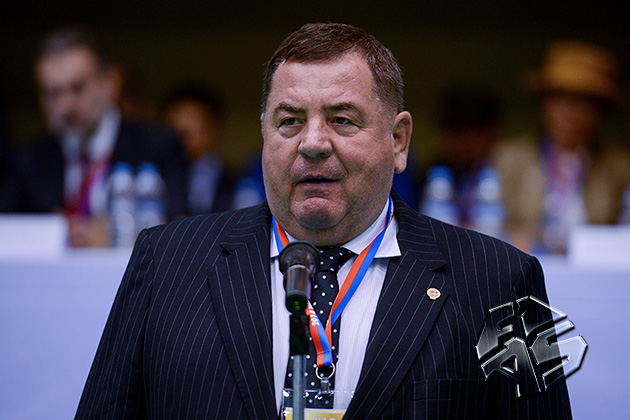 The further events proved that sambo athletes thoroughly follow this rule. No matter how loom was the tussle, after it former rivals shook hands and thanked each other for a good fight. Such approach perfectly complies with the Japanese style where a bow and other various expression of appreciation are meant to be the only right way of behavior in every situation.
A presence of sambo wrestler Fedor Emelianenko and judoist Yasuhiro Yamashita, who are the world sport legends, was the most likely part for Japanese people.
"I regularly attend the World Championships and I'm glad of Russian athletes' victories", Emelianenko said in interview to journalists. "I'm sure that in Japan sambo can be as popular as it was in last years. The fact that we can see here famous Japanese judoists is recognition of our kind or sport."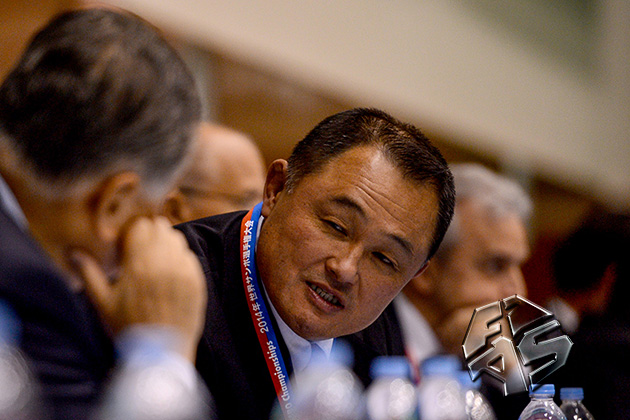 It worth notice that exactly thanks to Yasuhiro Yamashita for several years ago sambo became more popular and found its way to rebirth. The Japanese athletes proved that it was the right way by their actions, not words. Miwa Fujimura became a champion in weight category of up to 60 kg. In her final she beat mature competitor from Belarus Ekaterina Prokopenko.
"I'm very glad because of my victory and I'm very thankful to my coach who got me acquainted to the sambo world. I was a judoist earlier, but sambo is definitely another kind of sport, painful holds became a great discovery for me. I liked to apply it on my way to the finals", joyfully said the newborn world champion from Japan.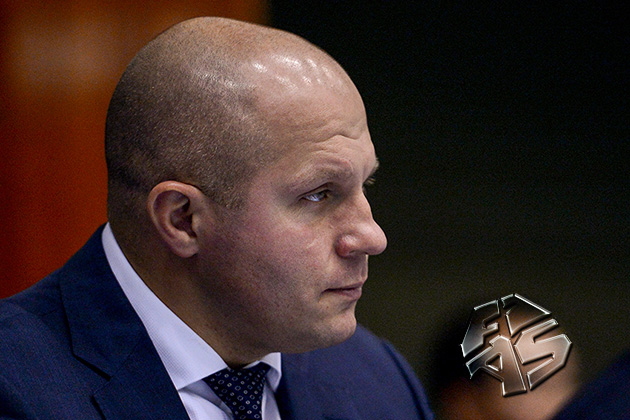 The Russian athlete Alsim Chernoskulov (weight category up to 90 kg) is a mature sambo wrestler compared to Miwa Fujimura, the Japanese debutant of the Sambo World Championship.
"It is the sixth Sambo World Championship where I take part. Three times I lost in finals, three times I won it. I didn't want to lose for the fourth time. The second in the tournament is the first of losers", said Chernoskulov.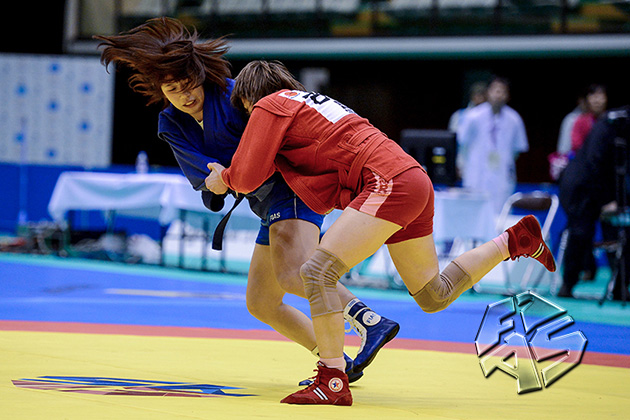 Gennady Chirgadze from Georgia (52 kg) after his victory in finals against Agasif Samadov from Azerbaijan stayed in euphoria. His rejoice he shared with pleasure with journalists.
"I'm happy that I won. I met this competitor in the mat earlier but that time I lost. However, now I was prepared better and could take gain revenge. I'm jubilant that it happened exactly in the World Championship finals", commented the athlete.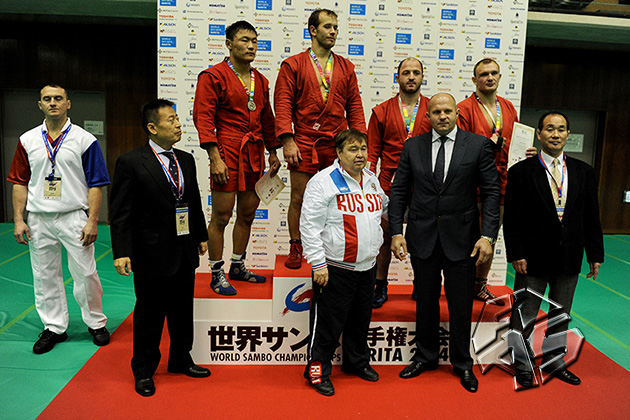 Andrey Budajapov (combat sambo, 57 kg) had the same feelings. The Russian athlete was a first-timer in this Sambo World Championship and at once gained the golden medal.
"Before the commencement, the coach told me to obtain only doubtless victory", explained Andrey Budajapov to journalists. "There is special demand from the Russian athletes, that's why we can't wait for the indulgence from referees. I tried not to allow to my competitor work as the first number. I' m a debutant, so I feel huge responsibility. I won the European Championship in 2011 only and for two years I was trying to become a member national team to go to the World Championship, but there were no good. And finally I found my luck!"
But Andrey Budajapov's competitor in finals Marco Kosev was extraordinary upset because of obtaining only silver medal. Four times world champion, he arrived to Japan for the fifth golden medal. It was loudly stated in his profile in social networks. However, he met the Russian newcomer on his way to the golden medal.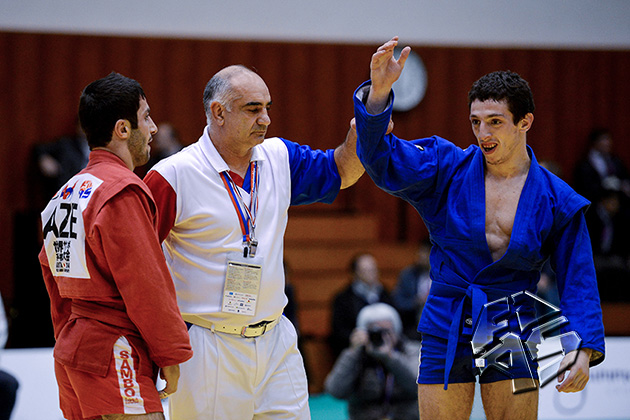 None could break the will to victory of Armenian sambo wrestler Mavrik Nasibyan (combat sambo, 74 kg). The athlete passed the whole tournament, as a result he found himself in the finals with Tikhomir Blagovestov, a powerful wrestler from Bulgaria. A stressful fight was over with a beautiful victory on Armenian athlete who was literally carried in his coaches' arms. For the overfilled emotions, Mavrik Nasibyan had no words to say but the thankful to his supporters and all people who helped out to achieve this goal.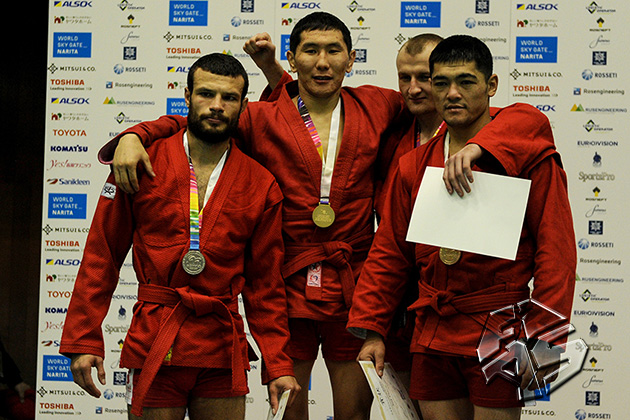 The Russian athlete Irina Alekseeva (72 kg) was overfilled by emotions as well. These emotions were caused not only by the victory in her first World Championship, but in addition she could do this at presence of the Olympic Champion Yasuhiro Yamashita.
"He is an example for us", she explained. "Some time ago Grigory Verichev, the legend of Russian judo, fought with him. I represent the sport school of Chelyabinsk which has his name and I'm proud that I fought at presence of such a great man."
Also Irina honestly confessed that her sambo idol was Fedor Emelianenko and his presence at this Sambo World Championship made her victory very significant. Likely to get the merit medal from Fedor's hands in the medal ceremony was very pleasant for Irina.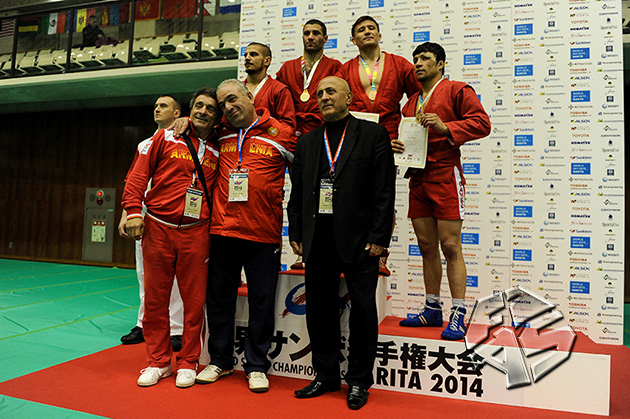 Many experts noticed that the Russian sambo wrestlers, who are the famous favorites, for the first day of the Sambo World Championship couldn't occupy the first place in podium as it was before. That entire situation proves that athletes from other counties not only hard on heels to sambo pioneers but try to move them from the champion's positions.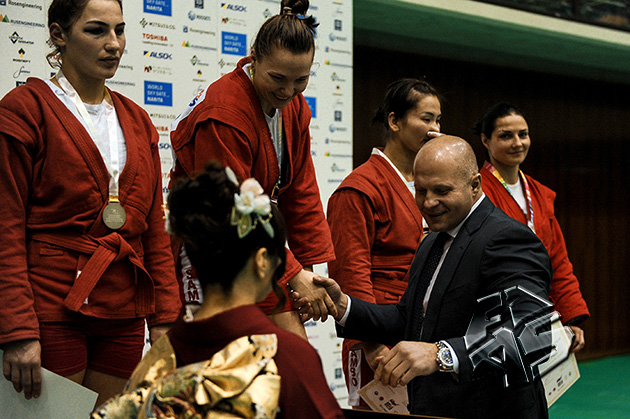 "Now we obtain every medal with great difficulty", outlined Dmitry Troshkin, Senior Coach of Sport Sambo Men's National Team. "Before every World Championship we are told to bring home a lot of medals as usual. But only few people understand that now each medal has higher price and it is more difficult to obtain it. After the first competition day, the Georgian team has higher score then us. But the most interesting for us is further."
Do you want to see the most interesting? Welcome to our online broadcast of the Sambo World Championship in the FIAS website: ONLINE.