Italian National Sambo Championship
Competitions
21 December 2013
Sergei Grishin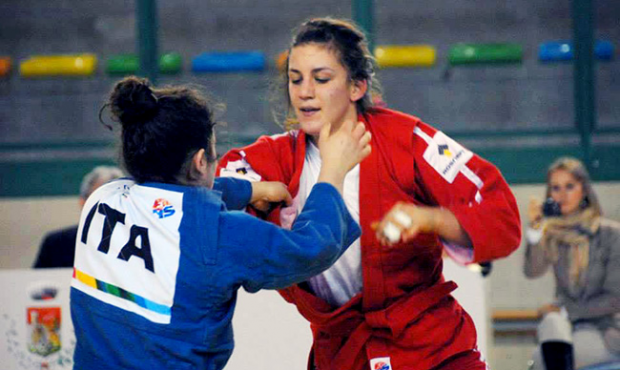 In the days before Christmas and the New Year many sambo athletes get together. As it turned out they do this not only to communicate and remember the twists and turns of the sambo year. Some fans of self-defense without weapons, for example Italians, have decided to find out who is stronger at the end of last year. So, our report is about the event.
The main National Start of Italian Sambo was held near Milan, in the municipality of Offanengo. It is the place where battles of the European Sambo Championship raged in May. 7 months later the battles of the National Tournament took place. About 100 sambo athletes from various cities and towns of 9 Italian regions revealed the strongest female and male sambo athletes. Men fought for the title of the Italian Champion in 6 weight categories. There was no 100 kg category and the most prestigious +100 kg was replaced by +90. The fair sex has identified the strongest one in the open weight category.
Experienced judges Ivan Netov from Bulgaria and Emil Rashi from Georgia assisted local referees to give the athletes points, cautions and warnings. It is interesting enough that the competition "dispute" was not only in the individual ranking, but also in the team event judged by regions. As a result, the most populous and economically successful region of Italy, Lombardy, took the first line of the protocol. Surrounded by the Alps Piedmont was the second one. The team bronze was won by Sardinia, the island having its own president, parliament and flag.
Here the final protocols of the Italian National Sambo Championship are:
62 kg. Class
RASO Michael (Torino)
LIOBONO Andrea (Milano)
FORZA Jacopo (Vicenza)
68 kg. Class
LUSSIGNOLI Athos  (Cinisello Balsamo)
BARLASCINI Stefano (Varese)
VIDONI Roberto (Gallarate)
74 kg. Class
PALATINI Luca (Varese)
OVSIYCHUK Vladislav (Verona)
BRUN Gianluca (Verona)
82 kg. Class
MARAZZI Giacomo (Lodi)
MIRABELLI Andrea (Varese)
GIGLIOTTI Marco (Nuoro)
90 kg. Class
TOMASETTI Ivan (Pordenone)
VELASQUEZ Edwin (Crema)
GIGLIOTTI Edoardo (Nuoro)
+90 kg. Class
SACCONE Paolo (Roma)
CHIAVENNA Carlo (Como)
DIERNA Andrea (Ragusa)
open weight class (Women)
RAIMONDI Valeria (Milano)
ARAGOZZINI Giulia (Torino)
ROSELLI Chiara (Nuoro)
Team championship
LOMBARDIA          84 points
PIEMONTE             20 points
SARDEGNA          18 points
VENETO                  17 points
FRIULI        10 points
LAZIO        10 points
SICILIA         5 points