National Olympic Committee of Uzbekistan Awarded Sambists for Their Success at World Cup
Federations
18 April 2019
Aleksandr Solomahin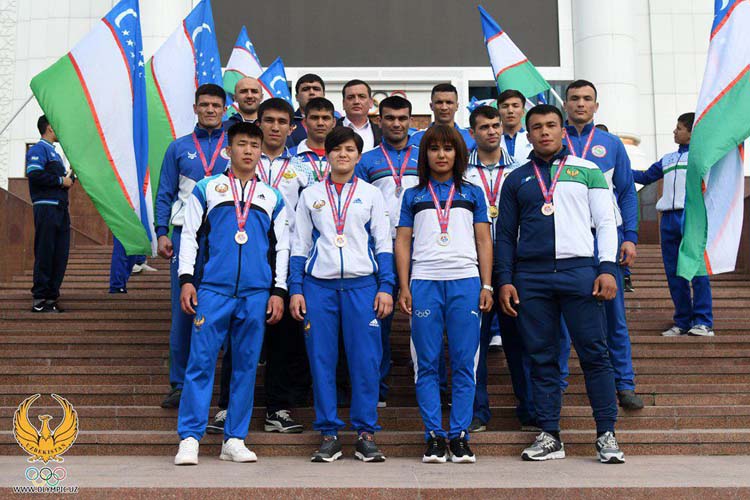 Along with their coaches, the sambists of Uzbekistan who became the prize-winners of the "Kharlampiev Memorial" World SAMBO Cup received diplomas and souvenirs from the National Olympic Committee (NOC) of the country. The awards ceremony was held on April 17 in the NOC premises, in the course of media conference dedicated to the successful performance of sambists in this tournament.
The event was attended by President of the National Olympic Committee Umid Akhmatjanov, President of the SAMBO Association of Uzbekistan Alisher Alimov, members of the National Olympic Committee and the SAMBO Association of Uzbekistan, athletes and journalists.
Umid Akhmatjanov has noted that the NOC is ready to create all the necessary conditions for further efficient training of sambists.
'Together with the new leadership, we will work out new ideas, methods, and do all the necessary things so that SAMBO develops in this country. As you all know, the International SAMBO Federation received a provisional recognition of the International Olympic Committee, and this signals that in the future SAMBO may join the program of the Olympic Games. We hope that you will continue to successfully perform and delight us with your glorious victories,' remarked Umid Akhmatdzhanov in his address to the sambists.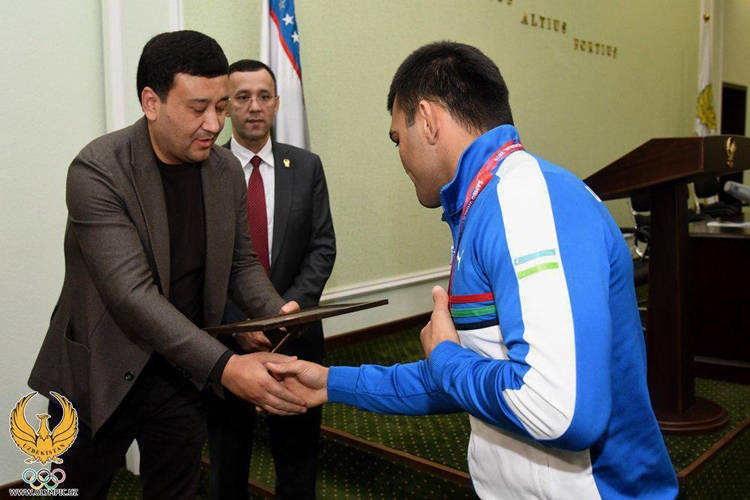 The "Kharlampiev Memorial" World SAMBO Cup was held on March 22-23 at the Luzhniki Sports Arena of the Olympic Complex in Moscow. It welcomed sambists from 35 countries. Uzbekistan was represented by 13 athletes. The team eventually pulled off 13 medals (2 gold, 5 silver, 6 bronze) of various denominations and scored second in the team standings following the host country of the competition.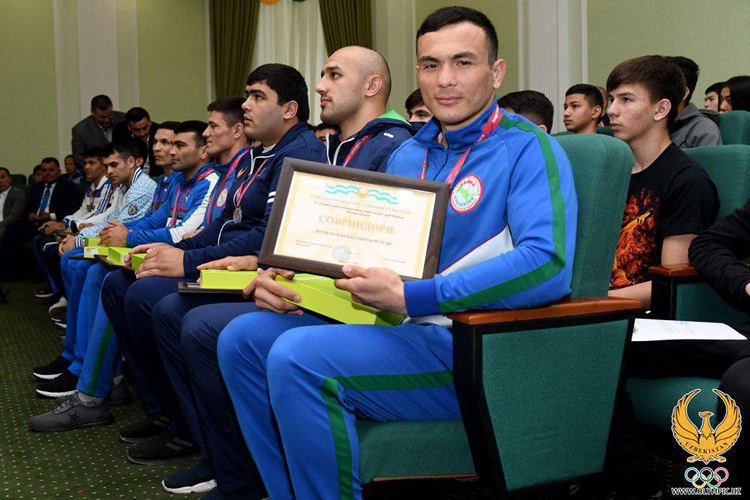 Medals of the highest value are clinched by Zafar Allabergenov (68 kg, combat SAMBO) and Sirojiddin Anorkulov (57 kg, combat SAMBO), the sliver prize winners are Bekhzod Nurmatov (82 kg, combat SAMBO), Zarnigor Urmonova (56 kg), Sherzod Rasulov (62 kg, combat SAMBO), Istam Kudratov (74 kg, combat SAMBO), Khakimjon Ismoilov (+100 kg, combat SAMBO) and Nemat Yokubov (90 kg). Bronze medals are won by Ulugbek Rakhmonov (82 kg), Zukhrakhon Mamurjonova (52 kg), Timur Khudaykulov (68 kg), Ikram Abdireimov (52 kg) and Abbos Jalolov (74 kg).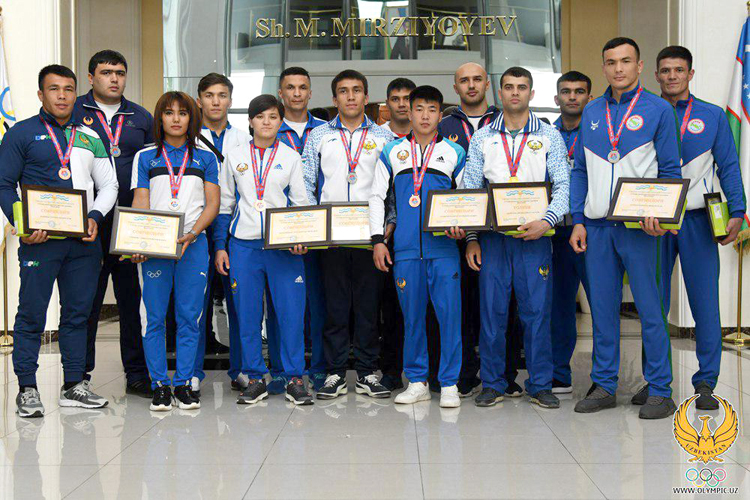 'It's gratifying when your victories are so appreciated. I am grateful to the NOC leadership for their attention, warm words of encouragement and support. All this motivates us to grow even better, to move forward, to overcome challenges. As it is already noted, SAMBO is very close now to entering the program of the Olympic Games. We impatiently look forward to this day and hope that in the future we would hit the Olympic medal stand. Now we are psyching ourselves up for the World Championships that will be held in Korea in November. I hope to become a champion there,' claimed four-time Champion of Asia, two-time World Cup winner, winner of the Asian Games Zafar Allabergenov.
Photo: press-service of the Uzbekistan NOC and press-service of the Sambo Association of Uzbekistan.