Nikolay ELESIN: "The Secret Of Success Is In Persistent Training With Total Dedication"
Personalities
27 November 2018
Aleksandr Solomahin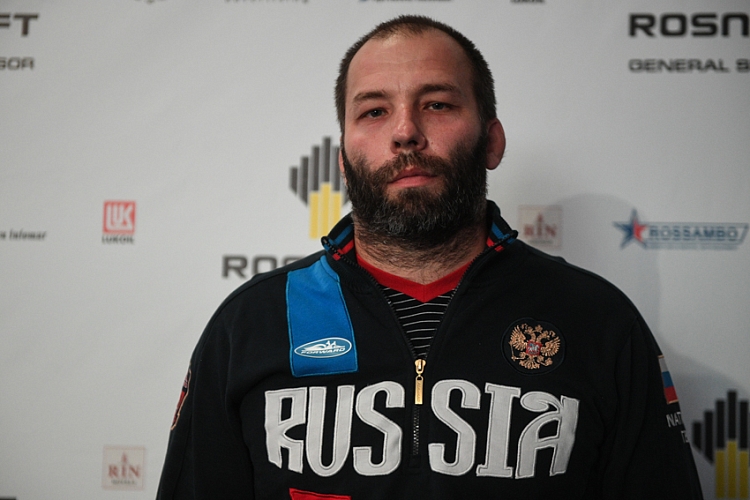 The World SAMBO Championships in Bucharest proved successful for Nikolai Elesin, Senior Coach of the Moscow team in combat SAMBO. His both trainees, Kamil Abdulazizov and Magomed Magomedov, have won the gold medals of the global tournament. In his interview given to the FIAS website, Nikolay reveals the secret behind one's success on mat, what his next goal would be, and also weighs up the chances of sambists in MMA.
- Nikolay, your trainee Magomed Magomedov won ahead of time in the finals being matched against a strong French sambist, European SAMBO Champion Louis Laurent. What did he owe his success to?
- The finals in the up to 90 kg weight category in combat SAMBO can be characterized as follows: analysis, tactics, class.
The French athlete is a strong sambist, with a well-developed technique in standing position. His principal routine is: the thigh — spring hip throw — the inside trip with shin. He wrestles in the right-sided stance, performing throws with three-side belt holds. He had scored victories on superiority in most of his fights at the European Championships in Athens and at the World Championships, mainly with four-point throws and holds. Also, the Frenchman demonstrates just an amazing technique of inner thigh on both legs to the right. Not to repeat the mistakes of other athletes, Magomed should have not let Louis use his favorite grip and orientation. To achieve this, Magomed changed his fighting stance into the "left-handed" one, thereby increasing the distance and disabling the Frenchman's operative hand, as well as gaining an advantage in working at a distance and striking.
No hold, no throw. This is the basics of SAMBO. The Frenchman was not able to readjust and apply his approach. The fight ended ahead of time. Before Louis could understand what had happened to him.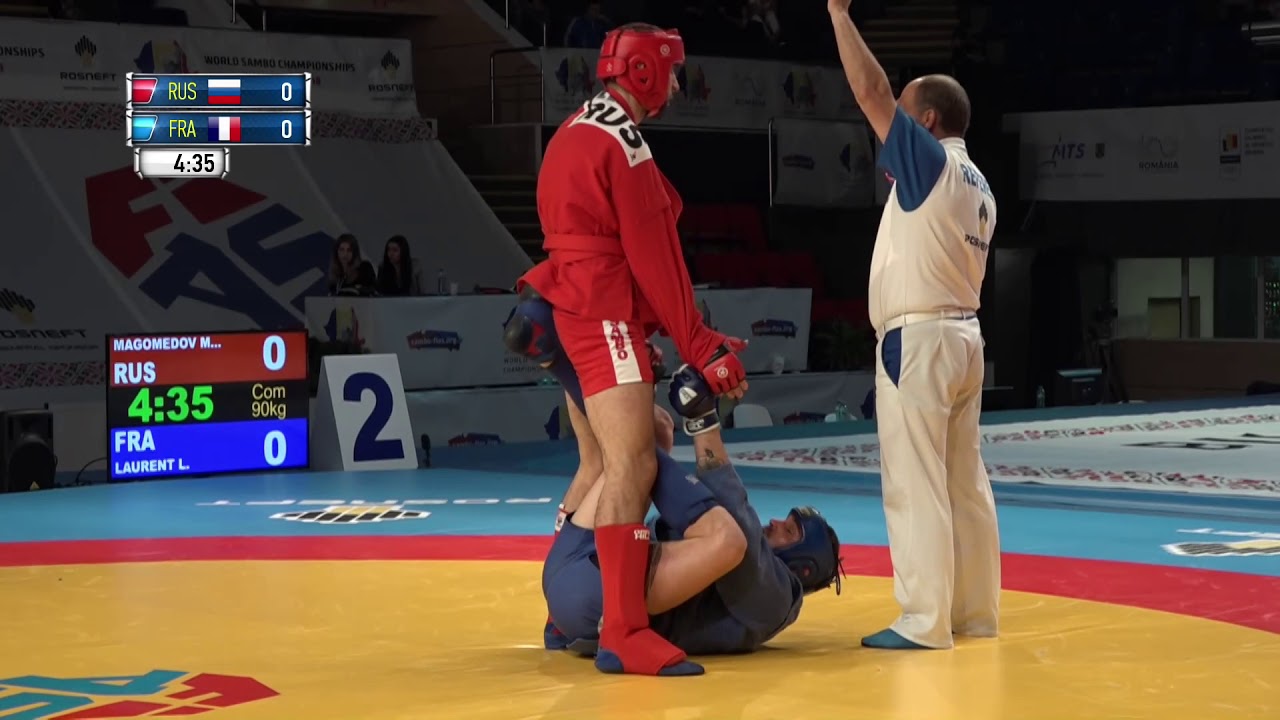 - As far as I remember, a head strike brought Magomed his victory?
- That's right, but the French athlete had missed more than one blow before Magomed did it (he was "floating", the Frenchman, feeling sort of groggy). That head strike and the following throw, qualified as a clear one, put an end to this match of two masters of combat SAMBO.
- At the World Championships in Bucharest, you've got a hundred percent outcome: two athletes, two golds. What is the secret of your success?
- True, Kamil Abdulazizov took the gold, too, in the up to 62 kg weight category. And the secret of success is very simple and consists in persistent training with total dedication.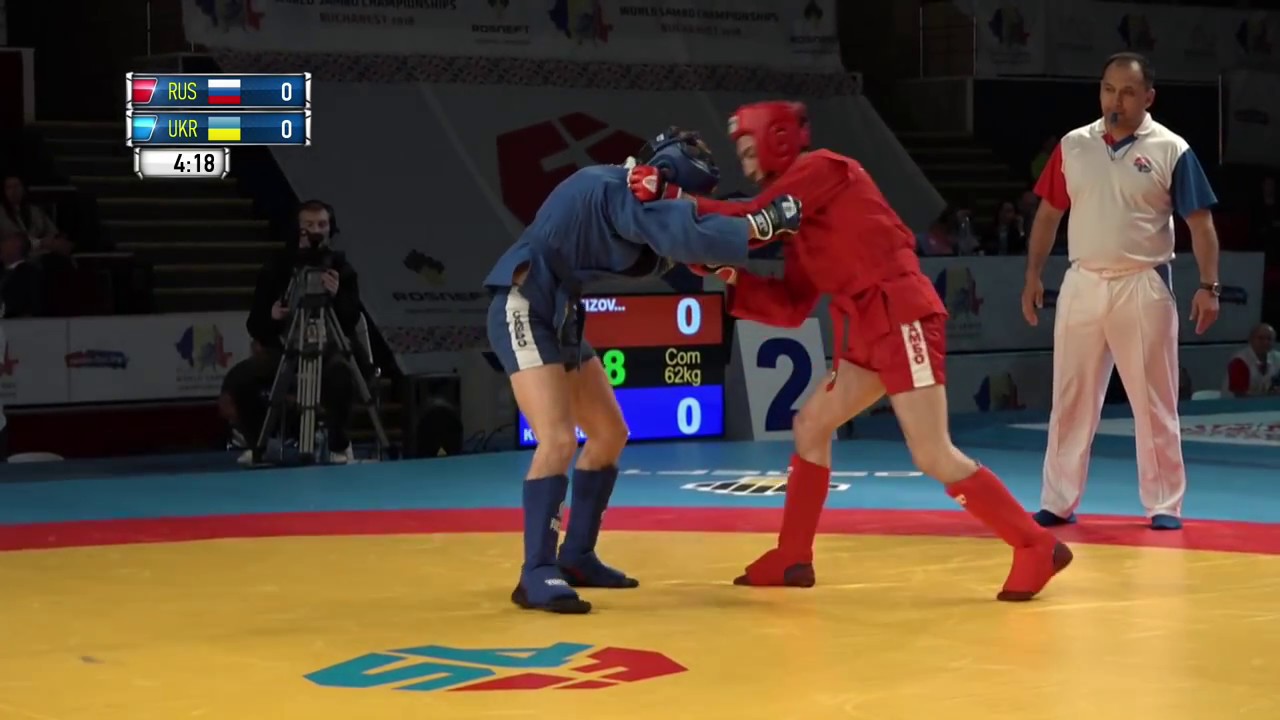 - Victory at the World Championships... What's next? What is your next goal?
- Now it's all over again: at the championships of Moscow, we need to qualify for the national championships, and then successfully perform at the championships of Russia. If my guys win the right to join the national team, then we'd have to go to either the European Championships or the World Championships. Year by year, we follow the same old path.
- And is there a higher goal?
- There's nothing above the World SAMBO Championships. If you mean a long-term objective, then it is the title of Honored Master of Sports. It is conferred upon the winners of two World Championships or one World Championships and two European Championships. Achieving this objective is a pretty serious task, there are only few people who have done it before: only those who have devoted their lives to SAMBO.
- Is that your goal, too?
- Well, this is the goal of any athlete: the Championships of Russia, European Championships, World Championships, and as an ultimate goal - Honored Master of Sports.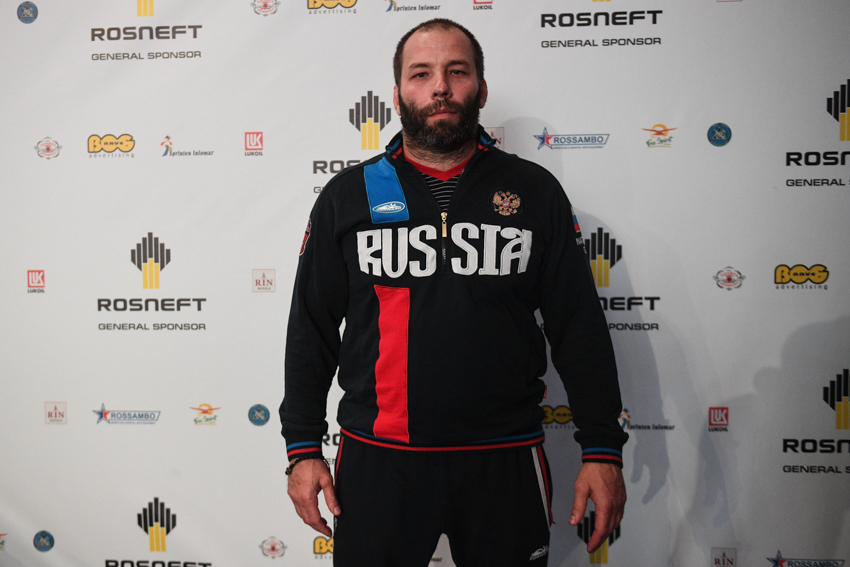 - Do you celebrate a victory, in any customary way? Are there any established traditions?
- We do not plan to celebrate it. It is important that the work has been done, that everything went off well - no injuries, no mistakes. The guys have tried their best, the guys have won. I am very pleased to know that my athletes have a certain groundwork in their sporting life already: they complied with the standards of Masters of Sports of international class. Farther is the sports again, new work, new fights.
- It is not a secret that many combat sambists view SAMBO as a springboard to mixed martial arts. Fedor Emelianenko and Khabib Nurmagomedov are the world celebrities. Could sambists take titles in all weight categories? And if so, when would it happen?
- SAMBO is an open martial art system, with a rich set of techniques, tactical schemes, and traditions, that for the past 80 years has been successfully proving its worth and competitiveness. The level of training of the leading Russian SAMBO fighters lets us represent our country honorably at various international tournaments, including those in mixed martial arts.
In fact, MMA and SAMBO are closely related types of martial arts. The fighting style is pretty similar, the differences are only in the rules, the rating system, and equipment.
A very high percentage of coaches and sambists practice both SAMBO and MMA. The amateur Russian team rightfully occupies the world's leading position. To take professional promotions, there are hordes of talented, promising guys able to decently represent this country. The only question is whether Russian representatives are in great demand over there, since these promotions are being made for their own athletes.
– What does SAMBO mean personally for you?
- For me, the amazing world of SAMBO opened up back in 1983, with the coming of coach A. V. Fedorov, Honored Coach of Russia A. E. Orlov, and Honored Coach of Russia V. I. Konin to SAMBO-70 school. And it lives on up to this day, virtually for my entire adult life. I was lucky to witness the Soviet SAMBO school, with the championships of Moscow and the tournament for the prizes of the "Pionerskaya Pravda" newspaper, with the championships of the Central Councils and the championships of the Soviet Union, all marked with a high level of competition and vast amounts of both performance and training.
SAMBO is not just a sport, you know, it is much more than a fight on the mat. Rather, it is a system of training, a system of education, a system of knowledge, a widespread community with its own continuity, traditions, attitudes, and philosophy.