NEW FACTS ON THE RAIDERS ON FIAS AND SAMBO: ONE OF THE MEMBERS OF "SHULTZ AND RUDMAN' SAMBO EXECUTIVE BOARD" WAS MISLEADING THEM FROM THE VERY BEGINNING
Official
28 August 2013
Sergei Grishin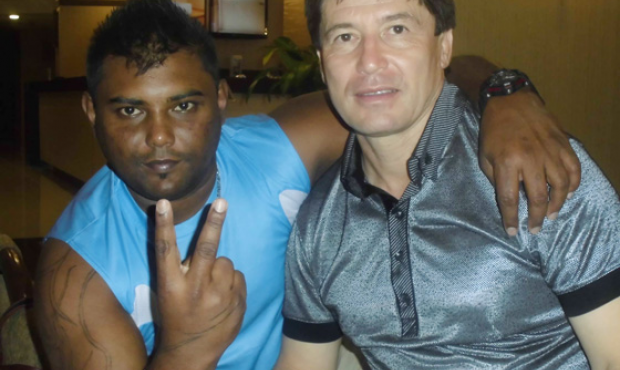 Organisers of the recent raid on FIAS and International Sambo the group inspired by Rudman, Kogan, Pulatov and Shultz were seriously shocked when they discovered that one of their "new executive members", Kevin Dya from Mauritius was misleading them from the start and appeared to have nothing in common with Sambo in his country.
Let us remind everybody, that Kevin Dya (Mauritius) and Felix Rufus (Nigeria) were given a critical task to create the alternative Continental African Sambo organisation.
Apparently, being attracted by the benefits and promises from the masterminds of the raid, Kevin Dya decided to take the full advantage of the situation and joined the group. Several months of his activities saw few reports on the "developments and spread of the sambo in Africa as a result of his tireless efforts", all to keep his bosses happy. He approached several well–established National Sambo Federations in Africa – Senegal, Cameroun, Tunisia, Algerie, Seychelles, Ghana. But none of them were impressed with the sweet talking and followed their agenda and their false promises.
However, the truth is that Kevin Dya, voluntary stepped down from the position of President of Mauritius Sambo Federation already a year ago !!! on September, 17, 2012. (See his letter of resignation attached). This happened during the reorganisation of Federation and merging with the Mauritius Sumo Federation. The process was initiated a year ago and was aimed at the recognition of Sambo in Mauritius on the back of Sumo (which holds the status of a recognised sport in the country since 1998 by Mauritius Olympic Committee). Therefore, the actual President of Mauritius Sumo and Sambo Federation is Mr. Parsad Balkinssoon, who was elected on September, 18, 2012 (see the extract from the register).
According to the official national calendar, Mauritius will see Sumo National Championships on August, 29 and Sambo National Championships on September, 8. The National Sambo event will be obviously organised without assistance from "very executive member of Sambo organisation led by Shultz and Rudman" – Kevin Dya.
Mauritius Olympic Committee is going to launch their own investigation on the misrepresentation of the country in the international sports affairs by Kevin Dya and Sambo Confederation of Africa has already suspended Kevin Dya from all affairs in order to stop him from misleading genuine people and various international organisations.
Unfortunately, this is the logical end of the affairs of this and similar kind.
Look out for our next story about the peculiarities of the "Sambo development" in Nigeria and Yemen and the specialists working at the forefront of this "development" – Felix Rufus and Hassan...