Reflections of the Winners of the 1st Day of the European SAMBO Championships
May 17, the first day of the European SAMBO Championships in the Spanish city of Gijon is over. Athletes competed for 9 sets of medals among men and women in sport SAMBO, as well as in combat SAMBO. The medal winners of the tournament share their emotions and impressions in their interviews to the FIAS website The general sponsor of the tournament is Rosneft Oil Company.
Cristina CASAS (Spain), a silver medal winner in the up to 48 kg weight category among women:
- I lost in the finals because my challenger from Russia turned out to be much stronger than me, especially in par terre. I failed to put anything against her. However, today I won my first medal of the continental championships, and I'm very happy about it!
Nasimi UMBAYEV (Azerbaijan), a bronze medal winner in the up to 52 kg weight category among men:
- I had a good chance to get to the tournament's finals, but I could not bring it into effect. I hadn't performed for three years because of injury, so I believe I lost some of my competitive experience. First, there was an operative treatment, then a long recovery, and only but recently I returned to the world-class sports. One's mental approach plays a huge role in it, you know. Coming back on the mat after an injury is not so easy as it may seem. Today it was difficult to fight, and even though I was only one step apart from the finals, I failed to do this step. God willing, I will become a champion at the next competitions.
Mukhtar GAMZAEV (Russia), a gold medal winner in the up to 57 kg weight category in combat SAMBO
- Perhaps it may seem on the outside that I easily swept to this victory, but nothing could be further from the truth. The European Championships are anything but easy, yet preparation for them is even more difficult.
In my final combat with a Ukrainian athlete, the choice of the right tactics was absolutely crucial to me. The fact is that this year I had a pitiful experience at the Championships of Russia, when, despite the scoring advantage in the course of the fight, I was defeated, having lost my concentration for just a second. It was important not to make the same mistake again, and my coach did not let me forget about it, too.
Despite the fact that in my boyhood I did a lot of sports such as boxing, Thai boxing and kudo, with their emphasis on striking technique, I feel pretty confident in par terre, as well. That's why, when Bogdan tried to conduct submission hold closer to the end of the fight, I managed to second-guess his intention and to prevent his effective attack. At the beginning of the combat I achieved an advantage, after that it was important to avoid excessive risk.
I'd like to wish the younger generation of sambists to respect their parents, if they are willing to achieve success in sports. It is most important. With such respect, everything will be fine, and not only on the mat, but also in life. And of course, it is equally important to listen to your coach and to stop being afraid of defeats. The main thing is to endure and train. Diligence is the mother of success, and after the defeats, victories always come.
Aurore CABANNE (France), a bronze medal winner in the up to 60 kg weight category among women.
- This is my first participation in the European Championships, and my first medal. I think that it is a nice start, and I'm very pleased, because last year I ranked only fifth at the World Youth Championships in Tbilisi. Next time I will try and win the gold or at least the silver. One needs to move along all the time.
Mindia LULUASHVILI (Georgia), a gold medal winner in the up to 68 kg weight category among men.
- I became a champion of Europe for the first time, and I'm overfilled with joy. I wish to thank all my coaches; it was due to their great efforts that I was able to win. The European Games in Minsk will start very soon, and I'm going to prove that this medal is not a fluke! Of course, I will fight for the gold at the Games, but if I manage to get a reward of lesser value, I will be happy as well, as it will also be won due to a great deal of hard work.
I've had some major hardships in life of late, I even wanted to quit sports, but I was persuaded to carry on. Now I've won the gold, and the only thing I regret is that my father is no longer alive, and that he did not see that I became a champion.
Mindaugas VERZBICKAS (Lithuania), a bronze medal winner in the 74 kg weight category in combat SAMBO: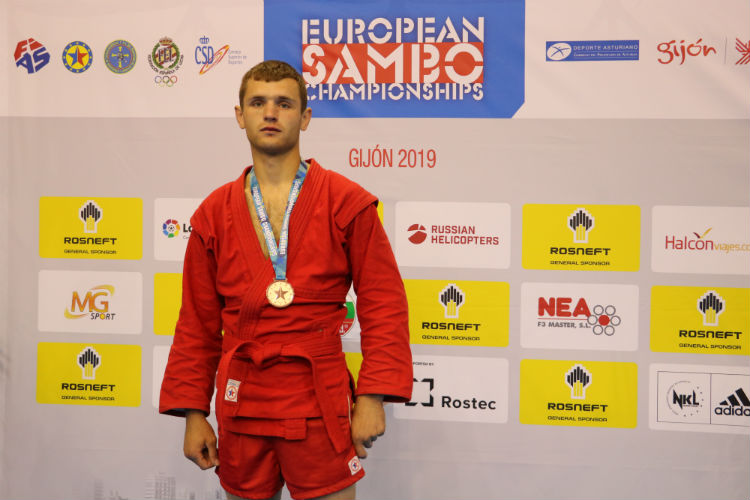 - Third place is not the best result; I was expecting more. On my way to the finals, I was stopped by a Ukrainian athlete, but, to be honest, I myself was largely to blame as I got penalty points, one for catching hold of shorts. The reason is that I compete in a variety of martial arts, and in some of them this is allowed. So I did this quite instinctively, without malice. But, certainly, I do not justify myself. Defeat is an important experience. I have already come to my conclusions.
Nataliya SMAL (Ukraine), a gold medal winner in the up to 72 kg weight category among women.
- Honestly, my victory came at a price. And I'm talking not only about training, but also about the time that you spend on preparations, the time which you have to take from your family, from your nearest and dearest. But it is totally worth it, because the gold medal always comes hard, and the taste of victory is very sweet. At such moments, you experience a state of bliss, as well as a sense of accomplishment, a pride for yourself, your family, your coach, your team, and for your country.
Despite the large number of medals that I've won in the course of my sporting career, it's not difficult for me to psych myself up for the next tournaments, since my sense of inward fulfillment from winning is my primary incentive. And when my son asks me before each competition to bring him a gold medal, my motivation just rockets up.
On the mat, I feel myself completely at ease. After all, I am a fighter and I love fighting both on the mat and in life.
Mistral JANSSEN (Netherlands), a bronze medal winner in the up to 90 kg weight category among men: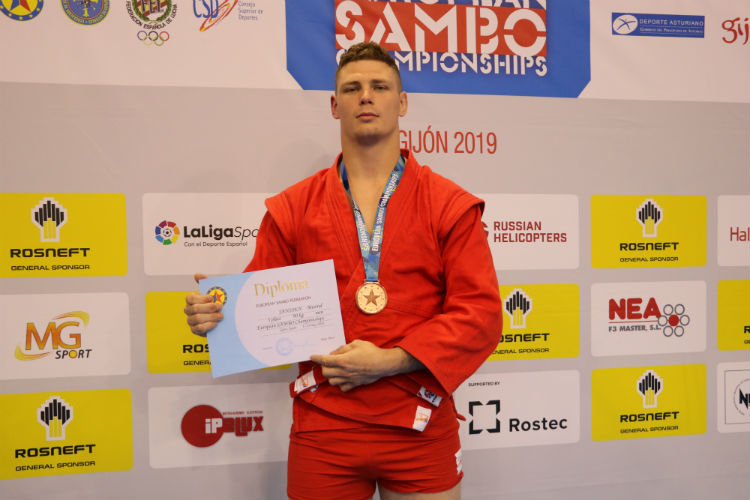 - I'm happy! This is my second SAMBO tournament and my first European Championships. I started in judo, but I transferred to SAMBO, and I'm very excited that I've succeeded to win the bronze. Sambists from Russia and other Eastern European countries are always favorites, and I am very pleased that I've managed to hit the medal stand along with them.
To me, the main surprise and difficulty in engaging in SAMBO was the difference in rules. I lost in my very first fight because my opponent made a submission hold on my leg. In judo, such techniques are prohibited, so for me it came as a surprise. But this is a good lesson for the future, now I will train more intensively in par terre. Next time I hope I would not be caught off guard.
I tried myself in SAMBO, I really liked the competitions organized at a high level, and I plan to fully transfer to SAMBO. In the Netherlands, the national SAMBO federation is working actively, coaches attract gifted athletes to this sport, and they fall in love with SAMBO.
And I really hope SAMBO becomes an Olympic sport. I have a dream to perform at the Olympics, and I will be happy to do this, being a sambist.
Gheorghe Cristian BODIRLAU (Romania), a silver medal winner in the up to 90 kg weight category among men:
- This is a new sport for me, I participate in SAMBO competitions for less than a year, so I think that for the most part I just haven't gained enough experience for the victory in the finals, and, probably, lost my concentration.
This tournament really appealed to me, leaving the best impressions. I can say that winning a silver medal lent me some confidence. So, I will come back home in happy spirits.
Anatolii VOLOSHYNOV (Ukraine), a bronze medal winner in the up to 100 kg weight category in combat SAMBO:
- When preparing for the European Championships at the training camp, I've got a slight injury and, sadly, it gave me pain in the very first fight. Obviously, at 39, the recovery process takes longer.
My martial arts career started in sport SAMBO and judo. I came to combat SAMBO at 30.
I love SAMBO very much; my opinion is that SAMBO should've been included in the program of the Olympic Games for a long time. For it has everything that is needed. I am absolutely confident that this will happen in the future.
Last year in Bucharest I succeeded to win the title of world champion in SAMBO, and this year I would also like to perform at the World Championships and to repeat my success. I will try to do this to the best of my abilities.